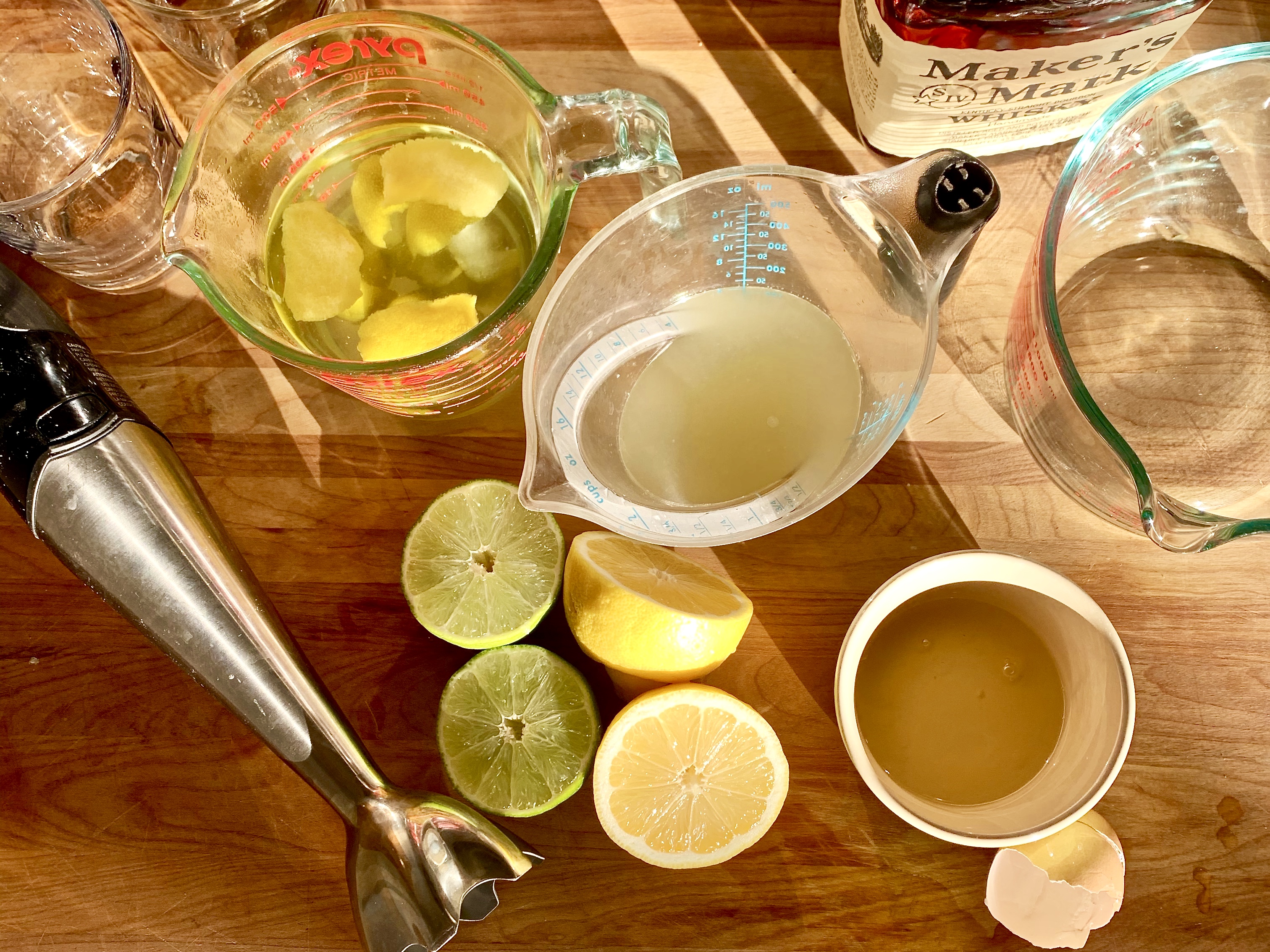 Mise en place for The Whiskey Sour: Simple syrup, citrus juice, egg white, bourbone (glasses and handblender) One of the great pleasures of the cocktail hour is sharing it, especially during these distancing times. The Friday before we bolted New York City, we'd had our friends Bruce Handy and Helen Schulman, both writers, to our apartment for a cocktail pre- our first meal at the new Barbuto. Problems: four cocktails one shaker, and I don't...
read more
I write books (more than twenty now), mostly about food and cooking, half with chefs, some non-food non-fiction books (wooden boats, the fascinating world of pediatric heart surgery), and a lot of opinions here on the fundamental importance of food and cooking to our families, our communities, our world. I also make smartphone apps, kitchen tools, do TV, public speaking, and help raise my family. See my wiki page for the nuts and bolts. Most recently three novellas called In Short Measures (Fall 2015) and Grocery: The Buying and Selling of Food in America (Spring 2017).
The longer version of How Did I Get Here:
The best things in life happen when you get carried away. I went into a cooking school to write about what it means to be a chef, and instead I became a cook, got a job line cooking, lucked into one of the great restaurants of the world to work with the chef on his book, and I kept on writing about food. I got carried away, and it's made all the difference.
The facts are these: Born 1963 in Cleveland, graduated Duke in 1985 with a BA in literature, worked at The New York Times as a copyboy where I managed to slip some stories into most sections of the paper, departed after fewer than two years to pursue a desultory life of writing, travel and odd jobs, returning to Cleveland with my then-wife, Donna, a newspaper and magazine photographer, in 1991. Found work at a local magazine covering arts and cultural scene and here began writing about chefs and cooking.
While trying to write a book about cooking with water, I was working on a complete roast chicken recipe with a sauce made at the end using water, fat left in the pan, some onion and carrot. In thinking through the entire meal, I thought, "There are so many lessons to be learned from a roast chicken dinner." Then I thought, "What other common meals teach us great lessons about cooking generally?" My wife shouted out "Lasagna!" before stepping into the shower. "Yes!" I thought. "Making pasta, tomato sauce, making ricotta, other simple pasta dishes. And steak frites! How to sauté steak (or anything), best way to make fries, at home, compound butters. The BLT: how to cure bacon (or any meat), how to make mayo (or any emulsified sauce), how to make sandwich bread (or any bread)." 
And that's how this book was born. It looks at 10 staple meals we're all familiar with and gets inside them to see what each can teach us about cooking generally. This book was a blast to write. 
From Scratch looks at 10 favorite meals, including roast chicken, the perfect omelet, and paella—and then, through 175 recipes, explores myriad alternate pathways that the kitchen invites. Explore the limits of from-scratch cooking: make your own pasta, grow your own tomatoes, and make your own homemade mozzarella and ricotta. Ruhlman tells you how.