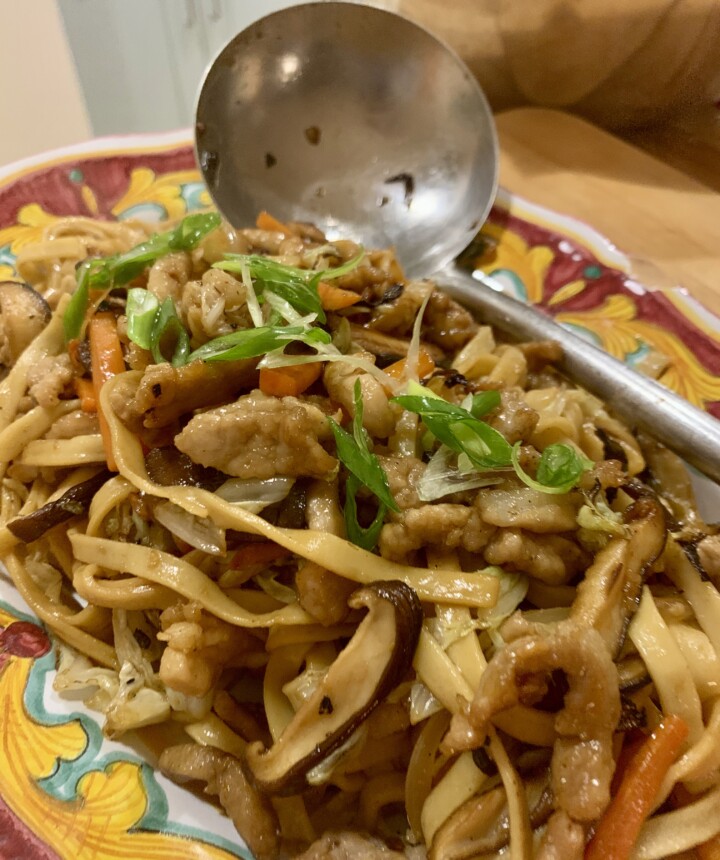 This is a variation on the Lo Mein recipe Kenji Lopez-Alt published in The New York Times, Pork Lo Mein, that so intrigued Ann that she received a blow torch in her Christmas stocking. Now she quotes Julia: "Every woman should have a blow torch." This recipe adds pork and increases the amount of sauce.
The blow torch is the genius idea. It simulates the char you can get from a professional wok. I've cooked on a professional wok at the CIA and I've never cooked on a hotter surface. You have to stir-fry—if the food isn't moving it burns.
This is also a great dish to make ahead an finish at the last minute. The vegetables, noodles and pork are each cooked separately and then, after torching the veg and the noodles, everything is combined in one pan with the sauce. (Step by step pix follow the recipe.)
Traditional lo mein would use fresh Chinese egg noodles. We used fresh linguini from Whole Foods and they were terrific.
Pork Lo Mein
An ingenious way to make this stir-fried Chinese noodle dish.
Ingredients
6

ounces

fresh egg noodles or thin fettuccini

vegetable oil as needed

4

ounces

fresh shiitake mushrooms, stems removed, sliced in quarter-inch strips

4

ounces

Napa cabbage, thinly sliced

(about 2 cups)

1

carrot, cut in matchsticks

1

small onion, thinly sliced

12

ounces

pork, julienned or cut in very thin strips

(see note below)

kosher salt as needed

(about ½ to 1 teaspoon)

3

tbsp

corn starch

5

scallions, thinly sliced on the bias

3

cloves garlic, smashed and minced

3

tbsp

soy sauce

3

tbsp

dark soy sauce

(substitute soy sauce if you can't find)

1

tbsp

rice vinegar

2

tbsp

dry vermouth

(or Shaoxing wine)

1

tbsp

toasted sesame oil

¾

cup

mung bean sprouts

(optional)
Instructions
Bring a large pot of water to a boil and cook the pasta just until tender. Drain and chill under cold running water. Shake off excess water and toss with 1 or 2 tablespoons of oil to prevent sticking. Transfer them to ½ of a sheet pan lined with parchment paper.

Season the pork liberally with salt. Let the salt dissolve, then toss the pork with the cornstarch till all pieces are evenly coated. (Do this before you prep the vegetables.)

Combine the soy sauce, dark soy sauce, vinegar, vermouth (or Shaoxing wine), and set aside.

In a wok or large, heavy sauté pan, over high heat add two tablespoons of vegetable oil. When it is smoking hot, add the shiitakes in a single layer. Press down hard on them to sear them, 30 to 40 seconds. Jump them in the pan to cook them on all sides. Remove them to the empty half of the sheet pan.

Add another tablespoon or two of oil to the pan. When it is smoking hot, add the cabbage, carrot, and onion. Try to get a good sear on them. Cook until the carrot is tender, adding the mushrooms toward the end and tossing so that all the ingredients are evenly distributed. Remove the vegetables to the sheet pan.

Using a torch, char the vegetables and noodles. They should smoke pleasantly and blister. Toss and torch again.

Add another couple tablespoons of oil to the sauté pan. When it's smoking hot, add the garlic and ⅔rds of the scallions. Cook, stirring for ten seconds or so, then add the pork and stir fry until nicely colored.

Add the vegetables and noodles to the pork, and toss to combine and reheat the noodles. Add the soy sauce mixture and toss. Remove to a platter, drizzle with sesame oil, top with bean sprouts (if using) and the remaining scallions.
Notes
For this dish, I bought boneless pork ribs, for their flavor. This is a tough cut of meat so I froze them, and then when they'd softened but were still frozen a couple hours out of the freezer, I could cut them into match sticks. Because this is a tough cut they must be cut this way. You can also use pork shoulder this same way.
If you prefer, you can buy pork tenderloin and cut it as you wish. This is a tender but less flavorful cut.
You can use any meat you wish, chicken, beef or even lamb in this recipe, instead of the pork.
If you liked this recipe you might also like these dishes, Pork Char Sui and Spicy Orange Chicken.
Step by step pix: