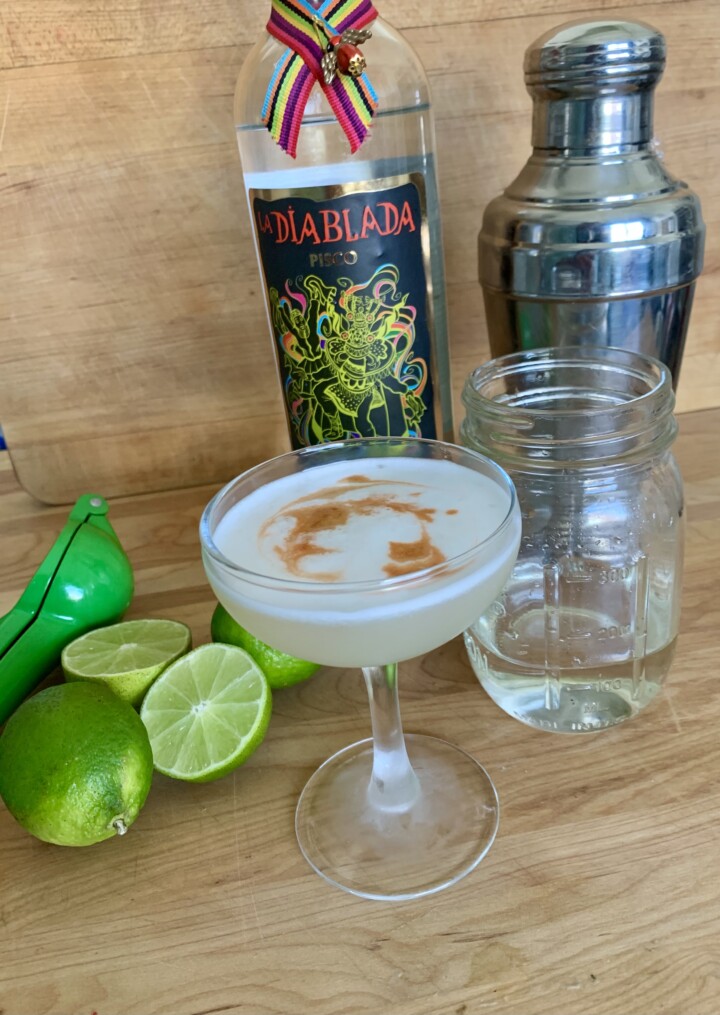 The Pisco Sour is a classic cocktail that I'm featuring here because my wife recently said I LOVE a Pisco Sour. Its name suggests it's one of those truly unique cocktails, such as a Ramos gin fizz or a Sazerac (both natives of NOLA), but in fact, it is a classic sour made with Pisco (pronounced PEACE-ko), a Peruvian spirit.
I had a look at the Wiki entry for Pisco Sour and found what must be the longest and well-documented cocktail in all of Wikipediadom, scrolling and scrolling, all the way down to the 59th note, above a bibliography comprising 22 books. Even the Martini, one of the most written about cocktails, only gets half the verbiage and notes.
Pisco Sour basics:
The cocktail was invented in Lima in 1920 or thereabouts by Victor Morris, an American expat who'd opened a saloon there. Apparently he simply made a whiskey sour using Pisco, which at the time, according to this entry, were simply acid, sugar and spirit.
It wasn't until an apprentice under Morris, a Peruvian named Mario Bruiget, added an egg white and then, somewhat brilliantly, a dash of bitters. This is the Pisco Sour we know today.
Pisco is a brandy because it is distilled from wine. Unlike Cognac and Armagnac, though, it is not aged in barrels and so remains clear. It's kind of a cross between brandy and an eau de vie. Pisco can be made from 8 grape varietals and can be distilled only once in a copper pot still. Peruvian's are quite proud of their native spirit. (Superb article here on Eater if you want to know more about Pisco.)
Now, the cocktail comes down to proportions, which vary widely. Eater recommends a standard sour ratio: 2 parts spirit, 1 part citrus juice, 1 part simple syrup. But many reduce the simple syrup to ¾s or ½. And Paul Clark, on Serious Eats, ups the booze for a thumper of a cocktail with 3 ounces Pisco, 1 ounce citrus and ¾ ounce simple syrup which I am all in favor of.
Liking neat clean ratios, I started with a traditional sour, with egg white and bitters and found this optimal. It is indeed a splendid cocktail.
Happy Friday Cocktail Hour and stay safe!
(And here are a few more Pisco cocktails, also from Eater.)
Pisco Sour
A classic sour using the clear Peruvian brandy.
Ingredients
2

ounces

Pisco

(you can go as high as three)

1

ounce

lime juice

1

ounce

simple syrup

(1 part sugar disolved into 1 part water)

½

egg white

(you can use a whole egg white if you don't feel like dividing it--or make two drinks!)

1-2

dashes

Angastura Bitters
Instructions
Combine all the ingredients except the bitters in a cocktail shaker. Cover and shake vigorously. Fill the shaker with ice, cover and shake until it's well chilled. Pour into a chilled coupe or old-fashioned glass. Top with a few drops of the bitters.