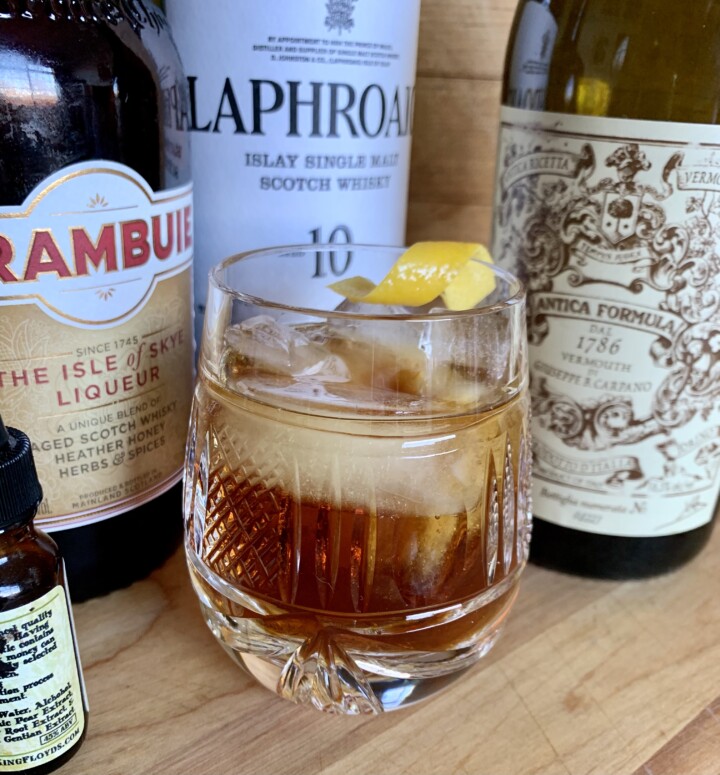 According to Simon Difford, the Bobby Burns cocktail was first printed in the 1953 edition of David Embury's The Fine Art of Mixing Drinks wherein he included Drambuie and Peychaud's bitters. An earlier version of the drink had appeared a couple decades earlier using benedictine and was called the Robert Burns (though it's unclear if this referred to the poet).
Bobby Burns is a variation on the Rob Roy (and a cousin of the Rusty Nail) and it is a highly recommendable libation. The original would call for a blended scotch, such as Dewars. But to be true to the poet's origins and because when I drink scotch it is a single malt, and peaty ones at that, I'm making this cocktail with our default single malt, Laphroaig.
We actually made this cocktail live on IGTV, and many of the comments asked how could we sully such a fine whisky, other than with a splash of water to open it up. Well, because it's in honor of the cocktail hour on Robert Burns's birthday, and as it turns out, it's a terrific cocktail.
The variation:
Now, a Rob Roy and the Manhattan call for bitters. And Embury includes Peychaud's bitters. By all means, add a dash. I tried both with and without and think there is more than enough flavor going on with the single-malt whisky, sweet vermouth, and a quarter ounce of Drambuie, a scotch-based liqueur. No need for the bitters.
The romantic poet we honor, familiarly called Rabbie Burns, was born January 25, 1759, and he died just 37 years later, possibly of a heart condition. In pre-pandemic days, I celebrated Burns Night with our friends, Bob and Steph Struble and cohorts, with plenty of single malt, cigars and haggis with neeps and leeks. I would read his splendid poem, "Address to a Haggis," the wondrous concoction of sheep or calf innards, oats and seasonings, something of a national dish, plunging my knife into the haggis, "warm reeking, rich!," as the poet wrote. Those were the days, gathering and celebrating together. May they return soon!
I think I'll call this particular cocktail, without the bitters, The Rabbie Burns, to distinguish it from the Bobby Burns. We were truly surprised how good this one was.
Happy cocktail hour everyone and stay safe!
The Rabbie Burns
A variation on the Bobbie Burns, a Rob Roy variant
Ingredients
2

Ounces

Islay Single Malt Scotch

1

Ounce

Sweet vermouth

¼

Ounce

Drambuie

(2 teaspoons)

1

Lemon twist
Instructions
Combine the fluids in a glass with ice. Squeeze in the twist.