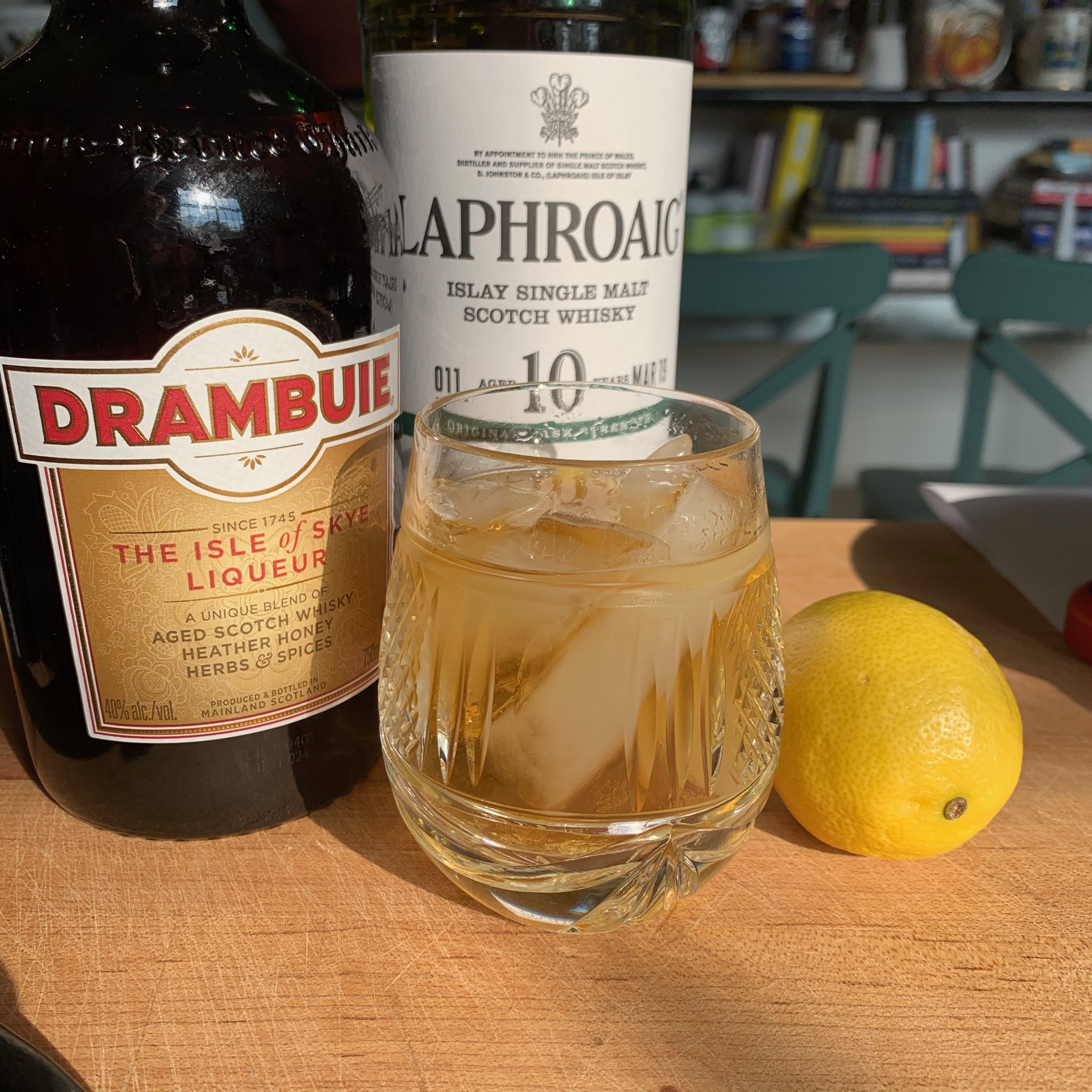 This past Sunday I was thinking about my dad, Rip, who died in 2008 and whom I miss every day. Yes, every single day. I was seven or eight when, one Christmas after dinner, I asked to taste what was in that teensy wine glass he was drinking from. He said "Drambuie" and asked if I'd like a taste. I said yes. I would eventually taste his martini, which was naaaasty. That night he handed me his cordial glass. I tasted. This Drambuie astonished with its sweetness and the way just a drop of it seemed to bloom in my mouth, an actual expanding cloud of flavor. I'd never tasted or experienced anything like it. I asked for more.
From then on, every Christmas I'd get a wee dram of Drambuie and would take the smallest of sips to let them expand in my mouth and make it last as long as possible. I come from a thorough middle-class WASP family which loved and still loves its cocktails (thus the FCH!). When my Grandma Rose, my father's mother, saw little me served a small cordial glass of Drambuie, she nodded sagely and said, "You're going to be a Scotch drinker." Her version of the Hogwarts Sorting Hat.
It was my father, who, once I was of age, introduced me to The Rusty Nail, this heady blend of Scotch Whiskey and Darmbuie, sweet and powerful. It was never a pre-dinner cocktail in my parents house—that was exclusively the gin martini. The Rusty Nail was rather the best nightcap ever. (Does anyone know why they're called nightcaps, instead of, say, The Cocktail You Really Don't Need and Will Be Better Off Without Come Morning?)
The Rusty Nail is a great cocktail, and one you really can't mess up. I recommend starting with the standard ratio, 2 parts Scotch, 1 part Drambuie. But for some that maybe too sweet. If so, add a little more whiskey. Laphroaigh was my dad's favorite single malt—but he was too frugal to use this sipping whiskey for cocktail. He'd only have used the cheap stuff. Which I can no longer bear. Some people call a Rusty Nail made with a peaty/smokey whiskey a Smokey Nail, which I kind of like.
This cocktail is always served on the rocks; ,because the drink is so strong, the dilution is welcome. For special guests, my dad would send our cubes through a countertop ice crusher (a truly vintage fifties or sixties appliance' I wish we still had it).
Cheers, post-100-days in quarantine, and happy Friday!
The Rusty Nail
Classic scotch and drambuie cocktail
Ingredients
2

ounces

scotch

1

ounce

Drambuie

1

lemon or orange twist

(optional, thought a true cocktail requires at least 3 ingredients)
Instructions
Combine liquor in an old-fashioned glass. Add ice (and twist, if you wish).
Notes
This is the classic proportion. But if you find it too sweet, add more whiskey! I've seen recipes that are 4 parts scotch to one part Drambuie. I'm not a fan of blended scotch, so here I used laphroaigh, one of my favorite whiskeys, famously peaty. Use whatever scotch whiskey you prefer. Change it to Bourbon and it's a Rusty Bob!