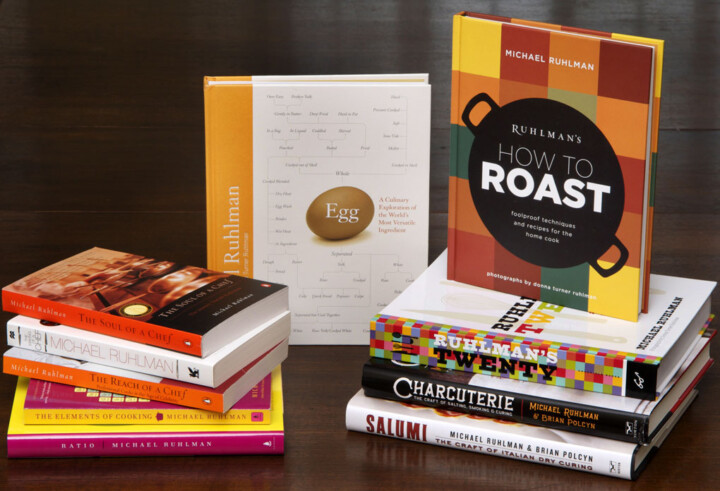 Below are descriptions of some of my favorite books (and there's a complete list of all of my books at the bottom.
Most recently (5/23/2023): The Book of Cocktail Ratios: The Surprising Simplicity of Classic Cocktails, a book intended to simplify cocktails in the sometimes confusing era of the Craft Cocktail.
My most recent cookbook is From Scratch: 10 Meals, 175 Recipes, and Techniques You'll Use Over and Over. All my books aim to teach as well as to provide great recipes that work, and this one looks at ten meals (Roast Chicken, Steak Frites, Paella) and show how much you know if you know just one of those meals, and all you can do when you know just a little.
My other great teaching book is Ruhlman's Twenty: 20 Techniques, 100 Recipes, a Cook's Manifesto, which won a James Beard Foundation award. Here I break all of cooking down into twenty foods and techniques (salt, egg, batter, sauté, braise). When you know these 20 things, there's nothing you can't cook.
Ratio: The Secret Codes of Everyday Cooking breaks all of cooking down into proportions. Recipes aren't a list of amounts of ingredients, they're a record of proportions of one ingredient relative to another. So much flour require so much water to be bread. Double that water and add an equal part egg and you've got a batter. When you know a ratio, you have a hundred recipes at hand.
Probably my most successful cookbook, I wrote with my friend Chef Brian Polcyn, called Charcuterie: The Craft of Salting Smoking and Curing. It's all about making bacon and sausage and pates, considered the Bible of the subject.
We followed this with Salumi: The Italian Craft of Dry Curing, all about dry-curing meats, and Pate, Confit, Rillette.
For simply reading about the life and work of the chef: My most popular nonfiction seems to be The Soul of a Chef: The Pursuit of Perfection, closely followed by The Making of a Chef: Mastering Heat at the Culinary Institute of America, followed by The Reach of a Chef: Professional Cooking in the Age of Celebrity, each book about differing aspects of the endlessly fascinating, brutal, elegant, metaphor-for-life professional kitchen.
I also spent a year with an independent grocery store chain to find out how our food gets to us and where it all comes from: Grocery: The Buying and Selling of Food In America.
The egg is a miracle of nutrition, economy, deliciousness, and utility. There may be no more valuable food to the cook. So I wrote a book exploring its many uses: Egg: A Culinary Exploration of the World's Most Versatile Ingredient.
I'm very proud of The Book of Schmaltz: Love Song to a Forgotten Fat, a small but lovely book about cooking with one of the world's most flavorful fat, predominant in Jewish cuisine.
Ratio: The Simple Codes Behind the Craft of Everyday Cooking and The Elements of Cooking: Translating the Chef's Craft for Every Kitchen also strive to clarify and simplify the work of cooking.
Also, I'm very proud to have published my first fiction, In Short Measures: Three Novellas (2015) each story about love and marriage in middle age, and of youthful love and lost love. Sorry, no food here, just love stories.
The following is a list of all my books, those I've written alone, and ones with or for chefs:
Boys Themselves (1996)
The Making of a Chef (1997)
The French Laundry Cookbook (1999) by Thomas Keller, with Susie Heller and Michael Ruhlman
The Soul of a Chef (2000)
Wooden Boats (2001)
A Return to Cooking (2002), with Eric Ripert and Valentino Cortazar
Walk On Water: Inside an Elite Pediatric Surgical Unit (2003)
Bouchon (2004) by Thomas Keller and Jeffrey Cerciello, with Susie Heller and Michael Ruhlman
Charcuterie: The Craft of Salting, Smoking and Curing (2005) by Michael Ruhlman and Brian Polcyn
House: A Memoir (2005)
The Reach of a Chef: Beyond the Kitchen (2006)
The Elements of Cooking (2007)
Ratio (2009)
Ad Hoc at Home (2009) by Thomas Keller, Michael Ruhlman
Live to Cook (2009) by Michael Symon, with Michael Ruhlman
Ruhlman's Twenty (2011)
Salumi: The Craft of Italian Dry Curing (2012) by Michael Ruhlman and Brian Polcyn
Bouchon Bakery (2012) by Thomas Keller, Sebastian Rouxel, Michael Ruhlman
The Main Dish (2012)
The Book of Schmaltz: A Love Song to a Forgotten Fat (2012)
Egg: A Culinary Exploration of the World's Most Versatile Ingredient (2014)
How To Roast : foolproof techniques and recipes for the home cook (2014)
How To Braise (2015)
In Short Measures: Three Novellas (2015)
How To Sauté (2016)
Grocery: The Buying and Selling of Food in America (2017)
JGV: A Life in Twelve Recipes by Jean-Georges Vongerichten with Michael Ruhlman (2019)
From Scratch: 10 Meals, 150 Recipes and Techniques You Will Use Over and Over (2019)
The French Laundry, per se by Thomas Keller, David Breedan, Corey Chow, and Elwyn Boyles, with Michael Ruhlman and Susie Heller