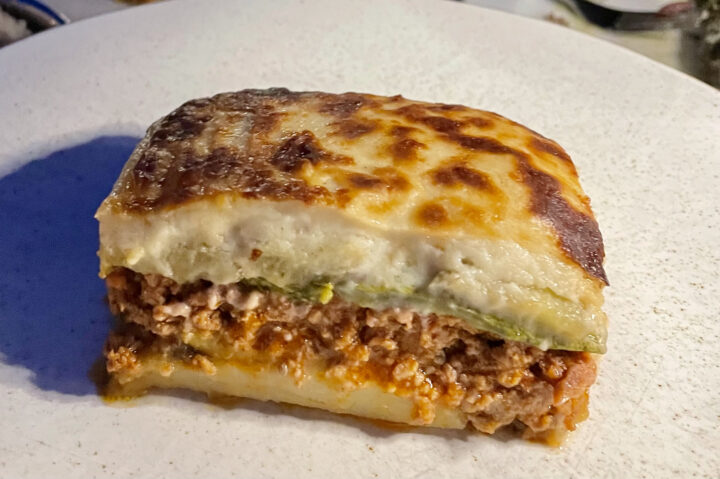 Mouassaka! I gave it a shot. Layers of roasted potato, fragrant meat sauce, eggplant and thick cheesy béchamel.
Mouassaka! I gave it a shot. Layers of roasted potato, fragrant meat sauce, eggplant and thick, cheesy béchamel. I thought it was excellent. It's a project, but worth it. And it's especially easy if you break the recipe into parts. (Full printable recipe here.)
Making a bechamel takes five minutes. The meat sauce is a basic meat sauce, season cooked ground meat, season it, deglaze with wine. These can both be made as many as three or four days ahead.
Day you want to serve, slice and roast the potato and eggplant (an hour). Then you're good to go. I fried the eggplant, but I felt they were overly oily. I recommend baking them at the same time you bake the potato slices.
Moussaka
Greek dish of potatoes meat sauce, eggplant and bechamel
Equipment
4-5 medium potatoes

peeled

Plenty of olive oil, for cooking

4 large eggplants

peeled, sliced ½-inch thick and salted for 30 minutes

salt as needed

1 medium onion

small dice

1 pound ground beef

1 pound ground lamb

½ tsp cinnamon

¼ tsp allspice

2 bay leaves

1 cup white or red wine

1 28-ounce can whole tomatoes

pureed in a blender or using a handblender

¾ cup flour

1 sitck butter

1 quart milk

1 cup parmigiano reggiano

nutmeg

2 egg yolks
Instructions
Rub the potatoes with olive oil and bake till golden at 425 (turning them once) until they are soft and have a nice golden color., about 45 mins.

Salt the eggplant for 30 mins then pat them dry and brush with olive oil and roast in a 425˚F oven until soft, 30 to 45 minutes. (Frying the eggplant is traditional but that's more time consuming and results in greasy eggplant.)

Make the meat sauce. Saute the onion in olive oil, add the meat and cook, breaking the meat up. Drain fat. Add the seasonings, stir, then had 1 cup white or red wine. Cook till dry.  Add the tomatoes. Cook till most of the liquid has cooked off, about 45 mins.

Make the bechamel. Melt the butter, add the flour and make a roux. Add the milk, whisking, and simmer till thick. Add salt and nutmeg to taste. remove from heat and stir in the cheese. Allow to cool somewhat and whisk in the yolks.

Assemble the moussaka. Spread a thin layer of panko on bottom of 9x13 dish (to absorb any excess liquid from the eggplant). Layer in the potatoes. Cover with meat sauce. Cover with eggplant. Spread the bechamel on top. Top with a coating of panko. Sprinkle ¼ cup of reggiano over the top.

Bake 1 hour at 350. Allow to rest 15 minutes before serving.