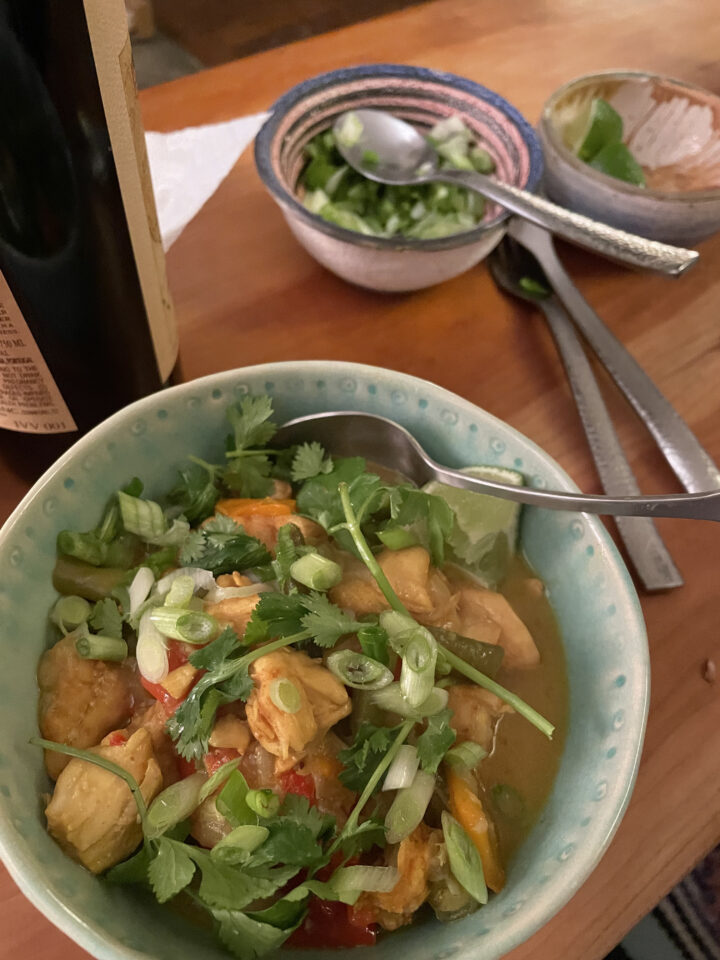 A few weeks ago, my wife Ann decided to do something extremely rare. As some know, I have a hard time following a recipe exactly. Ann is the opposite—she's a devout recipe follower. If I ask her "why" about anything she's cooking in the kitchen, the answer is invariably, "Because that's what the recipe says to do."
So when she said she would be making a Thai-style curry for dinner, I asked her which recipe would she be using?
She replied, "I'm not using one. I'm making my own."
I felt the ground of West 12th Street tremble. "What?" I asked. She directed a you-heard-me look my way.
And so she did. The result was delicious and so wonderfully simple I asked her if she would recreate it. Below, see her cooking it again and keeping track of the ingredients and amounts on her phone on her phone.
This is about as no-fuss as a curry can be. Curry, of course, essentially means sauce and refers to a range of Asian preparations from India to southeast Asia (I devoted an entire chapter to curries in my last cookbook, From Scratch). And that's all this is.
Vegetables and chicken sautéed and seasoned, then simmered in chicken broth and coconut milk. Taste for seasoning. Add a little cornstarch slurry if you want it thicker, or none if you like it brothy.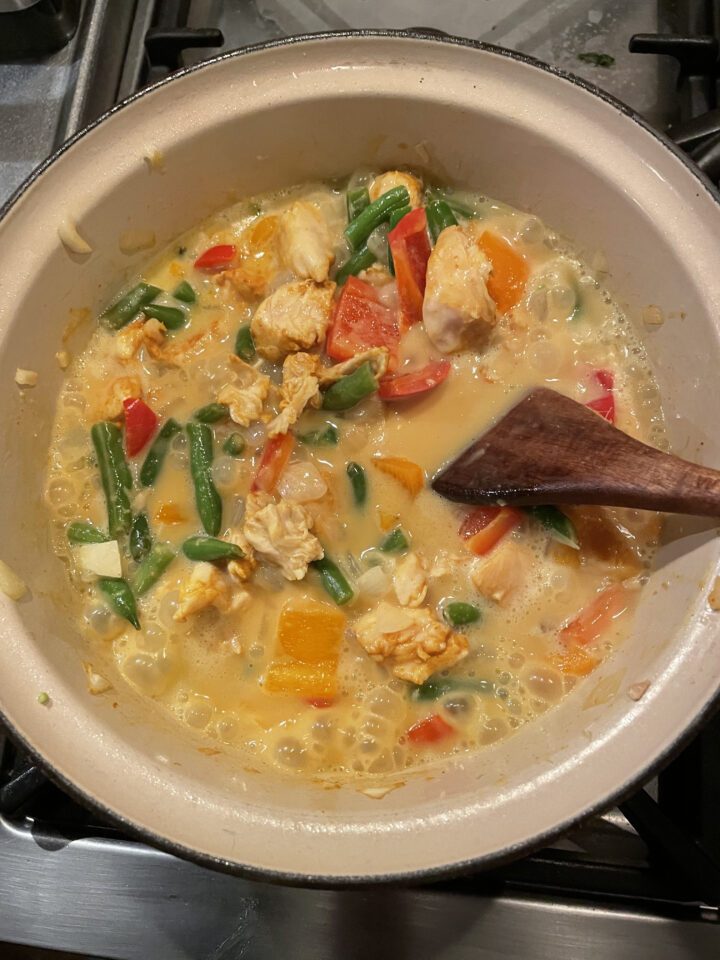 Ann's Easy Thai Curry
A simple recipe for chicken and vegetables in a coconut milk sauce
Ingredients
1

onion, diced

1

tbsp

vegetable oil

1

red pepper, seeded and cut in 1-inch pieces

6-8

ounces

green beans

5

cloves garlic, minced

1

inch

ginger, grated

1

pound

chicken breast, cut in a 1-inch dice

(or thights if you prefer)

2

tsp

paprika

½

tsp

turmeric

1

tbsp

coarse kosher salt

8

ounces

chicken broth

1

can

unsweetened coconut milk

1

tsp

curry powder

2

tsp

fish sauce

(plus more to taste)

6

scallions, thinly sliced on the bias

½

bunch cilantro, leaves and tender stems only

1

lime, quartered
Instructions
Season the chicken with paprika and turmeric and let sit for 30 minutes or so.

In a heavy pot or Dutch oven, heat the oil over medium heat and add the onion, cooking them till they're tender. Add the pepper and green beans and cook till the peppers are tender, about 5 minutes. Add the garlic and ginger and cook for a minute or two more. Salt the vegetables as you're cooking them.

Add the chicken and cook until the surface has lost all it's pinkness.

Add the curry powder and stir to incorporate.

Add the coconut milk to the pot and simmer ten minutes.

Add the chicken broth and fish sauce, bring to a simmer, then reduce heat to low and continue to simmer for 30 to 40 minutes.

Serve with the scallions, cilantro, and lime on the side for garnish.
Notes
Extra fish sauce and lime juice at the end are excellent. This can be made using pork shoulder if you thinly slice the pork shoulder. Serve with or on top of jasmine rice.