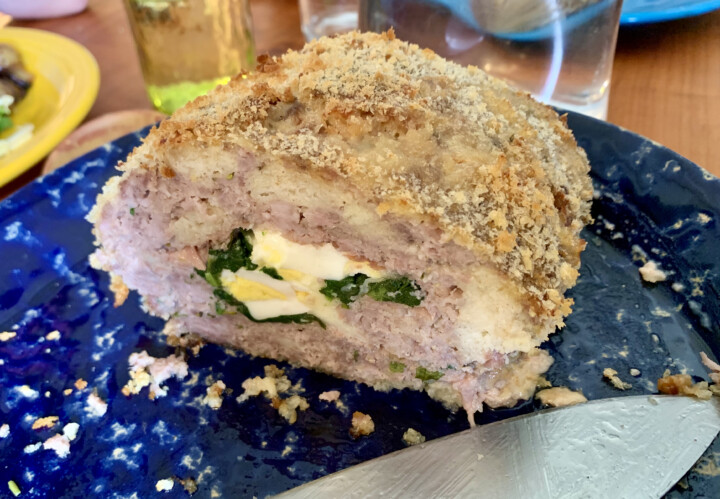 Ann made this massive polpettone, meatloaf stuffed with prosciutto, spinach and provolone, for a dinner party and it was fantastic. Adapting a David Tanis recipe from The Times, she uses 1 part each ground beef, ground pork, and Italian sausage. That amounts to three pounds of meat, plus nearly a pound of other ingredients, so we froze the uneaten half for a full dinner later in the week.
It can be made ahead of time and served at room temperature. The dish was preceeded by Genovese-style artichokes, also fantastic to eat.
Part of what made this meal special was the fact that two of the guests, Chris and Michael, were the last people to eat here before lockdown and this was their first dinner party since that night. They live an hour and a half away and so dinner parties here are uncommon. Yet they had their last pre-lockdown dinner party with us, and their first post-lockdown dinner party with us.
What a pleasure it is to be able to hug friends on their arrival and to share a cocktail and then a meal and to linger over dessert. It's been far too long.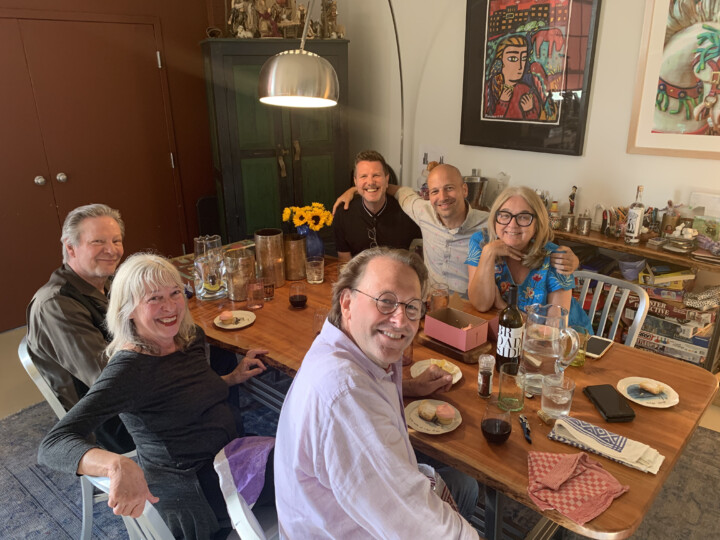 Polpettone
Ingredients
1

cup

diced bread, toasted till dry in a 225˚F oven

1

cup

cream

1

pound

ground beef

1

pound

ground pork

1

pound

loose Italian sausage

½

tsp

ground black pepper

1

tbsp

kosher salt

pinch of cayenne

¼

tsp

nutmeg

2

tsp

chopped rosemary

2

tsp

chopped thyme leaves

1

tbsp

chopped sage

1

tbsp

chopped parsley

½

cup

Parmasan

2

eggs, lightly beaten

3

hard-cooked eggs, peeled, coarsely chopped

¼

pound

prosciutto

1

pound

spinach, blanched in boiling water and squeezed dry

3

ounces

provolone slices

1

cup

bread crumbs
Instructions
Soak the bread in the cream. (This is called a panade, which helps to keep the meatloaf juicy.)

In the bowl of a standing mixer fitted with the paddle attachment (or in a big bowl if mixing by hand), combine the beef, pork, sausage, salt, pepper, cayenne, nutmeg, rosemary, thyme, sage, parsley, parmesan, and mix on medium, for 20 seconds or so. Then add the bread and cream and the lightly beaten eggs. Continue to mix on medium till it is all well combined.

On a sheet tray, on parchment paper, spread out the meat into a rectangle about an inch thick (see photos below). Put a layer of prosciutto across the entire rectangle. Distribute the spinach evenly across it.

Distribute the chopped egg and provolone over the spinach.

With the long edge of the rectangle closest to you, fold ⅓ of the rectangle over on itself using the parchment to lift it. Pull the parchment back and fold the top third over to enclose the filling and pinch the seams together.

Coat the entire monster with bread crumbs.

Bake until it reaches a temperature of 140˚F to 145˚F. Allow to rest for at least 15 minutes before slicing into slabs and serving. This is excellent cold as well.