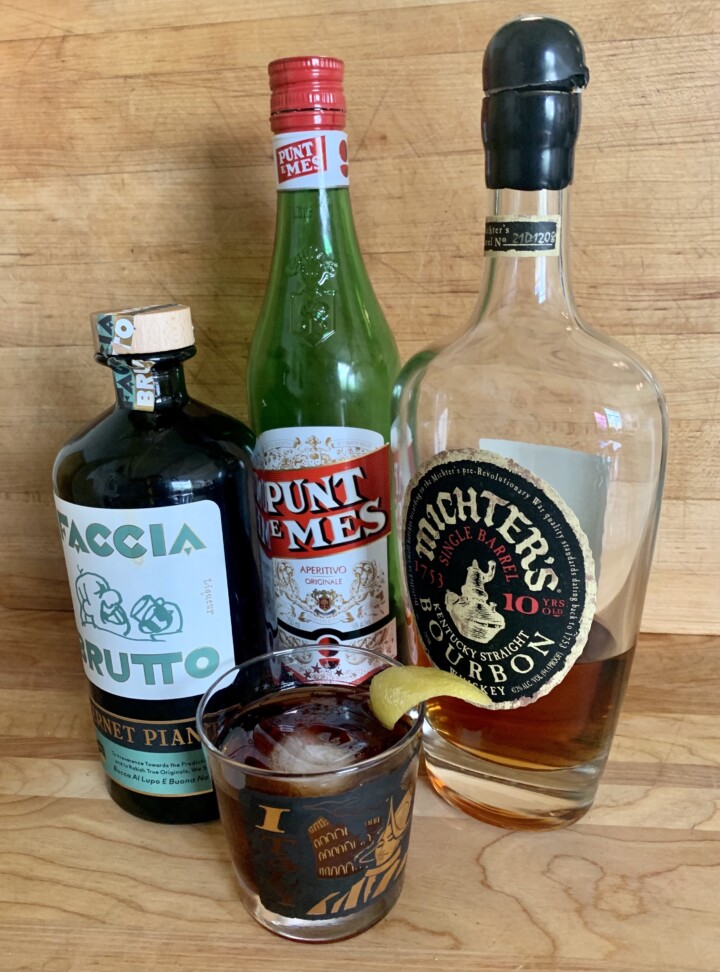 Thanks to a gift a new cocktail is created, a variation on the Manhattan, using an amaro instead of bitters.
Last week, Tracey Minkin, a friend, roving editor, and writer, passed through Providence to stay with us and brought a Brooklyn-made Frenet-style amaro by a company called Faccia-Brutto. Chef Patrick Miller opened the company exactly when the pandemic hit Brooklyn in March 2020. His Fernet Pianta is strong and dark and bitter, with notes of pine forest and anise.
Miller, formerly of Rucola Restaurant in Brooklyn, New York, worked for 14 years at restaurants around the world. He grew up in an Italian family in Los Angeles. Here's how he describes his Frenet:
Fernet Pianta is a love letter to both my grandfather, Peter Pianta, as well as all the line cooks I ever worked with. Pete would make tinctures for my grandmother when she needed some digestive aid and my line cook buddies, well, we needed relief after a long night of service. We blend 21 ingredients including saffron, myrrh, aloe ferox, peppermint and gentian root in non-GMO neutral grain spirit for two weeks. We add water and filter, then add sugar and organic peppermint oil and bottle. This fernet has far less sugar than the bigger brands and is naturally colored with roasted chicory root.
He suggest two cocktails to make with the amaro, the Toronto—rye, Frenet and simple syrup—and the Ferrari, equal parts Campari and Frenet (he also make a campari-style amoro, and I'd go with this one).
Patrick was kind enough to join us for an instagram live to talk about his amari, which you can watch here.
I looked to the internet and found the Fanciulli Manhattan, written about by Robert Simonson, the estimable cocktail expert. He writes in the NYTimes:
Francesco Fanciulli (1853-1915) was given the unenviable task of succeeding John Philip Sousa as the leader of the United States Marine Band. After he refused an officer's request to play a tune, Mr. Fanciulli was arrested for insubordination. But Fanciulli later had a cocktail named after him. The drink's origins are murky, but it is clearly in the manhattan family, the chief difference being a touch of the amaro Fernet Branca, perhaps a nod to the musician;'s childhood years in Italy. This recipe is from Philip Greene, a Washington-based cocktail historian.
And from this, we arrived at what we will call the Minkin Manhattan, with proportions altered slightly to account for the intensity of Miller's Frenet, increasing the vermouth and the Frenet, since it's so special. Of course, you can use any bourbon, but the Minkin Manhattan truly calls for Michter's bourbon. If you want to weight heavily on the side of Italy, use Punt e Mez instead of the Noilly Prat sweet Vermouth.
Either way, it's a fantastic cocktail.
The Minkin Manhattan
A manhattan variant using a Frenet-style amaro
Ingredients
2

ounces

Michter's bourbon

1.5

ounces

sweet vermouth

0.5

ounces

Fernet Pianta

1

lemon twist of clementine wedge
Instructions
Combine the fluids in a mixing glass. Add ice, stir, and strain the cocktail into a chilled coup or over ice in an old fashioned.

Garnish with lemon or orange.