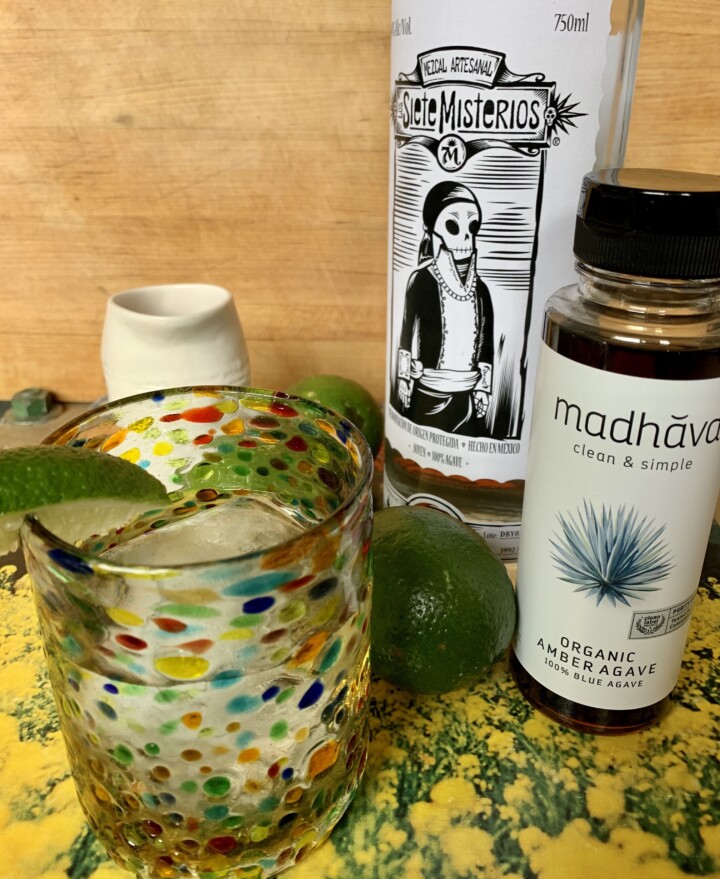 A Tommy's Margarita cocktail replaces the orange liqueur with agave syrup. The drink is credited to Julio Bermejo, a bartender at the well-known San Francisco Mexican restaurant in the 1990s, according to liquor.com, which goes on to say: "It became emblematic of the lighter, fresher style of eating and drinking that was taking place in California." Which is a good observation. Until you think about it—because it not. The cocktail is not lighter; you've got the same amount of sweetener. And it's not fresher; what does that even mean?
Nevertheless it's an excellent cocktail, one made even better if you replace the tequila with mezcal.
Most people think of this as a margarita variant. What this drink actually does by replacing the sweet element is take the drink out of the margarita family—spirit, citrus, orange liqueur and which includes cocktails such as the sidecar (brandy) and the white lady (gin)—and puts it into the straight sours category, along side the gimlet and the daiquiri.
Most recipes online include ½ an ounce of agave syrup to 1 ounce of lime and 2 ounces of spirit. I will suggest removing the agave altogether and replacing it with simple syrup. Agave is a natural sweetener that's high in fructose, more caloric than sugar, and doesn't really have a flavor, the way honey does. It's also more expensive. Using agave syrup just sounds fancier.
Tequila is only made with the silver agave plant. Mezcal can be made with a variety of agave plants. The leaves of this succulent are cut off leaving cores of what look like giant pineapples. These are then smoked in a pit, which gives mezcal its smokiness similar to Islay whiskys (see my Mezcal Margarita post for a video from Oaxaca of what the smoked agave hearts look like after smoking and how juicy they are inside). They are then pulverized to release their abundant sweet juices which are then fermented and distilled.
Mezcal is one of the great spirits.
Using it in a straightforward sour—2 parts spirit, 1 part each simple syrup and citrus—allows the full flavors of the mezcal come out. Watch our Instagram Live Friday Cocktail Hour, where in Ann and I taste both!
Mezcal Sour
A mezcal margarita made without orange liqueur
Ingredients
2

ounces

mezcal

1

ounce

lime juice

1

ounce

simple syrup

(1 part sugar dissolved in 1 part water, by volume)

1

wedge of lime
Instructions
Combine the liquids in a mixing glass. Add ice. Stir for 15 seconds or so. Strain into a glass over ice. Garnish with the wedge of lime.