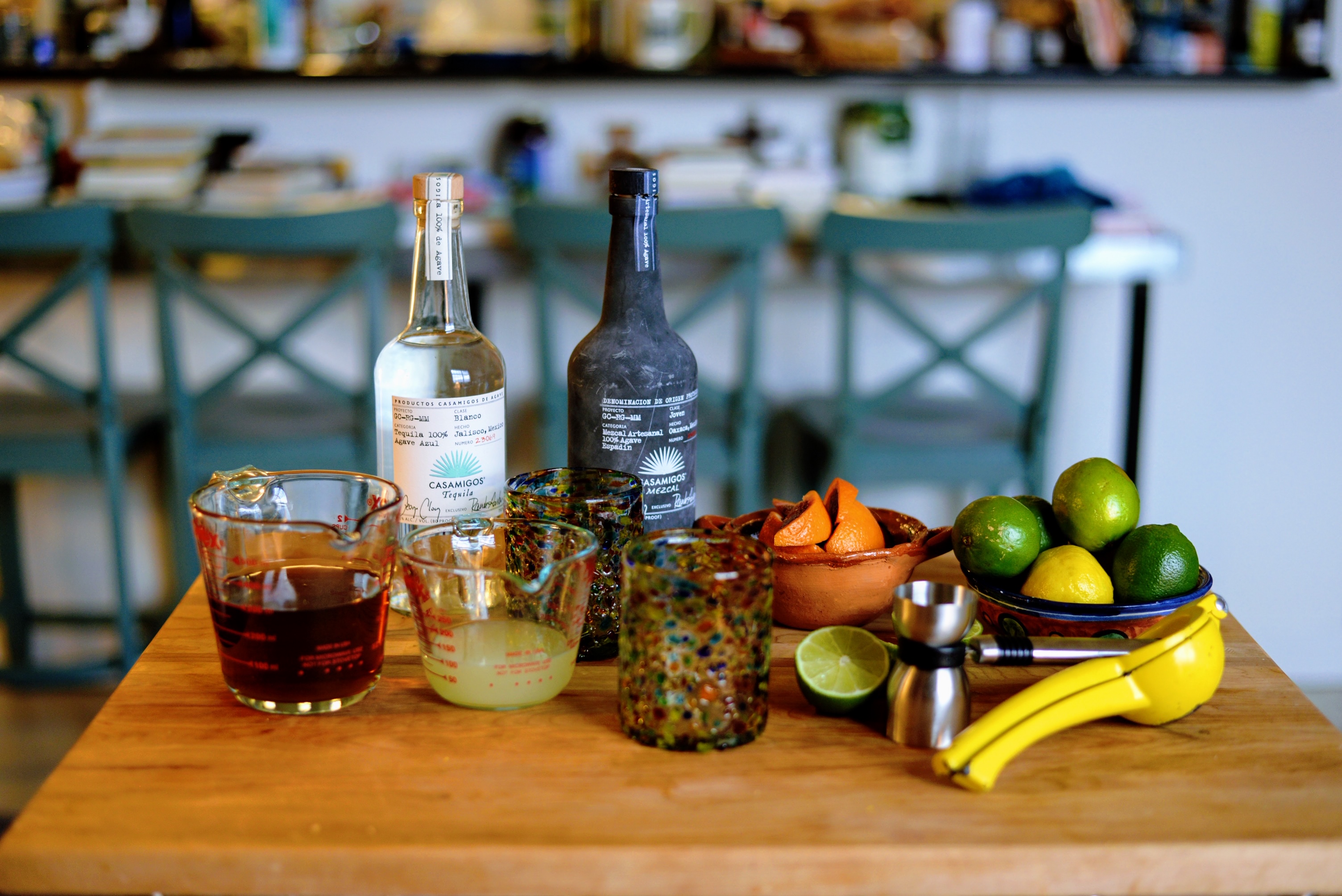 Having come into adulthood in the 1980s, all I knew of cocktails such as the Daiquiri and the Margarita were that they were slushy chemical confections consumed in unpleasant places. It's difficult to describe my wonder and delight, then, that this was not the state of the world generally. I believe I was reading about Hemingway, which I did obsessively in my twenties (unusual for aspiring writers, I know).
I came across a description, during his Cuba years, of his daiquiri, which reportedly included grapefruit juice and maraschino liqueur, the telling of course included a description of a standard daiquiri. Visiting my mom in West Palm Beach, I made a standard daiquiri that evening.
I sipped and experienced a delight that felt absolute: This is not the world you know.
I had stumbled into actual cocktails. (Theretofore I knew only these five: the martini, the gin and tonic, the Manhattan, the bloody Mary, and the mint julep.) Read this excellent article, published just yesterday in Grub Street, by Robert Simonson on my favorite category of cocktail which I had stumbled upon in the 1980s: The Sour. (I recommend having a look at his book 3-Ingredient Cocktails.) Spirit, acid, simple syrup.
No wonder, given my love of the sour, that this is the third Friday Cocktail Hour devoted to a Sour (the first, a Whiskey Sour, my favorite sour, includes an egg white). A Margarita comprises 2 parts tequila, 1 part lime juice, 1 part sweet orange liqueur (many, such as Mr. Simonson suggest less of the latter, ¾ ounce pours of both sweet and sour—but it's up to you!).
On arrival in Oaxaca a couple years ago, my wife, Ann, and I were immediately served a margarita, which at Casa Oaxaca was by default made with mezcal and it was the best we'd had. The smokiness of the agave spirit elevated the cocktail several notches above an ordinary tequila. (Not surprising for someone whose favorite whiskey is the super peaty Laphroiag.)
The entire trip was a tutorial in mezcal, the amazing spirit, made from any number of agave plants.
We took an AMAZING mezcal tour given by Andrea Hagan who created %Mezcouting, a tour service with her Mexican husband. We visited big and small distilleries and learned and tasted and ate. Tequila must be made with the blue agave plant, Andrea, explained, and must have a majority of agave but can include tons of cheap sugar as well (which accounts for all the crappy tequila out there). It was a fabulous tour and, when the world opens up again, I highly recommend her, as well as the elegant Casa Oaxaca. (I've written about my new-found love of food tours generally in this week's NYTimes travel section called "A Food Snob's Food Tour Conversion.")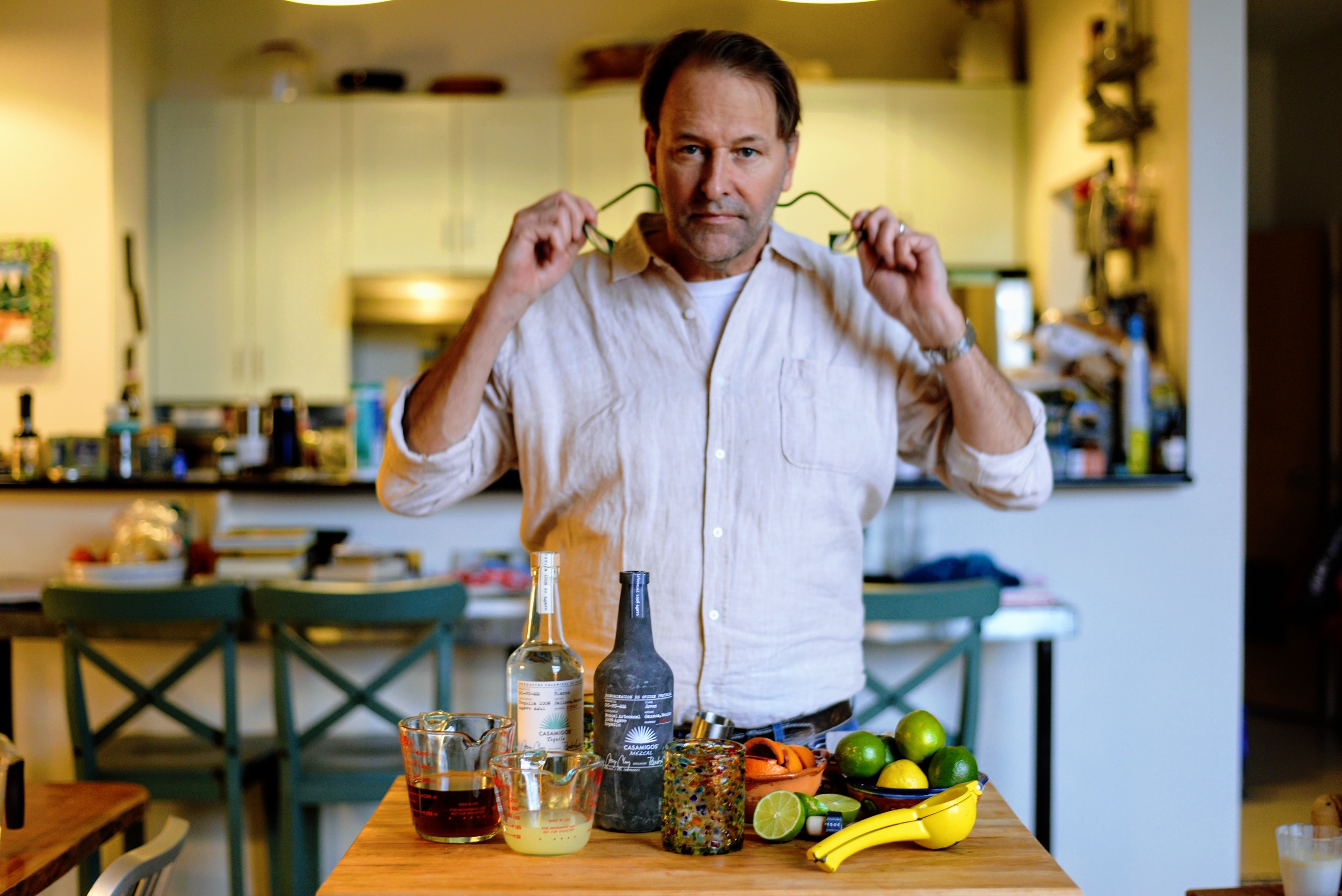 Does anyone know who invented the frozen margarita? Apparently this guy did, adapting a soft-serve ice cream machine for cocktails. I'm all for a novelty like this, but not at the expense of actual cocktails.
Please note the color of my simple syrup! It's made from brown sugar because our grocery store was clean out of regular sugar (#quarantinecooking). A reminder to improvise--need sweet? make a honey syrup or even in a pinch a corn syrup syrup). But whatever you do, if you have a spirit on hand and remembered to pick up or order in plenty of lemons and limes, you've got a great cocktail ahead of you. (Below are two margarita recipes and a youtube of my making and tasting one.)
Stay isolated but stay connected! Santé!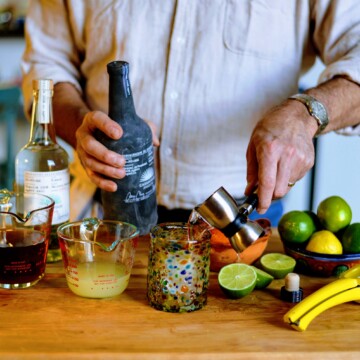 Mezcal Margarita
A version of the classic cocktail using the smokey agave spirit
Ingredients
2

ounces

mezcal

1

ounce

lime juice

1

ounce

cointreau

1

wedge orange or lime

(optional but desirable!)

1

pinch

salt

(optional)
Instructions
Combine the mezcal, lime juice and simple syrup in a glass. Add ice. Garnish with orange or lime and, if you wish, a pinch of salt.
Notes
Note, this was made with a simple syrup using brown sugar. To make simple syrup combine equal volumes of sugar and water, and boil or microwave to dissolve the sugar. Store it for up to two weeks in the fridge.
Classic Margarita
The classic proportion for a classic margarita.
Ingredients
2

ounces

tequila

¾

ounce

lime juice

¾

ounce

Cointreau or Triple Sec

1

wedge or disc

lime
Instructions
Combine the liquids in a glass, add ice and the lime. Enjoy! You've made it through another week of caronavirus quarantine.