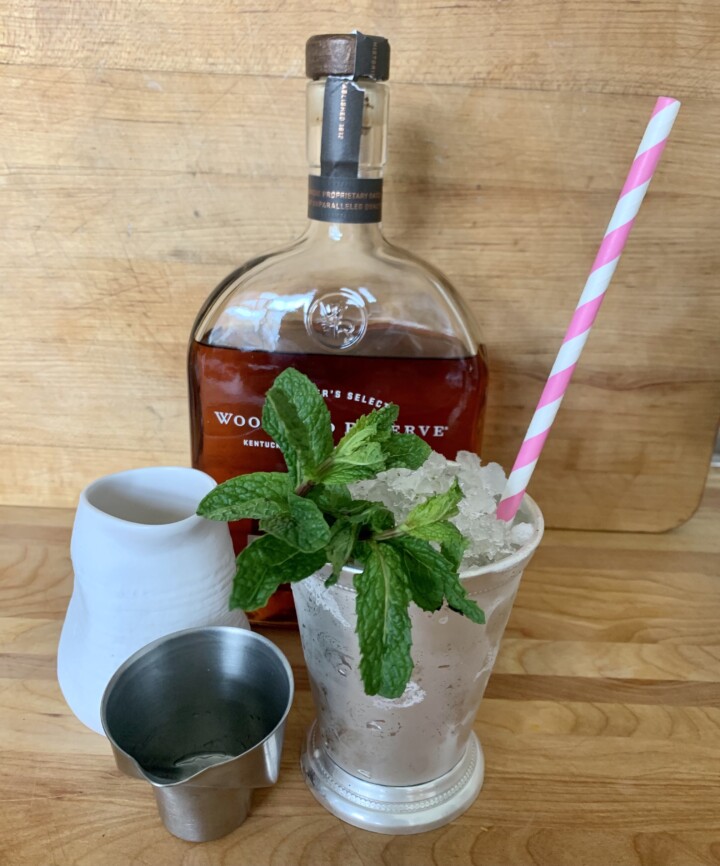 Today we'll be drinking mint juleps, of course. A julep, of course, is a category of cocktail primarily defined by the way the spirit is served, over crushed ice in a julep cup or Tom Collins glass (which I've always called a highball). Simon Diffords describes a number of them here.
The bourbon mint julep is best known, customrary on this day of the Kentucky Derby, and one of the older cocktails on record. I loved the following from an unsigned article on liquor.com.
The Mint Julep gained prominence in the southern United States during the 18th century, and it first appeared in print in 1803 in John Davis' book "Travels of Four and a Half Years in the United States of America." He wrote that the Mint Julep is a "dram of spirituous liquor that has mint steeped in it, taken by Virginians of a morning." An ice-cold whiskey drink is certainly one way to start your day.
I'll stick to a poached egg on toast in the morning, I think. But today, on May Day, for the actual Derby, proper mint juleps.
There are many ways to prepare them, none of them wrong except not using crushed ice. I've tried all kinds of variations but the standard muddling is still the best. I prefer simply syrup as opposed to sugar. If I'm making more than one, I'll mix with muddled mint in a shaker, muddle glasses as well with mint, fill them with crushed ice, shake and pour, garnish with mint, serve with straw, which makes it much easier to drink.
The Mint Julep
One of the oldest cocktails on record
Ingredients
10 mint

(or more if you wish)

1

cupful

crushed ice

2

ounces

bourbon

½

ounce

simple syrup

(1 tablepoon)
Instructions
In a julep cup or Collins glass, muddle the mint leaves.

Add the bourbon and simply syrup, and stir.

Garnish with a sprig of mint (and serve with a straw).