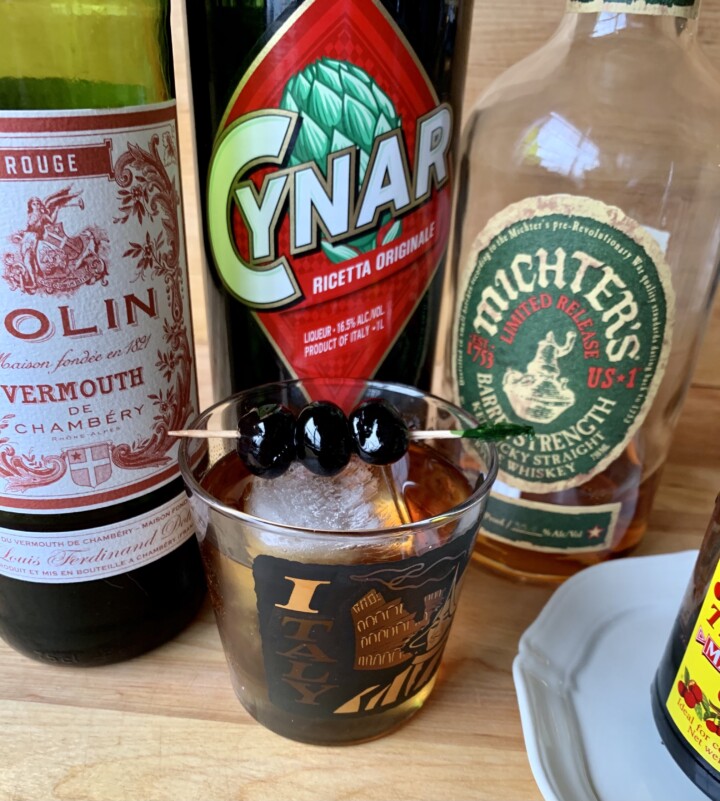 I first spotted this lovely, beautifully balanced Little Italy cocktail in a book by Robert Simonson I highly recommend. It's called Three Ingredient Cocktails, and that's all it contains. This one comes from Audrey Saunders in 2005 at her Manhattan bar, Pegu Club, on of the pioneers in the craft cocktail movement. Sadly the bar did not make it through the pandemic. But her creations will.
But the reason I found this was because during last week's Live On Instagram cocktail hour, discussing amari and the Hanky Panky, which features Frenet Branca, a very bitter, medicinal amaro. Someone brought up Cynar, the Italian aperitif whose main botanical is the artichoke. Not only had I never tried it, I didn't even know how to pronounce it (CHEE-nar).
We happened to have some awesome rye on hand, from our friends at Michter's, and so it the Friday Cocktail today. A slant on the Manhattan, replacing the bitters with this artichoke amaro.
It's a splendid cocktail. (Here's our Instagram Live artichoke themed Friday Cocktail Hour.
The Little Italy
Rye based cocktail with sweet vermouth and Cynar
Ingredients
2

ounces

rye

(The creator of this cocktail stipulates Rittenhouse 100-proof rye)

¾

ounce

sweet vermouth

(and Martini & Rossi vervmouth)

½

ounce

Cynar

brandied or Luxardo cherries for garnish
Instructions
Combine the liquid ingredients in a mixing glass. Add ice and stir to chill. Strain into a chilled coup or over a large ice cube in an old fashioned glass. Garnish with the cherries.