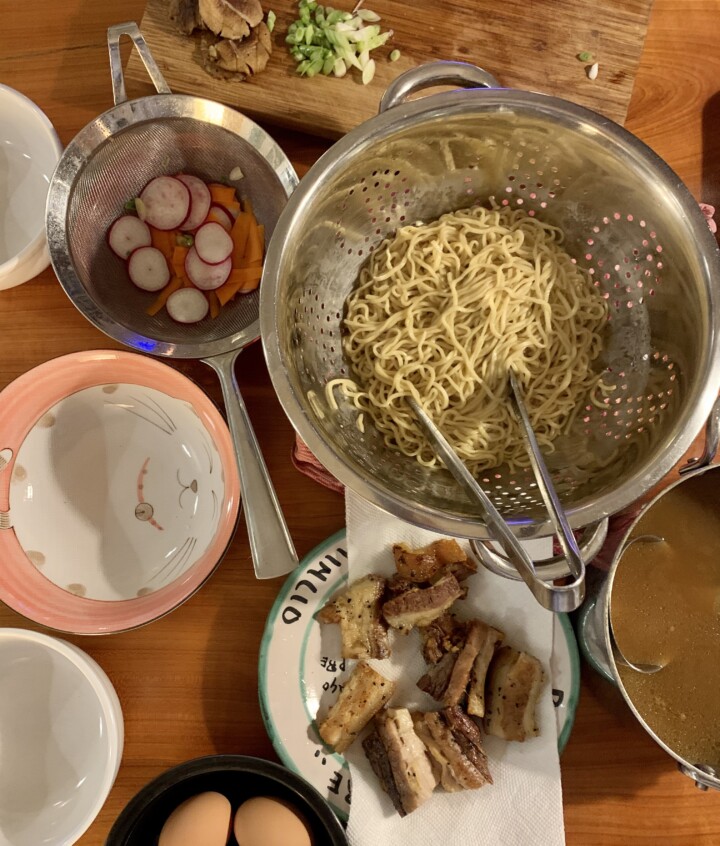 I have always wanted to make ramen noodles and this week at last got around to making them.
Ramen noodles are made distinctive by an alkaline dough. I used sodium carbonate (ordered from Amazon, but you can make your own by baking your baking soda, according to Harold McGee). You can also use food grade lye, which you will have on hand if you make pretzels. Just be careful, it's a powerful as acid, just on the other end of the pH spectrum.
The main difference between ramen dough and regular pasta dough is how dry and dense it is. It doesn't quite come together in a stand mixer. (See pix after recipe.) So you have to bring it together by hand. Once you've done this, and muscled it into shape, it's very clean and easy to work with, with almost no sticking. And the bread flour and extra gluten result in their fabulous texture when cooked (just until the float and no longer).
Pretty much the same effort as making your own egg pasta, easier to cut. You could even cut with a knife. It would be difficult to roll sheets to 1.5-2 mm without a pasta machine, though.
Here's the recipe I've settled on. Amazing flavor and texture. Don't over cook. Serve with simple clean broth, or just some soy sauce and a drizzle of sesame oil to best appreciate the flavor and texture.
Ramen Noodles
How to make the alkaline pasta
Ingredients
300

grams

water

(about 1 ½ cups)

15

grams

sodium carbonate

(about 3 ¼ teaspoons)

15

grams

salt

(2 teaspoons)

5

grams

vital wheat gluten

(about 1 ½ teaspoons)

500

grams

King Arthur's bread flour.

(about 3 ½ cups)
Instructions
Measure out your water. Add the sodium carbonate to the water (it's the opposite of but as similar effects of an acid on your skin so be careful) and stir till it's dissolved. You won't be using all of this mixture.

Put the wheat gluten and the flour in the bowl of a standing mixer fitted with a dough hook. Turn the machine on medium.

Measure out 200 grams (about a cup) of the water and sodium carbonate mixture, and slowly pour it into the mixing bowl. Scrape the flour down of the sides and keep mixing. Add just enough extra water/sodium carbonate till it's just starting to come together. It will look mealy and not form a ball with the dough hook. Stop the machine and when you can squeeze the meal into a ball, you can dump the contents out onto a cutting board, and knead by hand until you have a stiff ball of dough.

Divide the dough into 6 equal pieces. Using a pasta machine roll the pieces into sheets, beginning with the largest setting and working your way down till the dough is about 1.5 mm thick (it was the third to last setting on mine).

Roll the sheets through the spaghetti cutter. Lightly dust with flour and fold into balls. Refrigerate for a day or so (ideally, though they can be cooked straight away).

To cook bring a large pot of seasoned water to a boil. Drop the ramen in and stir. When the water returns to a boil and the ramen float, they're done. Drain and serve.