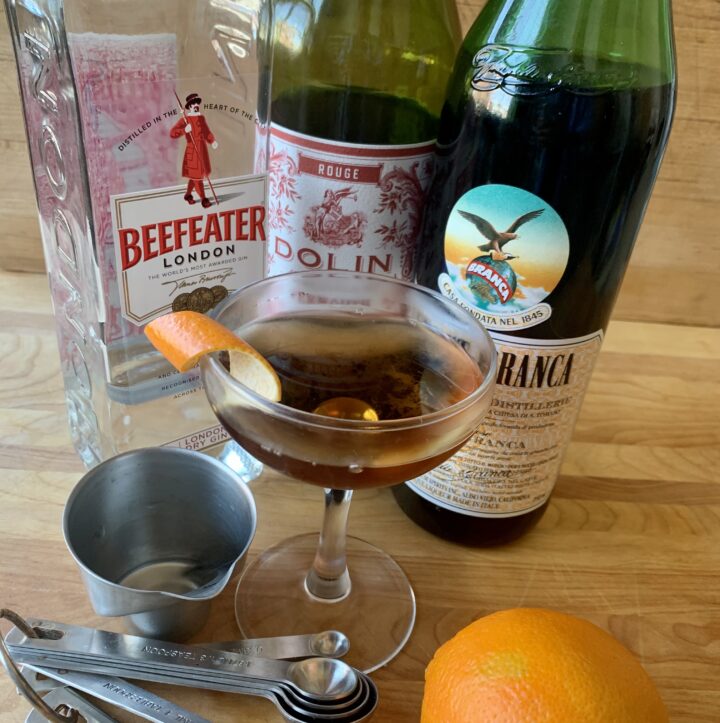 Today's cocktail is The Hanky Panky, which dates to the early 1900's in London.
A couple months ago, eager to try an applejack cocktail, I made a Wright Flyer, a relatively new apple-brandy-based cocktail. I was't keen on one of the ingredients, Fernet-Branca, a very bitter amaro. The creator of the drink also said you could use Amaro-Nonino, which I love. Fernet-Branca, no. It is medicine. I gave my stepson, Sam, a taste and he made a nasty face and said words to the effect of "Never give that to me again."
So imagine my surprise when I preferred the Wright Flyer with the Fernet in it.
Which has lead me to look for other cocktails that feature this amaro. And so came upon this classic Fernet-Branca cocktail, a lovely three ingredient drink. (One that doesn't involve Coca Cola—apparently a splendid use for this amaro.)
The Hanky Panky was invented at the American Bar in the Savoy Hotel by Ada Coleman, aka Coley. An "American Bar" back then meant a bar that served American-style cocktails, mixed drink.
The story goes that an English actor, Sir Charles Hawtrey, considered one of the leading actors of his generation, was a regular at the American Bar, and Coley prided herself in creating cocktails for him. One night, in the early 1900s, he walked in, he requested something with a punch, and she gave him this drink, which she'd been working on. He took a sip and said, "By Jove, that's the real hanky panky." And the name stuck.
Harry Craddock, who would take over as lead bartender and write the influential The Savoy Cocktail Book, including Coley's Hanky Panky. (He was also creator of the White Lady—I did a version of it here—with the addition of Luxardo) and the Corpse Revivor #2.
The Hanky Panky is equal parts gin and sweet vermouth, with a 1 or 2 dashes of Fernet-Branca. I've never liked the imprecision of "a dash." According to the Wikibooks Bartending Glossary, a dash equals 1/32nd of an ounce, or a 16th of a tablespoon. Even two of those are not enough for this cocktail, so I add a solid ¼ teaspoon of the Fernet, and it is a wonder how it transforms the gin and vermouth.
I shouldn't be surprised. It's much like my favorite cocktail, The Negroni, only instead of the bitter component's being Campari (very sugary, very caloric), the bitter component is the Fernet-Branca, and so allows me to put this the category of diet cocktails.
(Here's the Instagram Live demo and discussion of the Hanky Panky.)
Happy Friday everyone! Get your vaccines!
The Hanky Panky
A gin and sweet vermouth cocktail seasoned with a bitter amaro
Ingredients
1.5

ounces

gin

1.5

ounces

sweet vermouth

¼

tsp

Fernet-Branca

1

orange twist
Instructions
Combine the fluids in a mixing glass, add ice and still until well-chilled. Strain into a chilled coup and garnish with an orange peel.
Notes
Use a good vermouth, it makes all the difference.