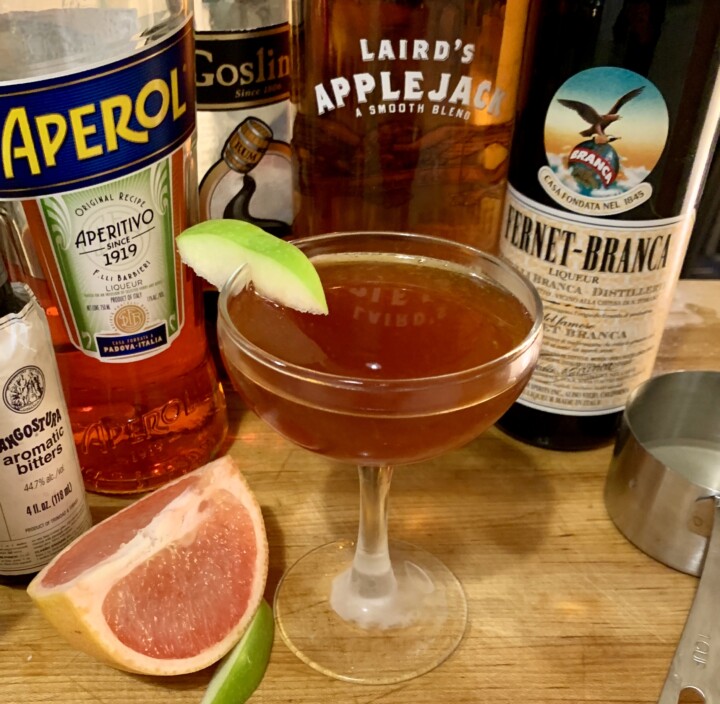 I'd been hankering to buy a bottle of Applejack, don't know why, but when a long story on Applejack appeared in Wednesday's food section of The NYTimes, it spurred me to action. The paper things: "Applejack returns!" And a great thing it is, using the crop so abundant in this land.
I was lucky enough in 2014, when I lived in Cleveland, to learn of a man named Tom Herbruck who lived twenty minutes away and was making fabulous Applejack from the wealth of apple orchards surrounding him. He called it Tom's Foolery. He lived on the edge of suburbia, with farmland stretching beyond. He would soon go on to ferment grains for whiskey and age them in barrels, fascinated by the process. He and his wife Lianne both grow their own fruit and grain and also buy it from nearby farmers. He's a great story—see my post about him here.
Whiskey is grain, often malted (sprouted), that is fermented into a clear alcohol and aged in barrels that give the spirit its flavor and color. Applejack is a kind of brandy, which is fermented fruit—grapes/wine, apple/hard cider—that is then distilled.
If you are in Peru, the local brandy is Pisco (see last week's Pisco Sour), and it is not aged in barrels, and therefore clear. If you are in Gascony, the wine is distilled and aged in barrels to become Armagnac. If you are in Geauga County, OH, or Asheville, NC, you distill hard cider and age it in barrels for what was America's original syrup.
At first it wasn't distilled but rather "jacked," according to The Times story: hard cider was frozen, and the crystalized water was removed until it reached about 80 proof. Apples were currency in 17th- and 18th-century America. Hard cider was safer to drink than water. And Laird's became the first actual distillery in America in 1698, and has run continuously since, even during prohibition.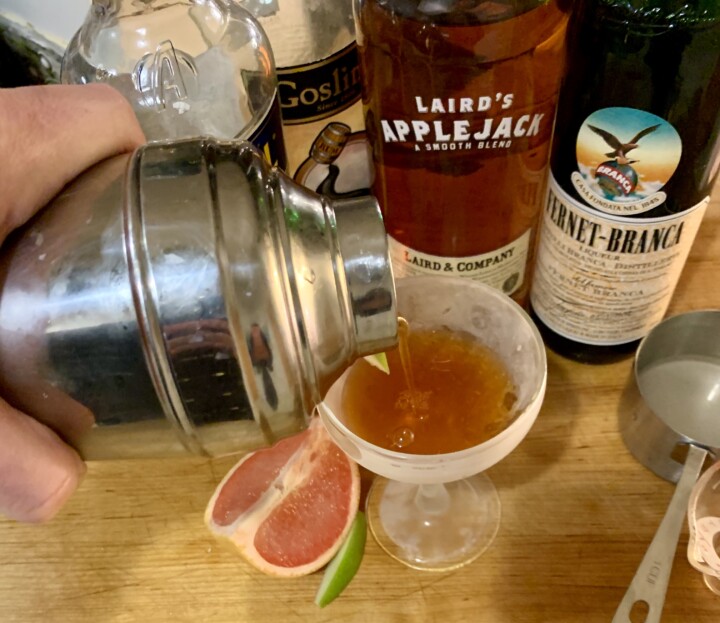 The following cocktail is adapted from the one in The Times, created by Asheville restaurant manager Drew Furlough, who looked to the Paper Plane, which mixes whisky with Aperol and Amaro Nonino. Here he creates a well balanced mix of bitter ingredients (including grapefruit juice and the ultra medicinal Frenet Branca) for a truly intriguing cocktail.
After this, you can make an Applejack Manhattan (we could call it The Big Apple!), an Applejack Sour or even an Applejack paper plane. It's a great and undervalued spirit.
Happy Friday all!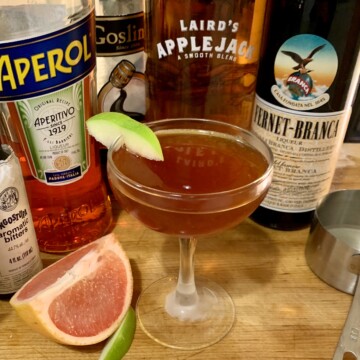 Wright Flyer
An applejack cocktail with Aperol and Frenet Branca
Ingredients
1

tsp

simple syrup

(Furlough used demorara sugar, you could use a half teaspoon regular sugar as long as it dissolves.)

6

dashes

Angastora bitters

1.5

ounces

applejack

1.5

ounces

Frenet Branca

(you can substitute Amaro Nonino)

1.5

ounces

grapefruit juice

1.5

ounces

Aperol

0.5

ounces

dark rum

2

apple sliced
Instructions
In a mixing glass or shaker, combine all the ingredients except the apple with ice. Stir or swirl till thoroughly chilled. Strain into chilled coups and garnish with the apple.