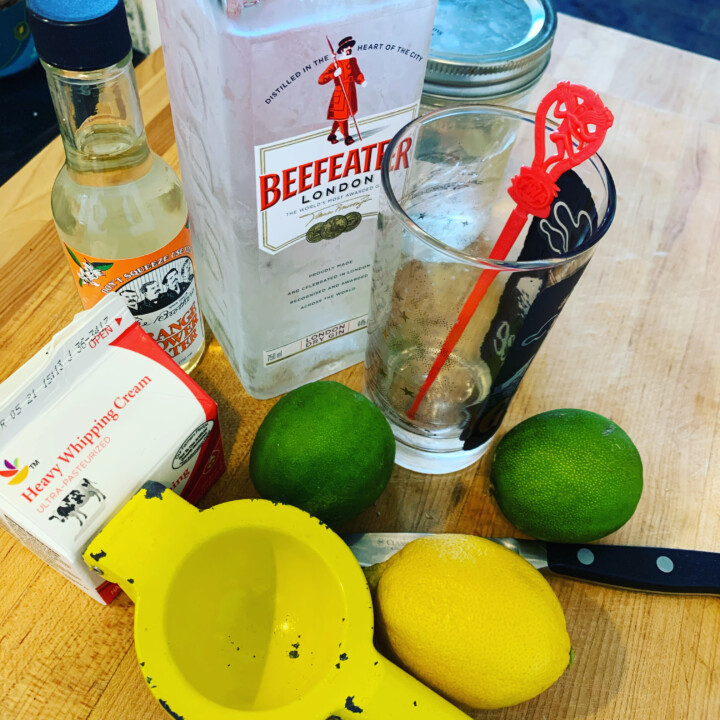 Henry Charles Ramos created the Ramos Gin Fizz, the heady, floral, creamy gin cocktail, in 1888 at the Imperial Cabinet Saloon in New Orleans. It required so much shaking, as many as 12 minutes of shaking, that many bartenders were kept on hand keep up with the orders of this popular elixir.
The Louisiana governor, US Senator, Huey Long, the notorious politician, loved it so much he brought a bartender to The New Yorker Hotel where he stayed to teach the hotel's bartender how to make it so that he could have a Ramos Gin Fizz when he visited New York.
A fizz is a sour, with seltzer, typically served up in a collins glass. A collins is a sour with seltzer served over ice, such as the Tom Collins.
The Ramos Gin Fizz is a delicious treat, flavored with orange water, a distillation of orange blossoms. It's kind of tastes like a creamsicle. Some sources note that vanilla is a controversial ingredient. I like a couple drops in mine even if it isn't part of the original drink (which also called for powdered sugar, not simple syrup).
The Ramos Gin Fizz is famously the bane of bartenders because it's got 8 or 9 ingredients and because of all the shaking, dry shaking and shaking with ice. I take the handy short cut of blending the mix, then shaking with ice. An excellent strategy for serving several drinks.
Here's the Instagram video of making it.
The Ramos Gin Fizz
The classic New Orleans Fizz
Ingredients
2

ounces

gin

½

ounce

lemon juice

½

ounce

lime juice

¾

ounce

simple syrup

1

ounce

cream

several

dashes

orange blossom water

2

drops

vanilla extract

(optional)

1

egg white

seltzer as needed
Instructions
Combine all the ingredients except the seltzer in a large measuring glass and blend well with a hand blender. (You can also do this in blender.) Pour the drink into a shaker filled with ice. Shake till chilled. Pour into a chlled collins glass or highball. Top with seltzer.