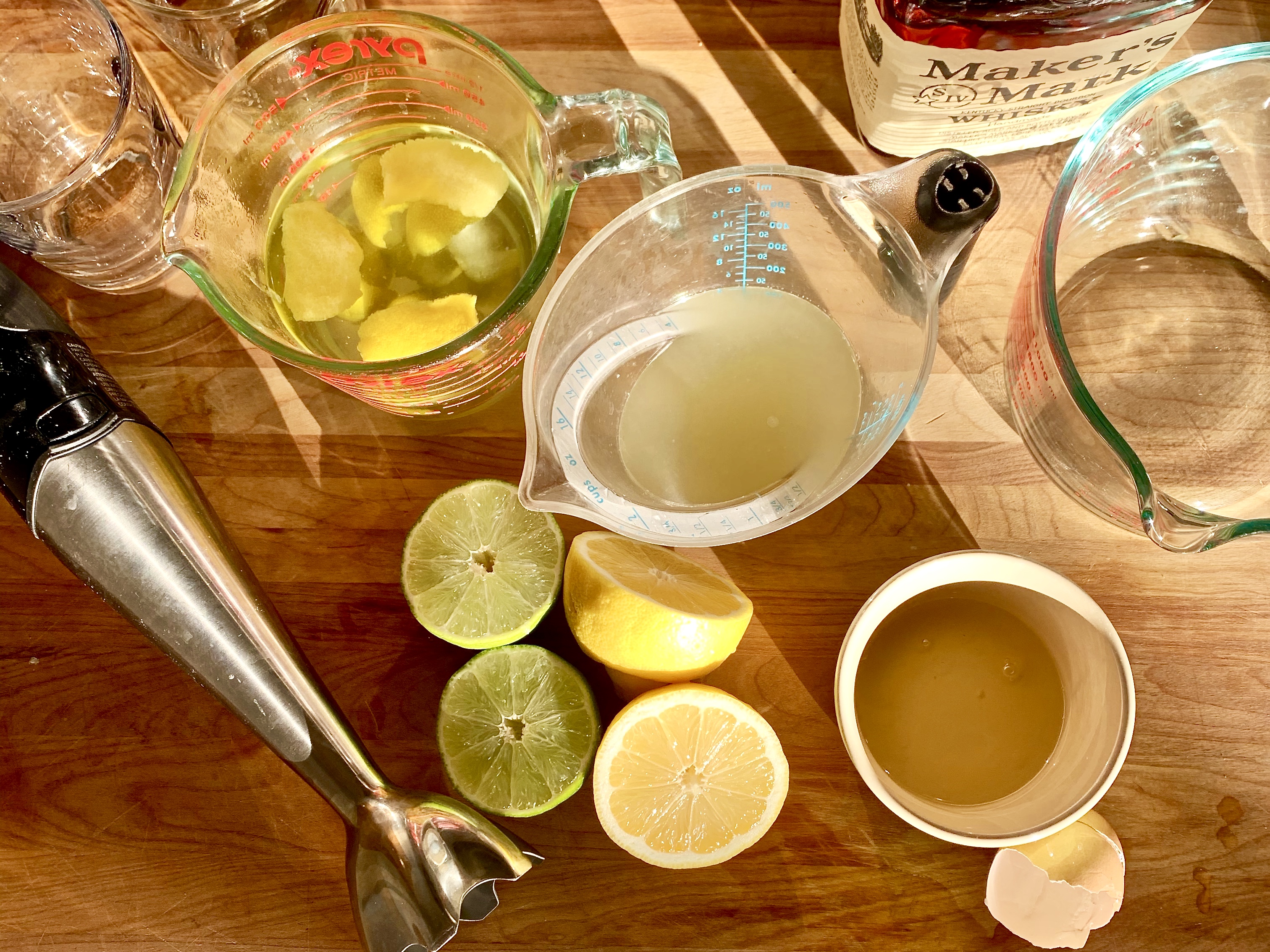 One of the great pleasures of the cocktail hour is sharing it, especially during these distancing times. The Friday before we bolted New York City, we'd had our friends Bruce Handy and Helen Schulman, both writers, to our apartment for a cocktail pre- our first meal at the new Barbuto. Problems: four cocktails one shaker, and I don't want to spend half of our time mixing drinks.
Strategy: Go to your arsenal of what I will call Collective Cocktails (like collective nouns, pride of lions, murder of crows, batch of whiskey sours), cocktails that batch well and can be made even before the guests arrive. One of them, (given a Pyrex measuring glass and a hand blender to froth the egg whites) is the whiskey sour. The ones I made for Bruce, Helen and Ann were so good, Bruce shook his head incredulous, and asked for more. They really are that good. (The Whiskey Sour was one of two cocktails I included in From Scratch.)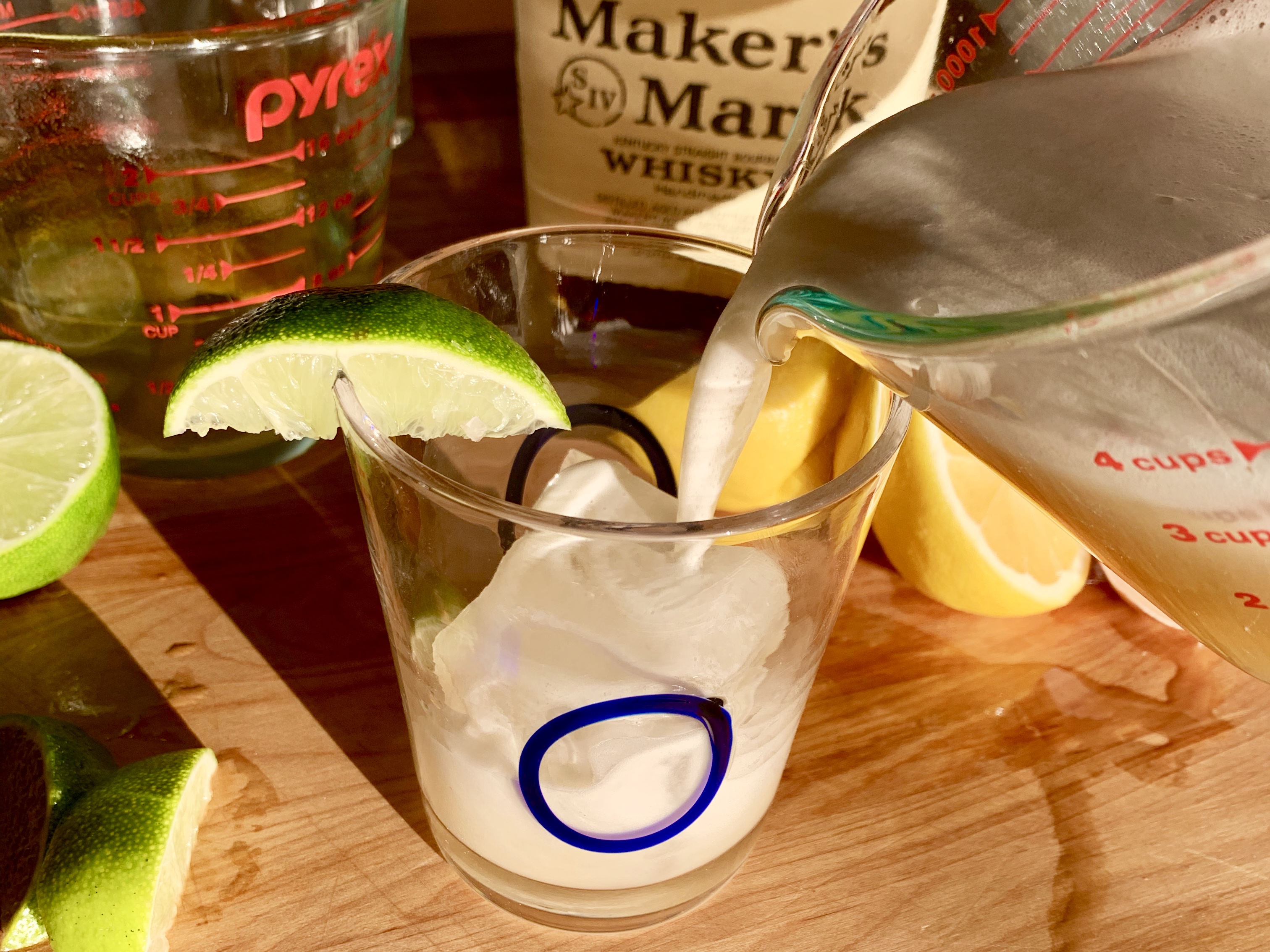 I find it interesting that so many variations exist, but I stick to standard ratios that are easy to remember and, of course, easy to adjust as necessary. Here, 2 parts bourbon : 1 part simple syrup : 1 part citrus juice : 1 egg white.
Notes: I use an inexpensive bourbon and save the Blanton's and Michter's for sipping. Simple syrup is one part sugar dissolved in 1 part water. I make mine in a microwave. Add citrus zest for flavor if you wish. Do this ahead so it has time to chill (it will keep for a week or two in the fridge). Citrus: I'm partial to a lime and lemon mix, heavier on the lime. But one tasting found any lime to be the kiss of death! I'm crazy about limes so I'm keeping mine, but good to know. And of course, the egg white, which is so, so important. It gives the spirit and juice body, and a creaminess to the cocktail both in appearance and on the palate, and it turns a cocktail into a protein drink!
Method: combine all ingredients (you can even use the markings on the measuring glass, no jiggers required), buzz with a hand blender. Prepare 4 glasses with ice, preferably one large cube each, and appropriate garnish. Fill the measuring glass with ice to chill the collective cocktail. Stir and strain into the glasses.
With the weather clement in Rhode Island, and our neighbors self-sheltering responsibly, we'll hope to share a whiskey sour with them up on the roof, six feet apart, at the end of this day, to take some respite from the heavy news of the day (and with prayers going out to all those in NYC fighting in the world's newest hot zone).
A muted, but grateful, cheers.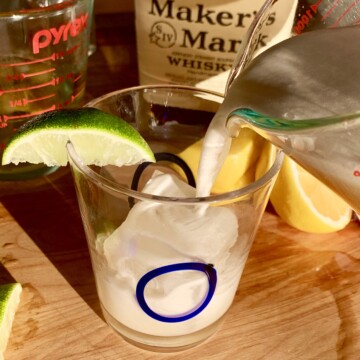 The Whiskey Sour
One of the great cocktails, excellent to make in batches
Equipment
Hand blender or standing blender.
Ingredients
8

ounces

bourbon

4

ounces

citrus juice, or more as needed

lime, lemon, or a mix,

4

ounces

simple syrup, or more as needed

sugar dissolved in an equal amount of water

2

egg whites
Instructions
Combine all the ingredients in a large measuring glass and blend with a hand blender. (This can be done in a standing mixer as well.)

Taste! Think. If it's too sour, add simple syrup. If too sweet add citrus. If you would like it stronger add 2 to 4 more ounces bourbon. Up to you!

Fill the measuring glass with ice and stir to chill.

Strain into four glasses over ice.