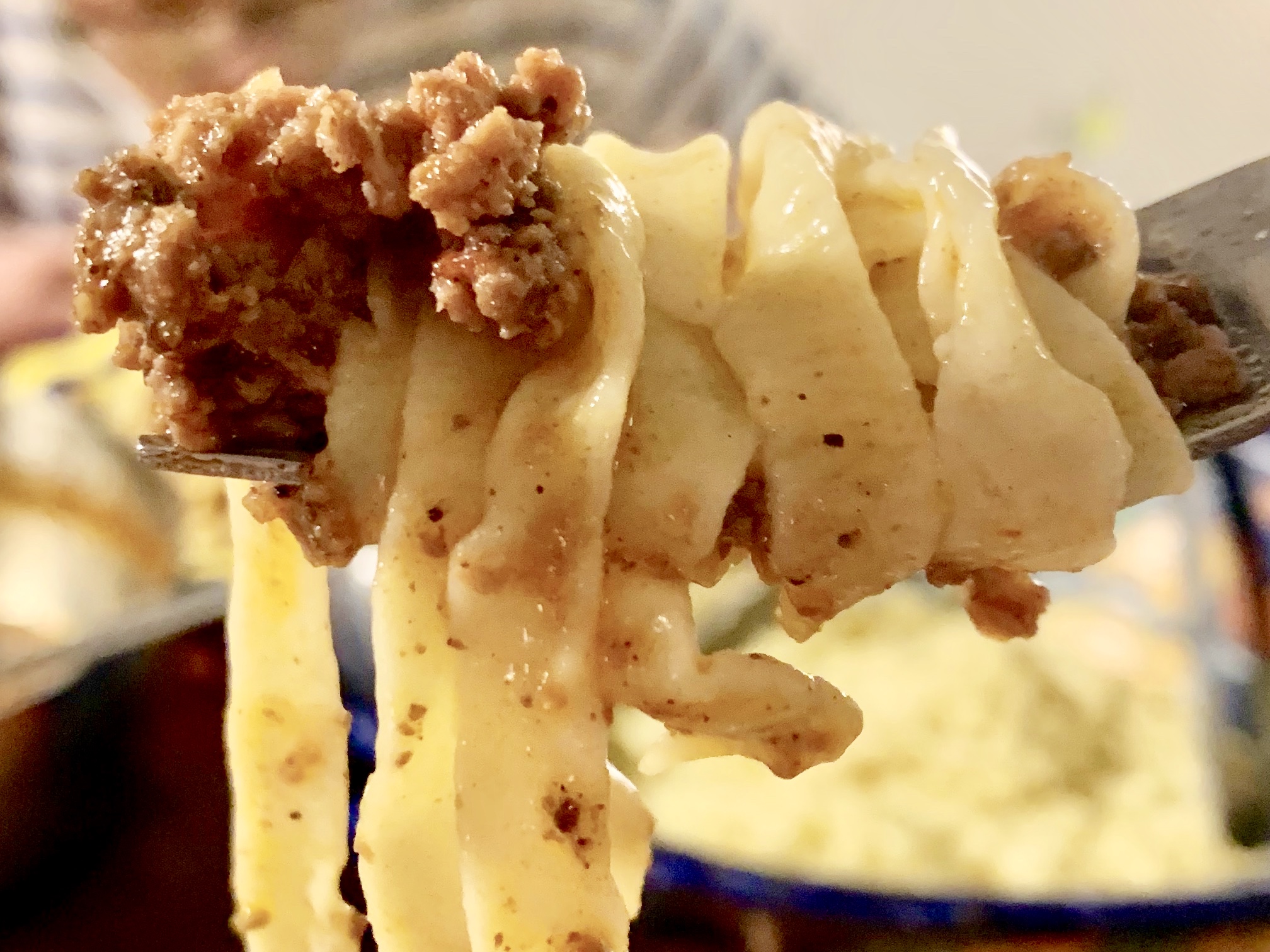 Now is the perfect time to cook what you always wanted to but didn't have the time. Here is one of those universal preparations that we think of as a project and perfect for Cooking in Quarantine. Unfortunately, it's not that big of a project! Making fresh pasta takes me 1 hour, start to finish (meaning cleaned up, and flour swept up off the floor). And this is to make one batch for dinner and one batch to freeze. If you have flour in the pantry and eggs in the fridge, and a little extra virgin olive oil to drizzle on top, you've got an absolutely stellar meal. Don't have a pasta roller? It's a little more time consuming but a rolling pin and knife will work.
As I wrote in Ratio, a perfect pasta ratio is three parts flour mixed with 2 parts egg. I weighed my eggs first which would allow me to determine the flour—300 grams (ish). This meant I needed to weigh out 450 grams, a pound, of flour. Or, more practically speaking, 6 eggs and three cups of flour, pinch of salt and dash of olive oil. And it's good rule of thumb: 2 eggs per cup of flour. And for normal portions, I figure one egg per person, but you always want more, which is why I used 6 eggs for 3 people.
And here's what six eggs and 3 cups of flour become: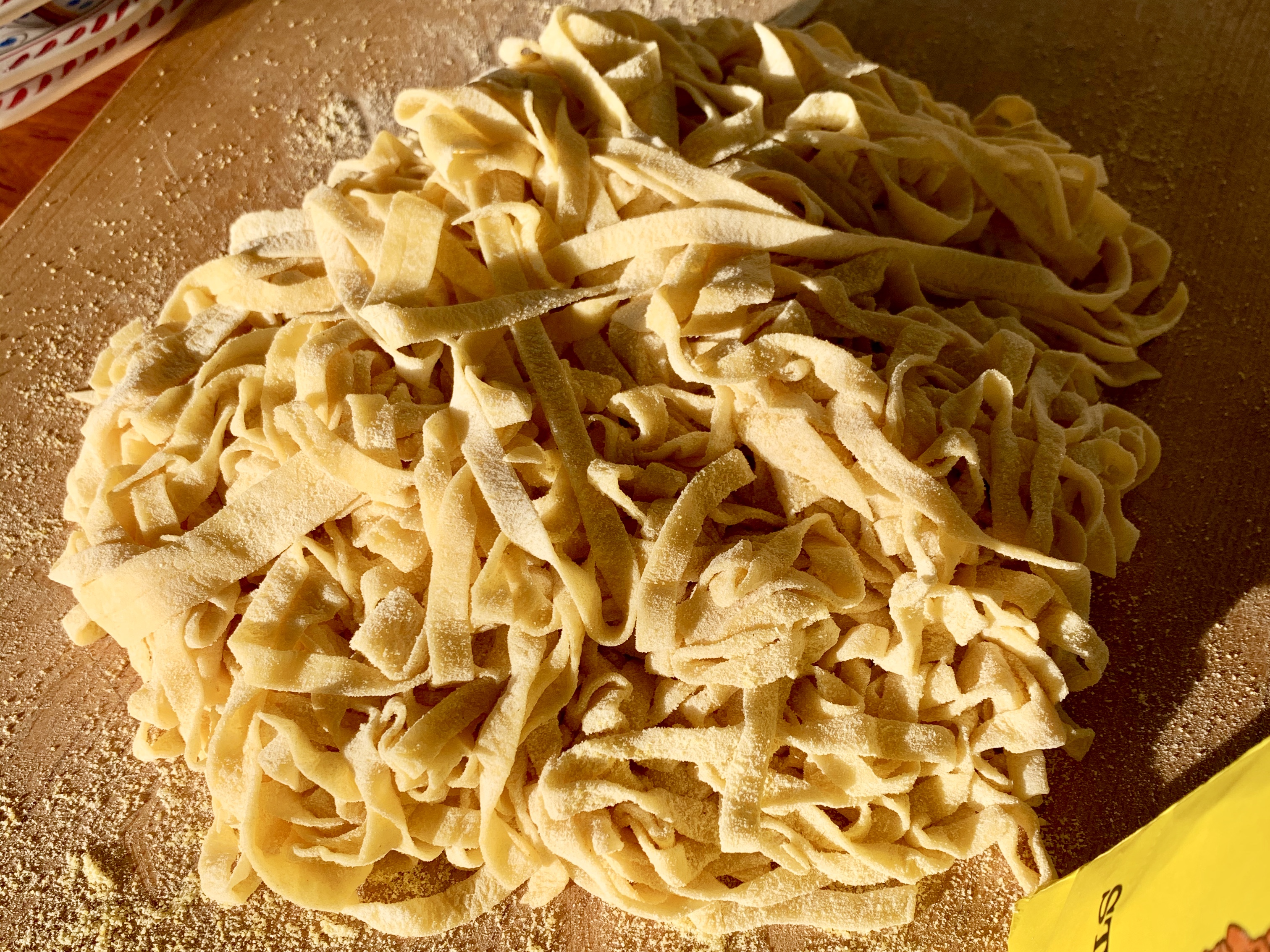 It's a snap if you use standing mixer. But knead by hand if you wish—it's meditative and relaxing. I love how a shaggy sticky dough slowly becomes smooth as skin after 10 minutes of kneading. There's also the meditative nature of rolling it through your pasta machine, watching it thin and expand. Here when rolling it, it's especially pleasing to touch.
For all the pleasures of making and eating such pasta, there's also the cost. Something that costs less than 50 cents per serving shouldn't be allowed to be this good.
Once you see how easy it is, you'll be wanting to make ravioli or your own lasagna. Lasagna from scratch. Hey, that's not a bad idea. A community From Scratch challenge during the isolation of Covid-19. A lasagna from scratch, making one component each week--a bechamel, a bolognese, making your own ricotta, how to make simple Italian sausage from store bought ground pork or pork you grind yourself.
As I begin to blog more, I think I might try to focus on cooking projects. One project a week, concluding with one Friday cocktail. Hope you'll make this pasta--it's such a pleasure. And don't miss the video links below the recipe: inspiring!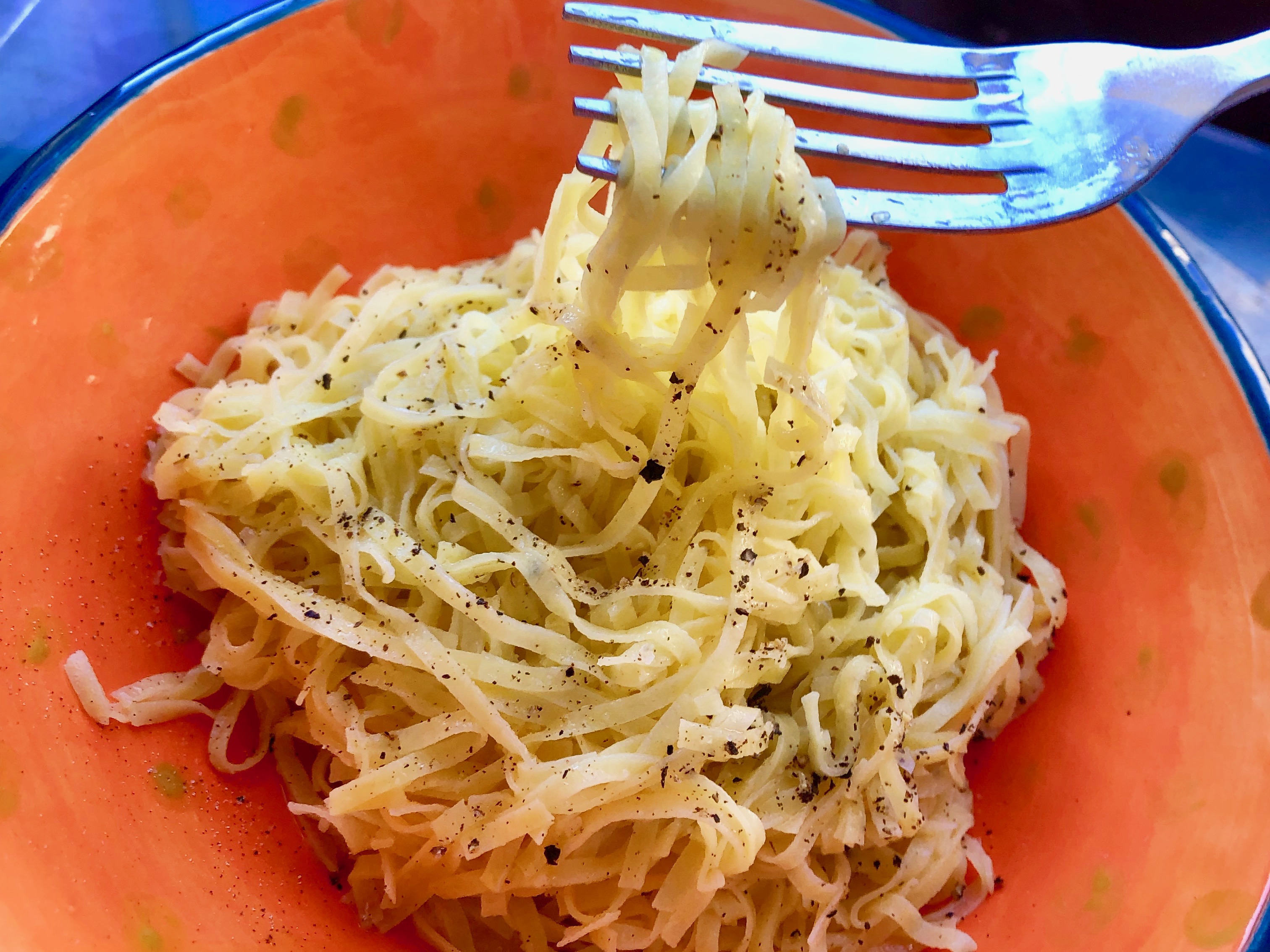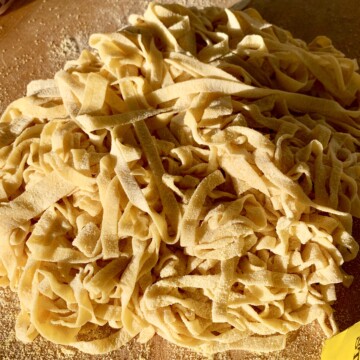 Homemade Pasta
How to make your own egg and flour pasta (it's like nothing you can buy)
Equipment
Pasta roller (or rolling pin or pasta rolling pin).
Ingredients
1

pound, plus more for dusting,

flour

AP or "00"

6

large eggs

1

tbls

olive oil

to taste

salt

as needed

corn meal

optional
Instructions
Combine the ingredients in the bowl of a standing mixer fitted with a dough hook (or in a bowl if mixing by hand). Mix until the dough comes together and forms a sticky ball, 5 to 10 minutes. Turn the dough out on a work surface and finish kneading by hand. Cover with a towel and let rest for at least 20 minutes or up to an hour, or wrap in plastic and refrigerate for up to 24 hours.

Cut the pasta into 4 to 6 equal pieces.

Roll each piece through the widest setting on your pasta roller. (If rolling by hand, roll each piece until it gives resistance, then let that piece rest and relax while you roll the others). Fold each piece in thirds and roll each through the widest setting again. Begin reducing the width of the roller and roll each piece through until you reach the 2nd to last setting. Roll through that, then hang each on a chair or rod to dry while you finish the rest.

Send each piece through your preferred cutter. You can also roll each sheet, making sure it's well floured, and slice it with a knife to the desired thickness. Toss each batch with corn meal or more flour.

To cook, bring a large pot of water, nicely seasoned with salt, to a boil. Add the pasta and cook until tender, 2 to 3 mintues. Strain, toss with butter or olive oil and eat!
Here are a two great pasta videos to inspire. The one from Bon Appetit is killer.
From Bon Appetit, 29 pasta shapes, by Luca Donofrio.
Watch an Italian nonna use a pasta rolling pin to roll out the pasta. (I even did a video demo of how to use a pasta rolling pin way back when. It's not hard if you take your time.)
You can buy a pasta rolling pin from Vermont Rolling Pins. I had one in my previous life and it was a dream.