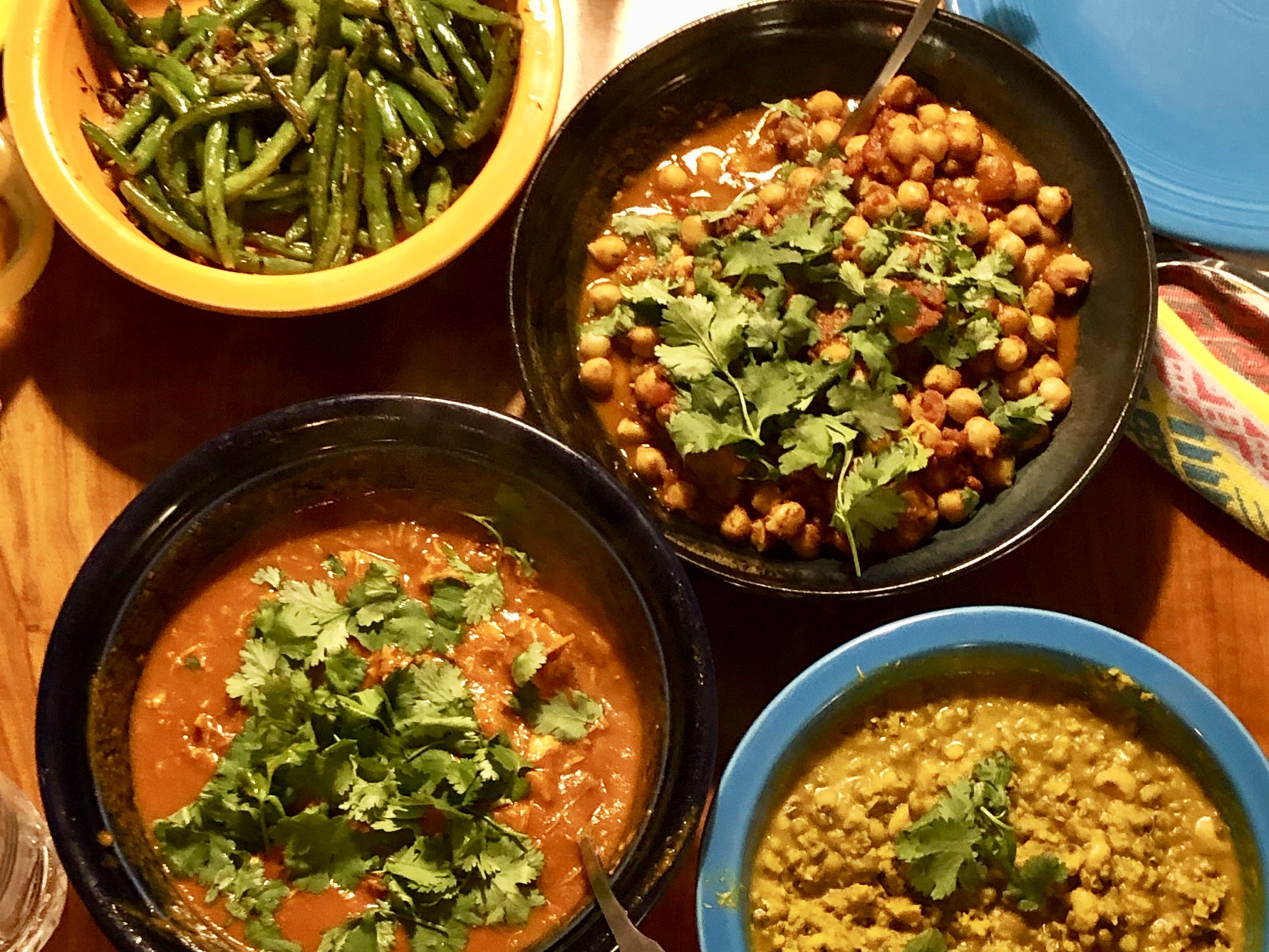 Saturday night, the five of us sheltering together decided on an Indian feast for Sunday, with lots of cooking. I'd had some Rancho Gordo garbanzos soaking. I'd also been eager to make my mung bean dal.
We also wanted to put our Instant Pot to work, having given the famous Instant Pot butter chicken recipe a. go (it was OK but we felt it was lacking in flavor. And something green—beans, seasoned with the beguiling spice shaa jeera, sometimes called black cumin, which tastes like a smoked version of cumin.
All recipes below, served with rice and papadums.
We made the chana masala (adapted for Instant Pot from my book From Scratch) early in the day, cooking aromatics and spices using the saute function, then pressure cooking the chickpeas using high pressure. They were done in an astonishing 12 minutes (they reheat beautifully).
Ditto that method for the butter chicken. But, newbies to the Instant Pot, with both recipes we were left with too much liquid, both of which needed to be reduced by half. But the reduction was in fact a great benefit, concentrating the flavors of both sauces. The seasonings for the butter chicken were superb.
The dal (you can use any dal-style bean--but I love the mung and black-eyed peas for their earthiness) uses the excellent technique of "tempering," which is cooking the spices in browned butter (or ghee), adding lemon to cool it down, and pouring this mixture into the beans at the end.
The following recipes have been amended for the Instant Pot but the chicken and chana masala can be simmered on stove top using double the amount of tomato.
Instant Pot Butter Chicken
A really good version of this popular dish
Equipment
Pressure cooker or Instant Pot helpful but not required

or a Sauce pan (this can all be done in a sauce pan, just simmer till chicken is tender)
Ingredients
1

tsp

vegetable oil

1

tbls

chopped garlic

1

tbls

minced ginger

2

tsp

cumin

2

tsp

coriander

2

tsp

curry powder

2

tsp

paprika

½

tsp

Indian chilli powder (or cayenne)

if you like it spicy, reduce if not, or add more!

24

ounces

boneless chicken, large dice

skinless thighs are best, breasts if you prefer

14

ounce can

diced tomatoes or tomato puree

or a 28-ounce can if cooking on stove top

1

tsp

kosher salt

or to taste

½

cup

cream

4

ounces

butter

as needed

beurre manie or slurry

optional, as needed to make it the consistency you wish

¼-1/2

cup

cilantro
Instructions
Here's the gist: Sweat garlic and ginger, toast spices , add chicken and saute briefly, add tomatoes just to cover, pressure cook till done then stir in cream and butter.

So: In an Instant pot with saute on high, add the oil ginger and garlic and cook until garlic is softened, a minute or so. Add the spices and saute until they become fragrant.

Add the chicken and saute it until the outside is cooked. Then add the tomato and salt. Press cancel, then cover and pressure cook on high for ten minutes. (If cooking on the stove, bring to a simmer uncovered for 20 to 30 minutes or until your chicken is tender.) Allow to rest for 20 minutes after cooking, then press steam release.

Using the saute function, bring the sauce to a simmer. Add the cream and butter after it's reduced. Taste and adjust seasoning as you wish. If you would like it thicker, simmer to cook off liquid and/or add a cornstarch slurry or beurre manie.

Garnish with cilantro. Serve with jasmine or basmati rice.
Instant Pot Chana Masala
One of the great Indian chick pea dishes
Equipment
Instant Pot or Pressure cooker (but a sauce pan will do!)
Ingredients
1

tsp

grated ginger

(I've found ginger puree in a tube which I've liked)

1

tbls

garam masala

1

tsp

shaa jeera

(optional)

½

tsp

ground coriander

½

tsp

ground cumin

¼

tsp

Indian chilli powder

(or cayenne)

¼

tsp

ground cinnamon

2

tbls

butter

14

ounce

can diced or crushed tomatoes

(use 28 ounces if cooking on stove top)

2

cups

dried chickpeas, soaked overnight

1

tsp

kosher salt

cilantro as needed for garnish
Instructions
Combine the ginger, garam masala, shaa jeera (if using), coriander, cumin, chilli powder or cayenne, and cinnamon in a ramekin.

Press the saute button on your Instant Pot (again you can do this on the stove top in a sauce pan). When the butter is frothy and about to brown, add the ingredients from the ramekin and saute till fragrant, about a minute.

Add the tomatoes, chickpeas and salt. Cancel the saute, cover the Instant Pot and set timer for 12 minutes. Allow the chickpeas to rest 20 or 30 minutes before releasing the steam.

Taste and evaluate the chickpeas. Consider reducing by. simmering or thickening with a slurry. Add more salt if it needs it. A squeeze of lemon if you have it never hurt any dish that I know of.
Notes
To repeat, the recipe is for an instant pot or pressure cooker. The beans will take about 45 minutes to an hour conventionally. You can also use two 15-ounce cans of chickpeas. In this case I recommend stovetop method, simmering the 28. ounces of tomatoes and spiced for 30 minutes, adding the chickpeas and cooking another 15 minutes. This recipe is adapted from my book From Scratch.
Lemon-Cumin Dal
This is my favorite and unconventional dal, using mung beans
Ingredients
1

cup

mung beans, rinsed and picked over for unusable beans or inedibles

⅓

cup

black-eyed peas

1

tsp

ground cumin

½

tsp

shaa jeera

(optional but I think it's important)

1

tsp

turmeric

½

teaspoon

cayenne powder

(I like it spicy; reduce if you do not)

½

tsp

kosher salt

2

cloves

smashed with the flat side of a knife and chopped

2

tsp

grated ginger

3

tbls

butter

2

tbls

lemon juice

¼

cup

picked cilantro
Instructions
In a medium saucepan, combine the beans and peas. Add 3 ½ cups/840 milliliters water. Bring to a simmer over high heat, cover, reduce the heat to low, and cook until the water has reduced to the level of the beans and the beans are tender, 45 minutes.

In a small dish, combine the cumin, kala jeera, turmeric, cayenne, 1 ½ teaspoons salt, garlic, and ginger. In a small frying pan over medium-high heat, melt the butter and cook until the frothing subsides and the butter has browned slightly. Add the spice mixture and sauté for 20 seconds or so. Stir into the dal. Bring the dal to a simmer, remove from the heat, and stir in the 2 tablespoons lemon juice. Taste for seasoning, and add more lemon or salt as needed. Serve garnished with cilantro, if desired.
Notes
This thick bean dish is in the style of Indian preparations that often use red or yellow split peas or lentils. Here, I combine mung beans and black-eyed peas because I particularly like the earthiness of the peas. Adapted from a recipe by an Indian chemist turned restaurateur I once wrote about, it's a staple in our house. The dal takes an hour to cook but only about five minutes of prep time. It is finished with a serious dose of acidity, in the form of lemon juice, but if you have access to tamarind pulp, use that in place of the lemon. I like the smokiness of the kala jeera, also called black cumin (available at Indian food markets), but the dal is delicious without it. In addition to demonstrating the impact of acidity, this recipe cooks the spices and aromatics in butter before they are added to the beans. Once you've seen how powerfully this technique works, it is open to many interpretations and different spice levels. A traditional dal would use ghee, or clarified browned butter, another option. The dal makes a hearty vegetarian meal with some basmati rice and fried bread, my favorite being pappadams.
Shaa Jeera Green Beans (or cumin green beens)
An easy fragrant vegetable side dish, green beans with Indian spice
Ingredients
1-½

pounds

green beans, boiled till al dente then shocked

3

tbls

butter

2

cloves

garlic, smashed and chopped

2

tsp

minced or grated ginger

1

tbls

shaa jeera

(you can do this with whole cumin seeds if you must but it's not the same)
Instructions
Make sure green beans are well drain.

In a heavy skillet over high heat, melt the butter. When it begins to froth, add the garlic ginger and shaa jeera (or cumin seeds). Cook until tender, about 30 seconds. Add the beans and stir fry till they're coated with butter and seasonings and heated through, a minute or two.
Happy cooking, all!