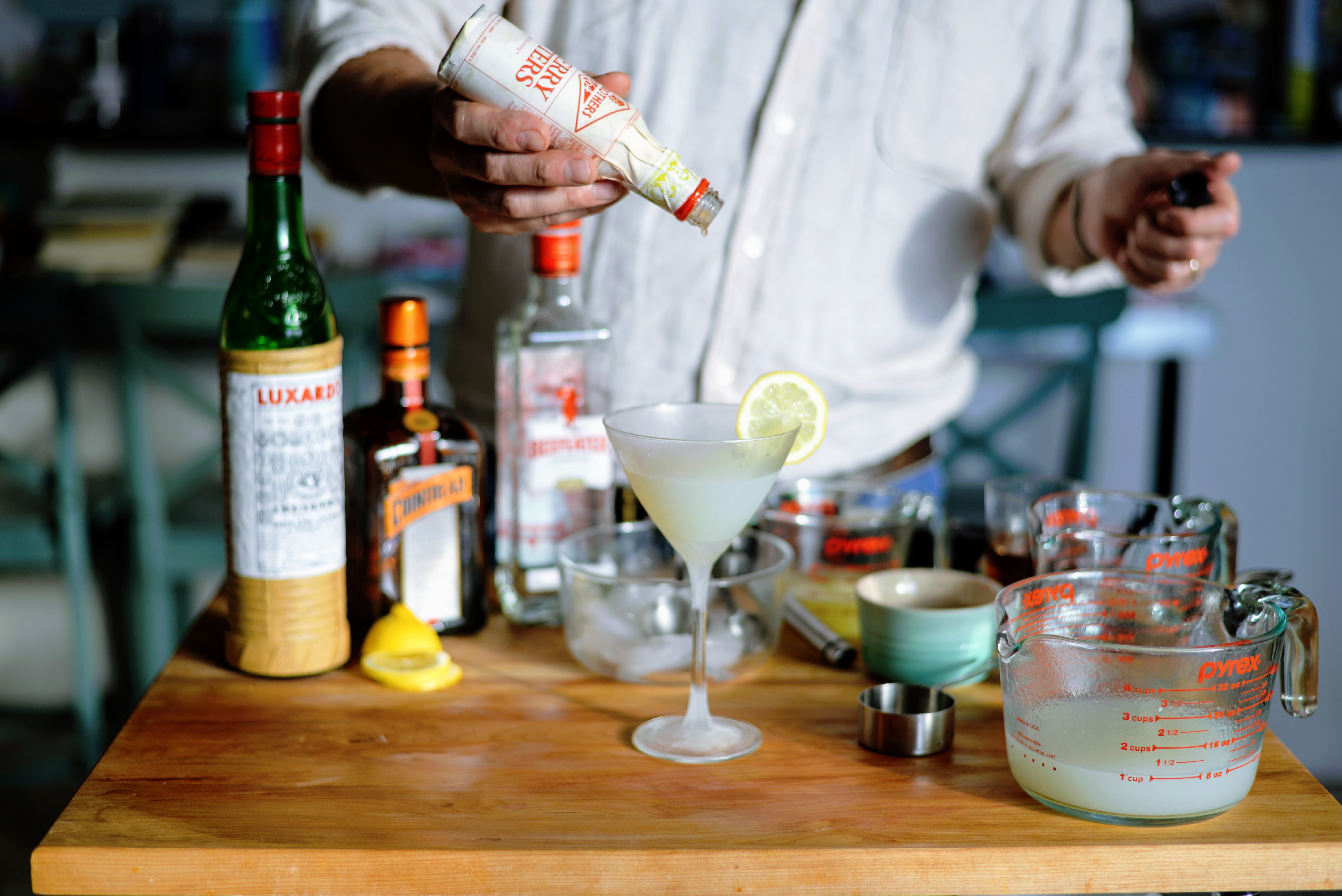 I'm actually really proud of this cocktail. It began when I saw an instagram post by a friend, Matt Kayahara, on instagram, of a white lady. (Matt was one of my recipe testers for my cooking manifestos, Ruhlman's Twenty and Egg; his chawanmushi was a revelation.) He had added some bitters to it. I'd never made one before so I did that very night. I still found this basic cocktail, what, a kind of gin margarita, I guess, a bit too simple, though the bitters helped.
I'd bought some Luxardo, marschino liqueur, to make an aviation and I thought that might make an interesting addition to the cocktail. It did. And then some. Fortune had long ago placed some cherry bitters in my cabinet, so these were the bitters I used. It is a fabulous cocktail, and the bitters (whatever kind you have on hand) really make a difference. (Also, I didn't find the cointreau to be sweet enough to balance the lemon so added a couple dashes of simple syrup.)
When making the video below, I forgot to add it! So when I put a few drops into the drink of my stepson, Sam Hood Adrain, he exclaimed, yes, exclaimed, "Oh! Big difference."
Herewith, then, the White Lady Jubilee (named after the Escoffier classic, Cherries Jubilee, for the Luxardo and cherry bitters).
Stay distant but connected. Stay well. Santé!
White Lady Jubiliee
A variation on The White Lady cocktail, adding bitters and Luxardo
Ingredients
2

ounces

gin

¾

ounce

cointreau

(or other orange liqueur)

¾

ounce

lemon juice

1

teaspoon

luxardo

(or other maraschino liqueur)

3

dashes

cherry bitters

(or whatever bitters you wish)

2

dashes

simple syrup

(optional, to taste)

½

egg white

(1 is fine, but I use 1 full egg white for 2 cocktails.)

1

maraschino cherry or lemon disc
Instructions
Combine all the ingredients except the garnish and mix vigorously until foamy. (If making in batches, buzz with a hand blender. If mixing by hand, put the egg white in first and whisk it till it's foamy.)

Add ice to chill. Drink or strain over ice or into a chilled coup. Garnish with a cherry or lemon disc.
Notes
Obviously, if all you have is gin and lemon and orange liqueur, a white lady is an excellent cocktail. The addition of Luxardo is meaningful, though. The above quantity is for one cocktail but I'm making them for four people tonight. I use a Pyrex measuring glass and pour in a cup of gin, then add 3 ounces each of the lemon and cointreau, bitters and two dashes simply syrup (because the Cointreau isn't quite sweet enough to balance the lemon). I then add the egg white and buzz with a hand blender. I fill it with ice to chill the cocktail and pour into four glasses over a big ice cube.