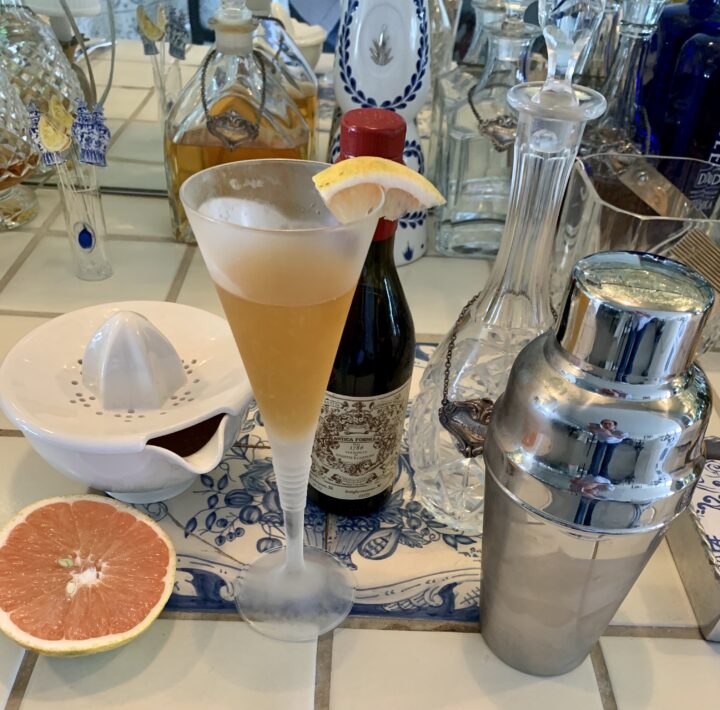 As I planned to arrive at my mom's place in West Palm, Ann said, do a Palm Beach for the cocktail hour! This odd gin-based cocktail often falls into the category of wartime cocktails, created in the in the late thirties and early forties, a category that includes the stellar French 75 and the underrated Mai Tai.
I hadn't heard of it or tasted it but it intrigued. Gin, good. Sweet vermouth, good. And interestingly, for the bitter component, grapefruit juice. We're on the tail end of grapefruit season here but they're still excellent. And mom picked up some fabulous Antica Formula, one of my favorite vermouths.
Looking at ratios floating about in the internet I see they are all over the board. The reliable Diffords says 2.5 ounces gin (why not 2-½), ½ ounce (why not .5?) and 1 ounce grapefruit juice. A site called forgotten cocktails also recommends 2.5 ounces gin, .75 ounces grapefruit. And a site called Mr. Boston calls for gin with what is in effect a splash of grapefruit juice and vermouth.
I gave the Diffords a shot and found that the grapefruit juice kind of got canceled out by the vermouth rather than was balanced by it. The others weren't better.
But I love the idea, kind of in the negroni family.
So I upped the grapefruit juice and evened out the ratio for a splendid enhanced cocktail, The Palm Beach, 2 parts gin, 2 parts grapefruit juice, 1 part sweet vermouth. Stirred with ice, strained into a chilled glass.
The Palm Beach
A gin-based cocktail with sweet vermouth and grapefruit juice
Ingredients
2

ounces

gin

2

ounces

grapefruit juice

1

ounce

sweet vermouth

1

thin wedge of grapefruit
Instructions
Combine all the ingredients except the wedge of grapefruit in a mixing glass or shaker. Fill with ice. Stir or swirl till chilled. Strain into a frosty coup or martini glass. Garnish with a web of grapefruit.