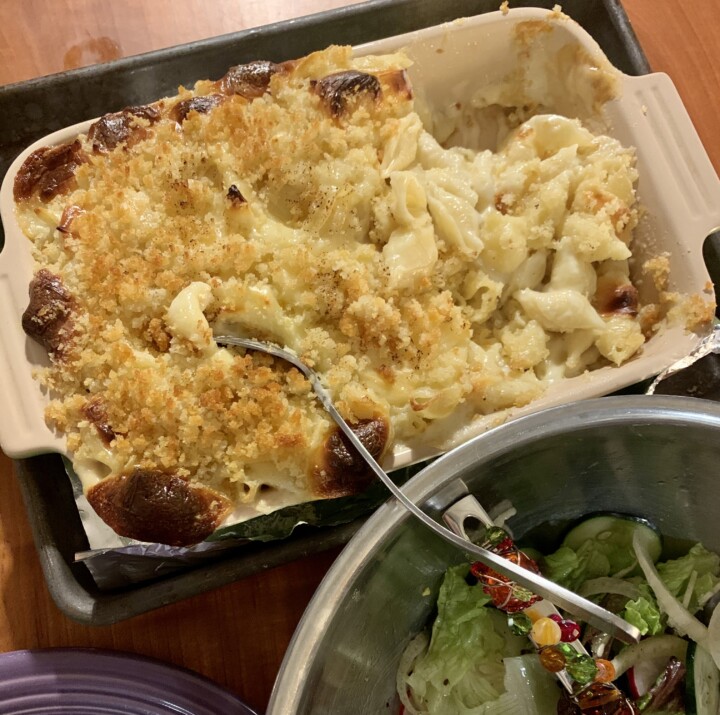 A meal of Mac and Cheese with a fennel, radish and red leaf lettuce salad, lemon, olive oil, salt and pepper.
Or specifically, my wife Ann's Mac and Cheese. Or according to the faded hand-written recipe, "Baked Macaroni a la Poops," in Ann's mom's handwriting.
There's something about family recipes that makes them untouchable. As noted in my newsletter, my mom used to make a particular chicken dish in 1970s suburban Cleveland when she and Dad had dinner parties. It was called on the recipe card my dad typed up "Party Chicken." Chicken breasts on shredded chipped beef (what was that?), a can of Campbell's cream of mushroom soup, and a can's worth of what was labeled cooking sherry.
I loved it and have asked her to make it when I visit her for the first time in 15 months.
Another such dish is the above Mac and Cheese. Ann began calling her dad Poopsie when she was little and continued to do so throughout his life, so Poops was her dad and this was the Mac and Cheese he made. To alter the recipe would be to alter the past and to fail to properly honor his memory (they were as close as dad and daughter could be from what I know; Ann wrote a memoir about trying to save him from the lung cancer that killed him at age 67 called Do Not Go Gentle: My Search For Miracles In a Cynical Time.)
I wanted to record it here, for the record. And yes, it is with American Cheese or rather processed cheese product. Nothing else melts like it, either white, uncolored, or yellow, which is colored with annatto seed extract.
"Do you ever use yellow American cheese?" I asked her just now.
She wrinkled her nose and said, "No. That would make it look fake."
Then she laughed. "And you can quote me on that!"
Step-by-step pix follow the recipe.
Baked Macaroni and Cheese à la Poops
A classic version of the classic American favorite
Ingredients
½

pound

pasta shells, cooked

(elbow macaroni acceptable as well)

4

ounces

butter

(1 stick)

3

tbsp

flour

2 ¼

cups

milk

1

tsp

mustard

¼

tsp

celery salt

½

tsp

kosher salt

freshly ground black pepper to taste

½

pound

white American cheese, cut in large dice

½

cup

bread crumbs
Instructions
In a sauce pan melt half the butter over medium heat. Stir in the flour, then whisk in the milk and add the mustard, celery salt, kosher salt, and pepper. Bring to a simmer, then add half the cheese and stir until melted.

Add the cooked pasta to the pan and stir till everything is nicely combined.

In a small skillet, melt the remaining butter and add the bread crumbs and cook until lightly browned, a few minutes.

Pour the pasta into a baking dish (Ann always butters her dish first). Cover it with the breadcrumbs and dot the surface with the remaining chunks of cheese.

Bake the pasta for 30 minutes or until bubbly and golden brown on top. (It's a good idea, depending on how full your dish is, to cover a baking sheet with foil or parchment and put the baking dish on this in case it bubbles over.)