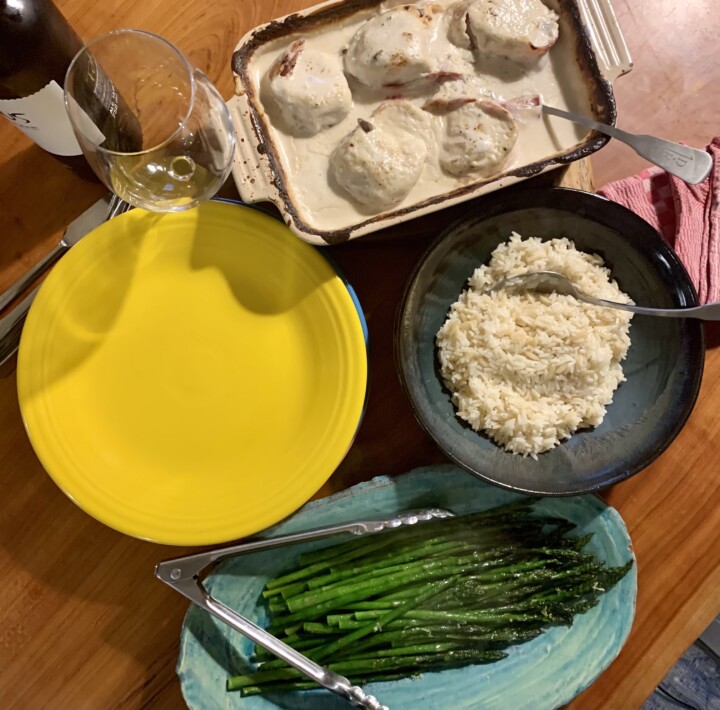 When I was growing up in Cleveland in the 1970s, Party Chicken was one of Mom's go to recipes when she was entertaining. I always thought that it was called Party Chicken because it was what she served at dinner parties.
My wife, Ann, was intrigued and perplexed, googled it and found that it was a real thing. She was not, however, eager to try it. The dish was a classic of its era. Chicken breasts wrapped in bacon, on a bed of chipped or dried beef, covered in a mixture of Campbell's cream of mushroom or cream of chicken soup, a soup can full of "cooking sherry," and a cup of sour cream, baked for an hour.
Fail proof. When my parents were out of town the spring of my 16th year I invited my girlfriend, with whom I was head over heals in teenaged love, to dinner and served her this, along with "chablis" (Ernest and Julio Gallo, glass gallon jug). Let's just say that Party Chicken was a miracle worker back then.
When I visited Ma last week for Easter (all fully vaxed!), I requested this. She laughed but after she realized I was serious, she made it. It was every bit the Cleveland 70s I remembered.
And so I had the courage to make it for Ann last night. Her verdict: both repellant and seductive. "It had that saltiness that is appealing but also makes you think it's not good for you. I'm sure it worked great in the 70s. My mother was a master at using canned soup in food."
I loved it. It's part of my history. It's the last thing I ate before losing my virginity and the world changed. How can I not have a fondness for Party Chicken.
Next time, I'll revise the recipe for our times, a béchamel with sauteed wild mushrooms, prosciutto instead of dried chipped beef (prosciutto was unheard of in Cleveland at the time). Maybe some sage, as you might use in a saltimbocca (Ann's suggestion, or chopped parsley for freshness, parmasan on top and gratiné it to make it not so pale looking.
But for now, and for history, here is the classic 1970s Party Chicken.
Party Chicken, circa 1979
Elegant, super easy chicken casserole with bacon and chipped beef.
Ingredients
4

boneless chicken breast halves

8

strips bacon

12

pieces dried beef of chipped beef

1

can

Campbell's cream of mushroom soup

1

canful

dry white wine

1

cup

sour cream
Instructions
Cut each breast in half widthwise (try to make them about equal weights). Wrap a slice of bacon around each.

Line a small casserole dish with the beef. Place the chicken pieces on the beef.

In a bowl, combine the soup, wine and sour cream and whisk until they are uniformly combined. Pour over the chicken.

Bake for one our, basting 1 or 2 times. If your dish is so small that they are submerged, no need to baste.

Serve over rice, with a green vegetable.