Having drinks last month with Shaw Lash, a Chicago chef, after a steller meal at Frontera Grill (Shaw works for executive chef Rick Bayless, renowned Mexican cuisine authority), and the subject of Cinco de Mayo came up. Shaw, who had a few month earlier showed me how they make their own chocolate, above, shook her head and said, "Don't get me started." But she started anyway. I said, "Want to write a guest post for my site?"
By Shaw Lash
I grew up in Texas, a state that shares a 1,200-mile-long border with Mexico, and "carne asada" and slushy-swirled margaritas were as ubiquitous as longhorns and oil rigs. As a family, we'd take vacations as far past the border as we could get in a comfortable day's drive. We'd walk across the bridge, never with passports, to shop, eat, drink and enjoy just spending an afternoon in one of the warmest, friendliest nations I've had the pleasure of visiting.
In Texas, Cinco de Mayo is, of course, the most important national holiday for all Mexicans—right? By the end of April, all of my favorite dive Tex-Mex joints would have proudly unfurled their Mexican pride banners, sponsored by Corona, Bohemia or Tecate, and fervently covered every surface in the red, green and white.
So, when I moved to a small mountain town in the state of Guanajuato a few years ago to work as a personal chef and writer, I was confused when the end of April rolled around and it was a footnote in the local newspaper, a mention on the evening broadcast. A remembrance of a battle for Puebla? What battle for Puebla? Sure, if you lived in Puebla, you were probably well-schooled on La Batalla de Puebla, and the "David versus Goliath" nature of the Mexican army's victory over Napoleon III's troops in 1862, but I hadn't. I thought of the holiday as the best day to score drink specials on pitchers of frozen margaritas and frosty micheladas.
Turns out the "battle" was and wasn't important—it was important if you consider the odds the undermanned, outgunned Mexican army overcame to defeat the most powerful army at the time, yet it was also irrelevant if you consider the Mexican army later lost to Napoleon and was ruled briefly by French-appointed Emperor Maximilian I (who was summarily executed several years after that by the Mexican army, so who really won?). But the significance of the "holiday" grew when major beer companies and tequila brands successfully capitalized on the joyous, celebratory nature of "being Mexican." Cinco de Mayo was first celebrated in California the year immediately following the battle by migrant farm communities longing for a piece of home—but there are now over 160 different "official" celebrations in over 20 states. Why do we care? More importantly, should we care?
We care because we aren't lucky enough to be in Mexico. More to the point, we care because we long to be in Mexico. I challenge you not to smile if you see jolly, round mariachis break into "La Cucaracha" and call for rounds of tequila shots, or feel euphoric if someone invites you to join in a home-cooked mole feast—and packaging and selling that rush of serotonin isn't rocket science. If you know the nature of the campaign, it's actually quite clever, brilliant even.
Beer companies, tequila distillers, tortilla makers, every family-owned taqueria from East Los Angeles to Hoboken rides the wave. Longing to be in Mexico is big business—and I'm just as much a follower as the next. I feel fortunate enough to have lived and worked in Mexico for a couple years, in the central highlands where national pride and a strong sense of cultural identity runs high, but millions of workers in the United States leave their homeland for most of their adult lives, and only come back when they've "made it."
To be at home in a foreign country isn't easy. And more to the point, a foreign country that is increasingly seeking to criminalize or question your commitment to earn that living that you've left your family to seek. You kind of need Cinco de Mayo to rally around, I suppose. A day to feel celebrated and embraced, a day to focus on making a pot of pollo con mole and sharing it with anyone you meet, as I used to do in my hometown in Mexico. A day to sell the feeling my family was seeking when we walked across the Rio Grande in Texas all those afternoons, to eat enchiladas and relax in a plaza for hours over a café con leche. So by all means, embrace it. Just appreciate it for the two things it is. A celebration of being Mexican. And a brilliant marketing gimmick.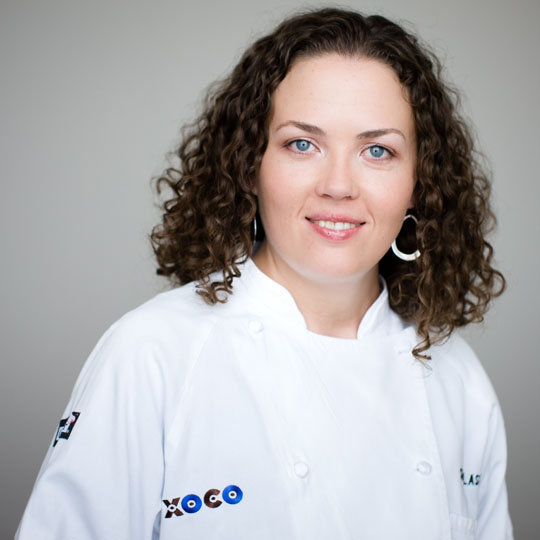 Shaw Lash is the Research and Development Chef for Frontera Grill/Topolobampo/XOCO in Chicago. She lived briefly in the state of Guanajuato before being invited to join Team Bayless, and still always considers Texas her true home.
If you liked this post on Cinco de Mayo, check out these other links:
© 2012 Michael Ruhlman. Photo © 2012 Donna Turner Ruhlman. All rights reserved