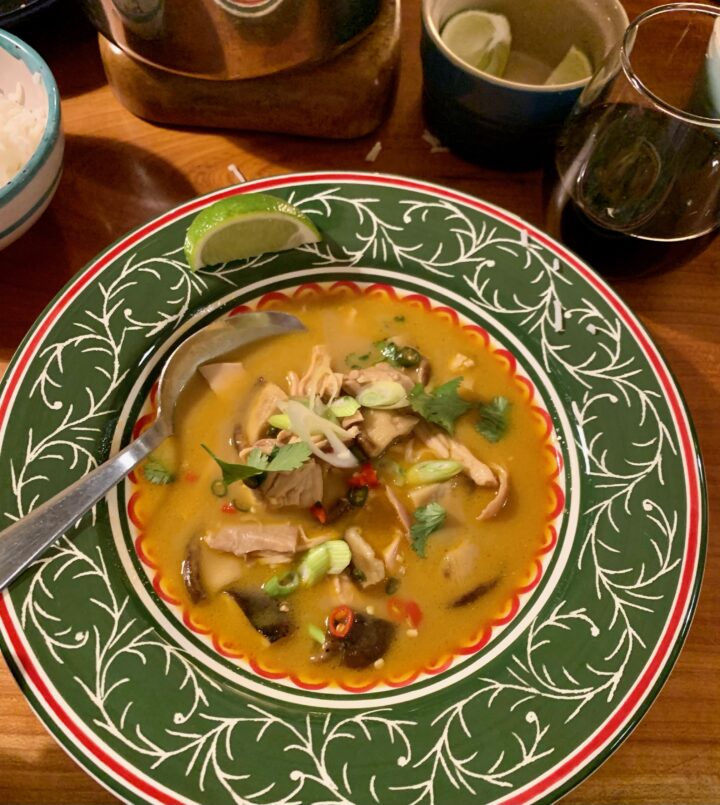 This is my version of Jean-Georges Vongerichten's Coconut Curry Soup, my version because I could only find dried galangal and the quantities are different from the ones we published in his most excellent memoir, JGV: A Life in Twelve Recipes. I bought my dried galangal here.
See my newsletter titled "Figuring It Out for the whole story (out 3/6).
So the basic premise is this soup is to infuse chicken stock with all the aromatics, then strain them out, add the coconut milk and garnish (chicken and shiitakes), bringing it back to a simmer and season with lime and fish sauce.
JG said in Thailand this is served alongside basmati rice. The custom is to pick up some rice in your spoon, then eat the soup so they intermix. If you like want it hotter, garnish soup with sliced Thai chillies. Add lime leaves to the serving bowls for color and flavor. (Don't eat them.)
If you want this soup but don't want to cook it, and you live in NYC, I'm sure it's still on the menu at JGV's Mercer Kitchen.
Coconut Curry Soup
Thai style soup with coconut milk and red curry paste
Ingredients
1

medium onion, thinly sliced

butter for sauteing

1

tsp

salt

1

tbsp

red curry paste

6 - 8

knobs of dried galangal

4 - 8

lime leaves

2

Thai chilies, bruised with the back of a knife

1

stalk lemon grass

4 - 5

cups

chicken stock

1

cup

coconut milk

1

cup

cooked shredded chicken

12

shiitake mushrooms, sliced or quartered

lime juice to taste

fish sauce to taste
Instructions
Saute the onion in butter in a sauce pan over medium heat until it's tender, adding salt as you do. Add the curry paste and stir to cook the curry paste, 30 seconds or so.

Cut the lemongrass stalk into four-inch pieces, then halve each one (discard root and ratty ends).

Add the galangal, lemongrass, lime leaves (reserve some for garnish if you wish, using at least four in the soup here), and chilies. Stir to heat and bring out their fragrance. Add the chicken stock. Bring the soup to a simmer, then reduce the heat to low, barely at a simmer. Cook for 45-60 minutes. (If you think the stock has cooked down too much, add a cup of water.)

Strain the stock into a clean sauce pan (discarding the onion-lemongrass aromatics). Add the coconut milk, the chicken and mushrooms, bring to a simmer for a few minutes . Add lemon juice and fish sauce to season the soup (a tablespoon of lime, 2 teaspoons of fish sauce, around there, again to taste). Serve alongside cooked jasmine rice.