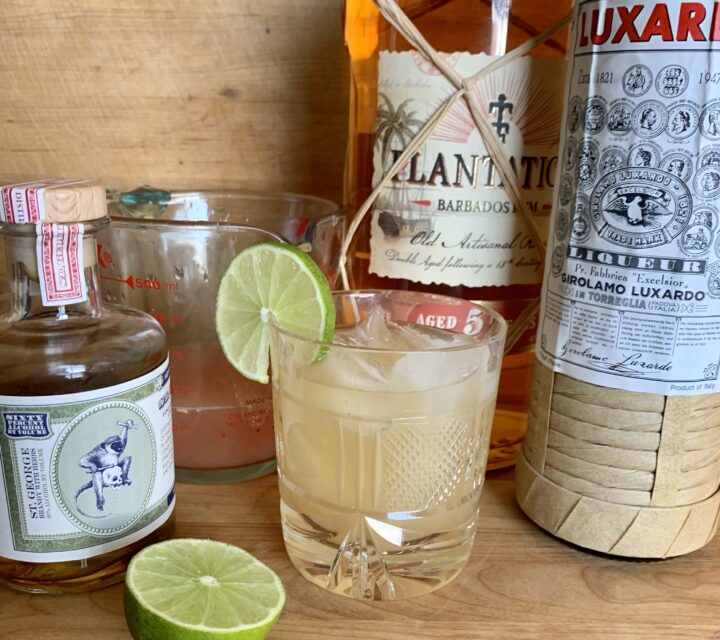 OK, I'm not one to throw around the word genius, but this rum-based cocktail, in effect a Hemingway Daiquiri with a teaspoon of absinthe, is seriously a genius cocktail. It was created by Jim Meehan, whom the NYTimes called "a pioneering figure in the craft-cocktail revival," for his work at PDT, an East Village speakeasy, and two successful books.
I was looking for interesting cocktails that used absinthe and came across this one. It sounded so whacky I couldn't even taste it in my mind. Maraschino, absinthe and grapefruit juice?!
But that's what it is. I'm using an aged rum here for a little more complexity (and I've had this huge bottle for too long), but feel free to use white rum, which Meehan does. He found a rum blend he recommends called Banks 5-Island Rum, a white rum that could stand up to powerful flavors such as maraschino and absinthe, he said
I love the beguiling interplay between the absinthe and the Luxardo, which balance the acidity of the lime and grapefruit. Truly a fascinating cocktail.
I'm not even going to mess with the ratios here. Meehan's are dead on. Important note: Meehan mixes the cocktail in a proper mixing glass, then strains it into a coup filled with crushed ice, and does not include a garnish.
I did this one on the rocks and with a lime wheel.
Happy cocktail hour everyone!
The Sun Also Rises
A rum-based cocktail with absinthe and maraschino liqueur
Ingredients
2

ounces

rum

½

ounce

Luxardo

1

tsp

absinthe

¾

ounce

lime juice

½

once

grapefruit juice

1

lime wheel
Instructions
Combine all the ingredients except the lime wheel in a glass and add ice. Garnish with lime.
Notes
Note that Meehan recommends a proper mixing and straining into a coupe filled with crushed ice.