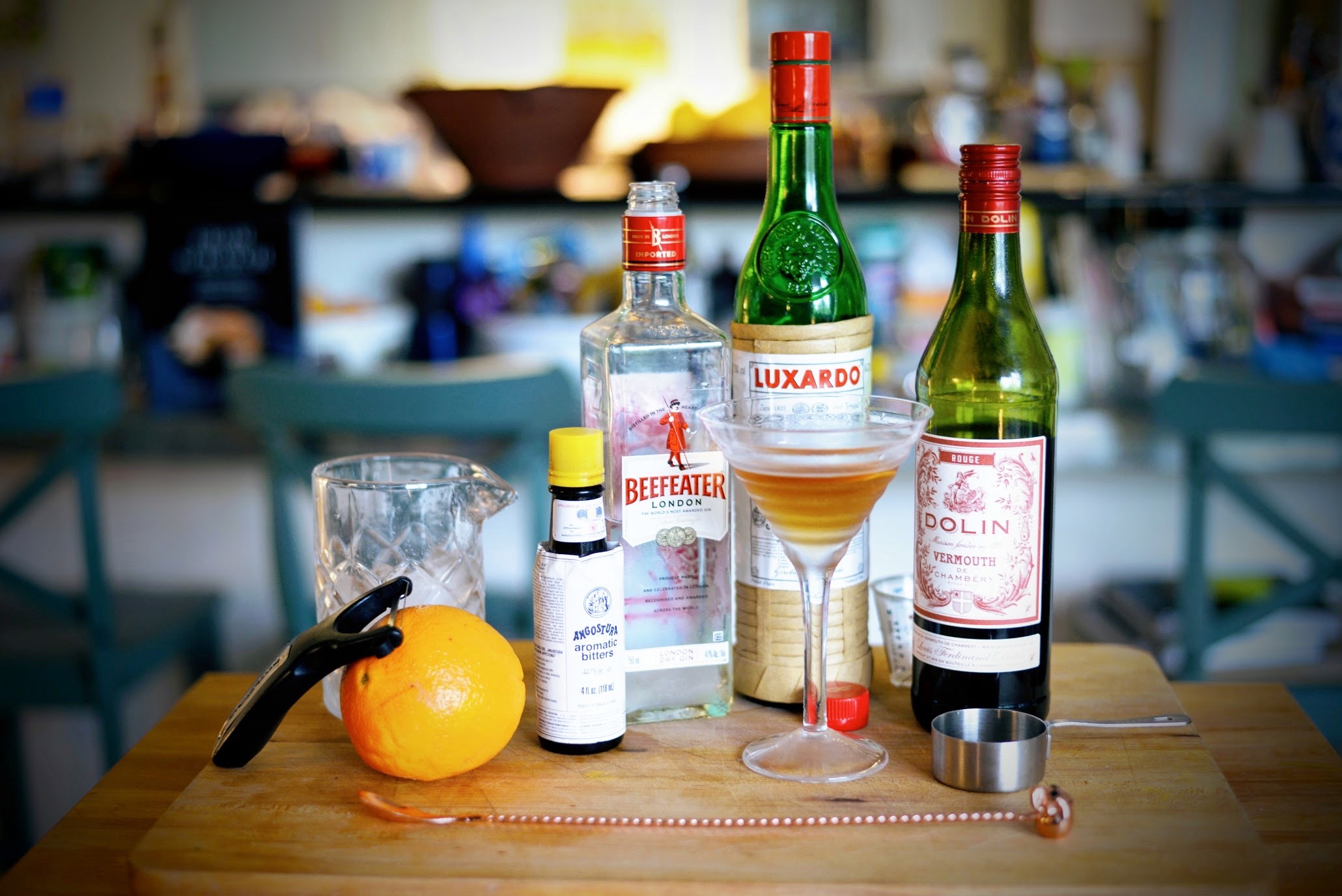 Today's cocktail is another gin-based elixer, the Martinez. Taditionally this cocktail is equal parts gin and sweet vermouth with a soupçon of maraschino liqueurr and a dash of bitters. An excellent cocktail. But for me, it's a little on the sweet side, what with all that vermouth and the sweet Luxardo, bitters not withstanding. Can't add more bitters in the form of Campari because then it would be a Negroni! But I do think that you are justified in finessing the amounts to taste--as long as you don't change the ingredients.
Many will cry foul on that (see Jorge Luis comment in the Negroni post). I believe a Martinez denotes specific ingredients, not proportions (unless they're way out of whack). Is a 6:1 Martini a real Martini whereas a Martini with a drop of vermouth is not a Martini? A martini with vodka instead of gin is a Kangaroo, as everyone knows, just as a Manhattan made with scotch is a Rob Roy and a Negroni made with whiskey we call a Boulevardier. (It's a losing battle I know, trying to rid the term vodka martini from the language, but a guy's gotta try.)
It seems I was more strict back when I lived on Berkshire Road in Cleveland Heights. Because I used virtually these very same proportions many years ago and called it a Berkshire Martinez. I was further honored when Paulius, owner of the best bar in the world, put it on the menu.
Now I will simply call it an adapted Martinez. The combination of flavors remain solid and delicious.
We live in deeply troubled and divisive times. I hope you'll enjoy a calming cocktail with loved ones either near or Zoomed and have faith that the America will one day reunite as our forefathers so brilliantly and heroically foresaw.
Until then, a cocktail, and this lovely poem by Wendell Barry. (Thanks, Elizabeth.) The Peace of Wild Things.
The Martinez (adapted for our times)
Classic cocktail of gin and sweet vermouth
Ingredients
2

ounces

gin

1

ounce

sweet vermouth

½

ounce

maraschino liqueur

(such as Luxardo)

3

dashes

bitters

1

orange twist
Instructions
Combine the fluids in a mixing glass. Fill it with ice, stir and strain into a thoroughly chilled glass.
Notes
As noted in the post, the proportions for a classic Martinez are 1.5 ounces gin and sweet vermouth each, ¼ ounce Luxardo, and bitters. Try it both ways!
Also, this is classically served up, but I wouldn't criticize anyone for serving it on the rocks.