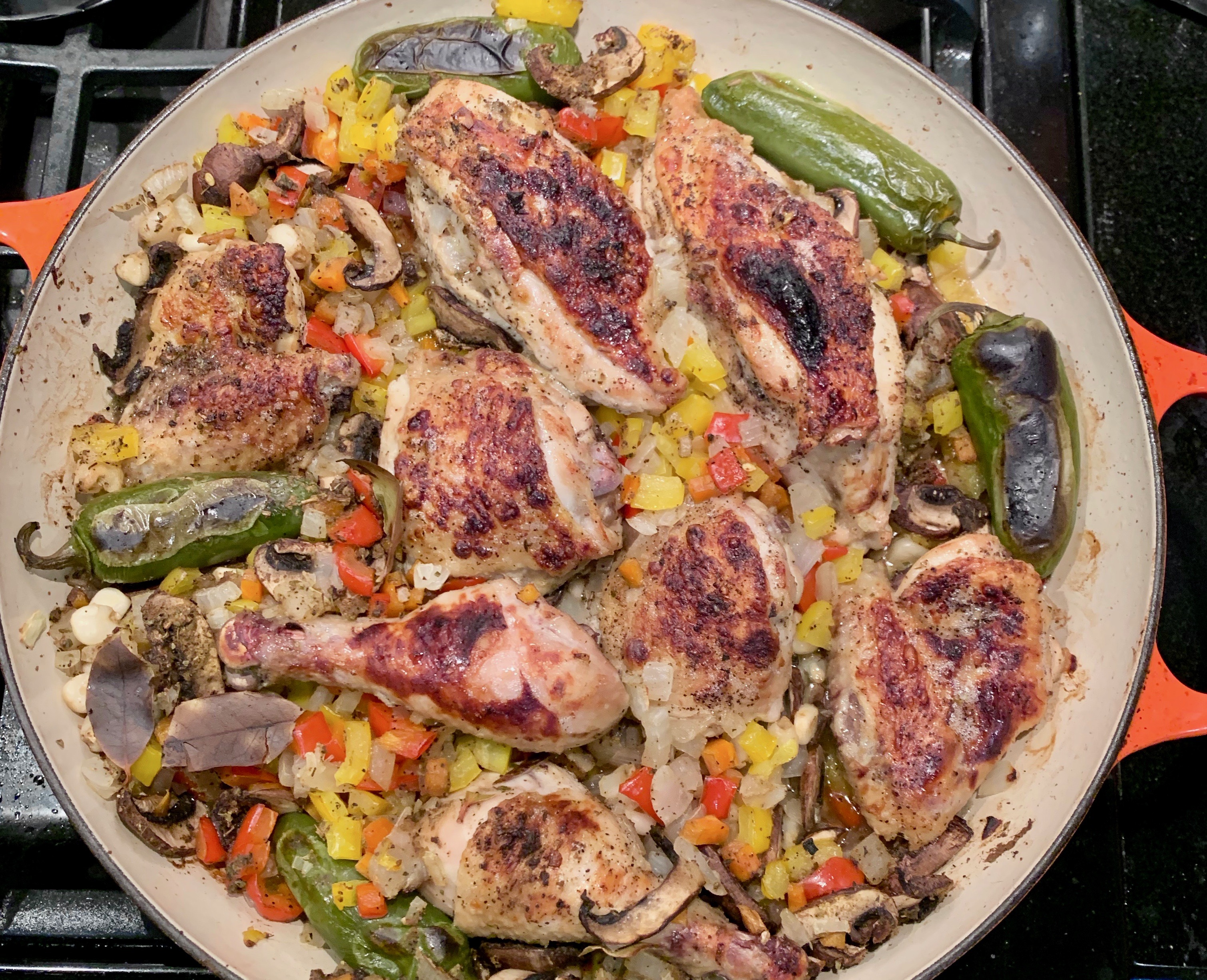 One of the pleasures of quarantine, and there have been many unexpected ones, has been cooking from recipes rather than from a host of staple meals it was so easy to fall back on in our daily rush. My wife Ann is a devotee of the New York Times Cooking site and reads all of Sam Sifton's splendid emails on what to cook. This one popped out, she mentioned it to me and, I, a devotee of hominy, first thought let's give it a go.
Hominy—I buy mine from the great legume source Rancho Gordo—is a delicious and nutritious starch. I love to make pozoles, red and green, or grind the corn into grits. But I hadn't thought of using them for the base of a braise before. And I never thought of the late, great Edna Lewis as cooking southwestern food.
Lewis (here's her NYTimes obit) was a chef, most notably at Gage & Tollner (which was just about to reopen when the pandemic struck), but more influential were her four cookbooks, which revived for our country a nearly forgotten knowledge of refined southern cooking, beginning with The Taste of Country Cooking, edited by Judith Jones.
Below are my step-by-step pix. I make two notable changes to the recipe printed in the Times as I'll describe below.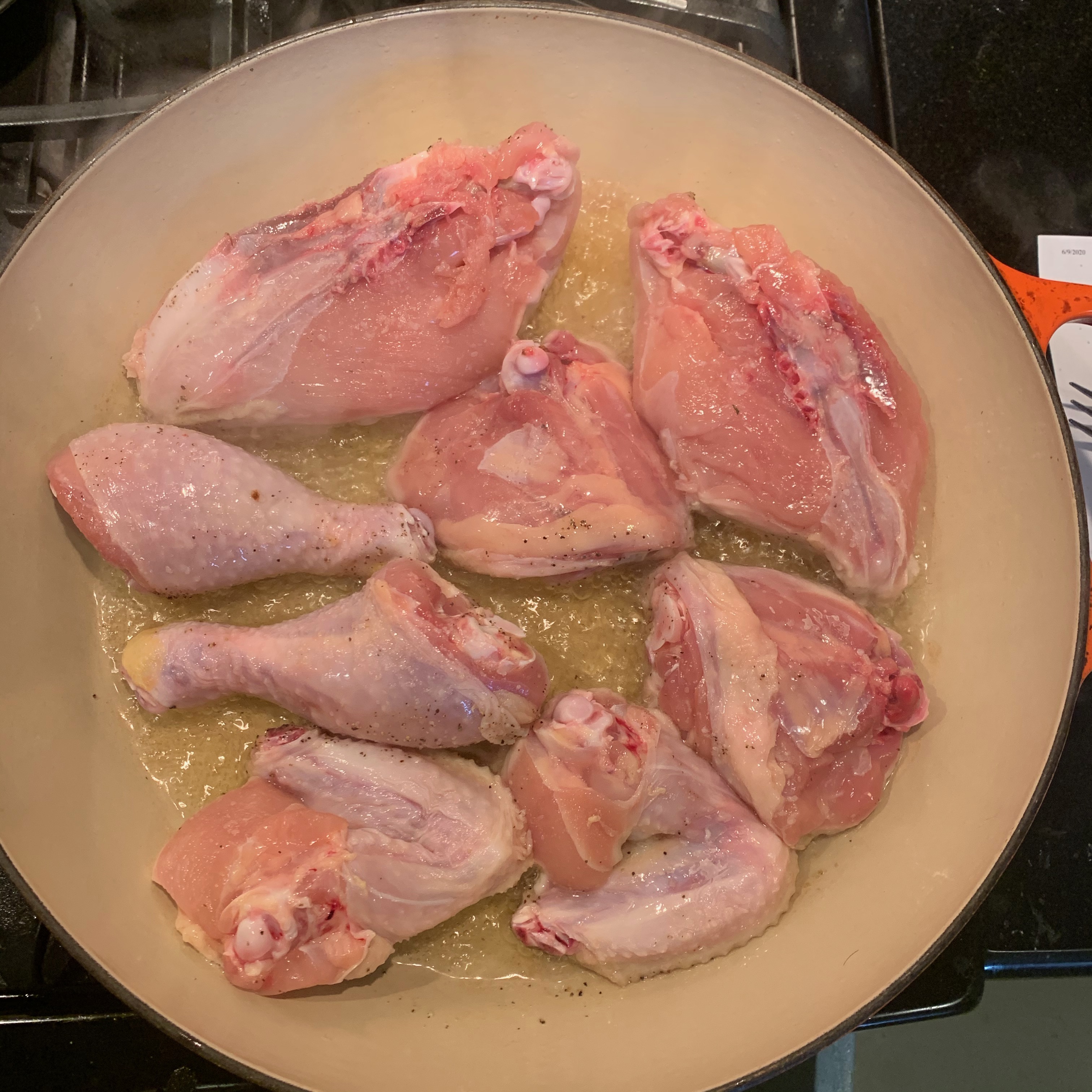 Cutting up a whole chicken is best for a variety of pieces; save the carcass (and gnawed on bones!) for stock. I left the bones in the breast to keep them juicy.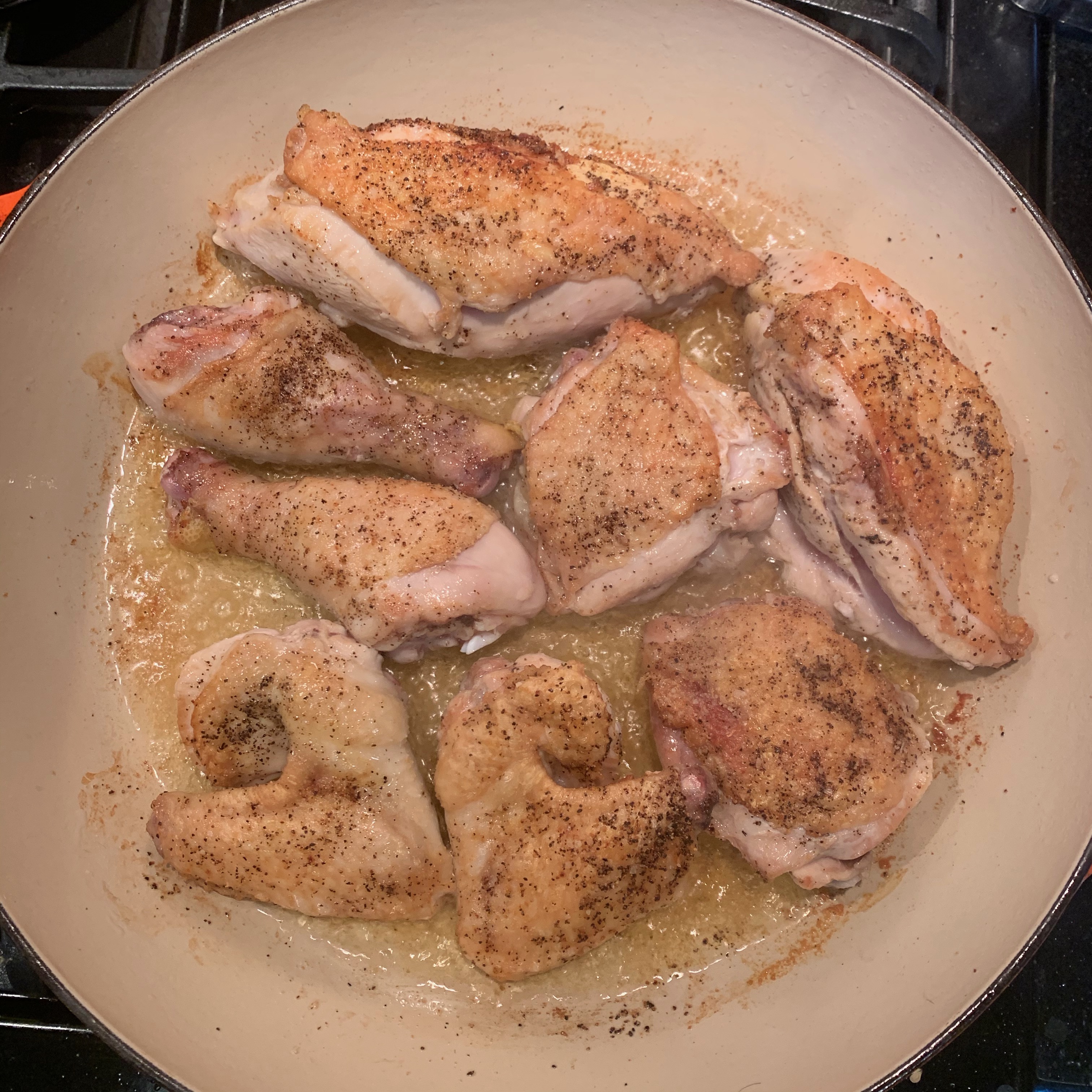 Salt and pepper and good browning = great flavor.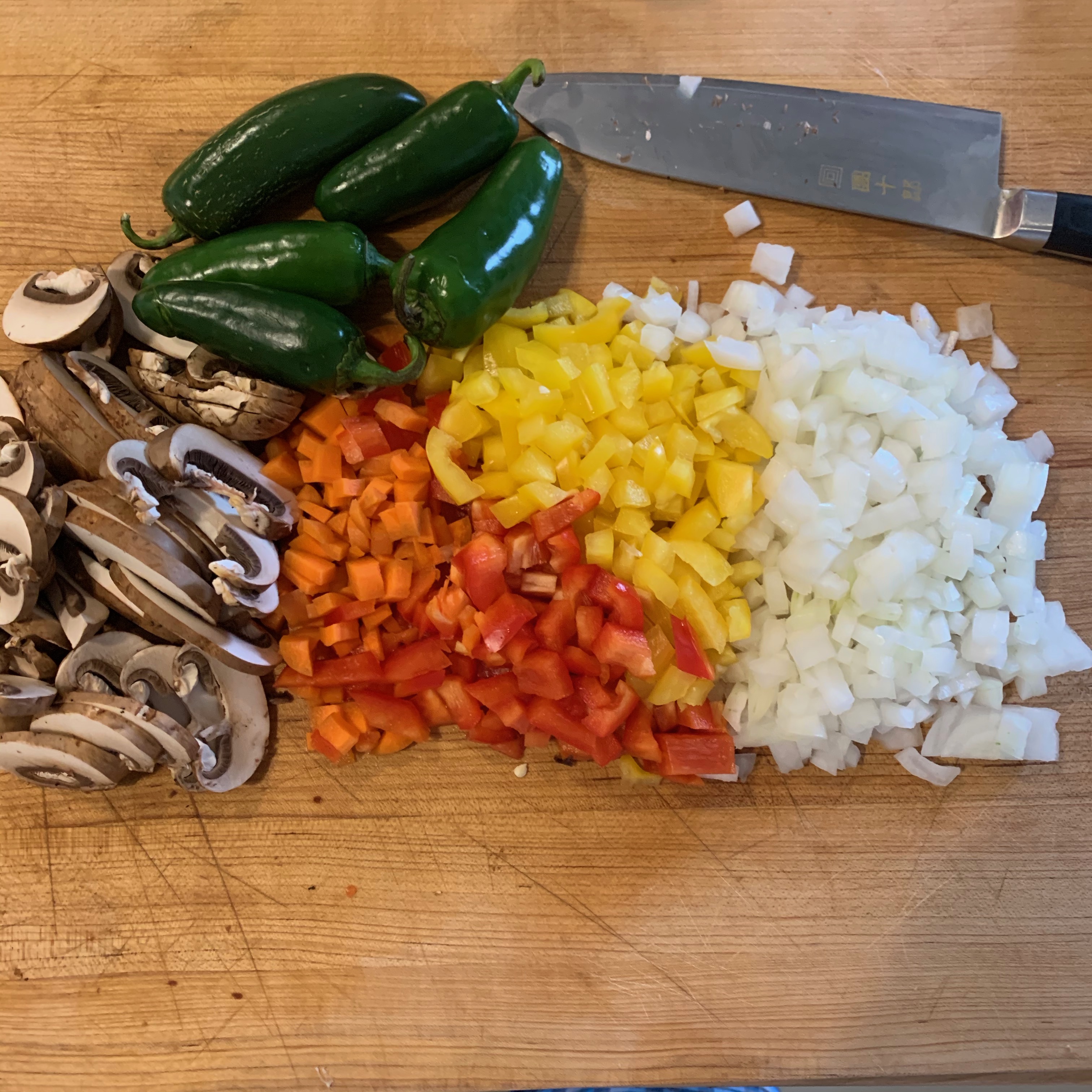 Remaining mise: diced bell peppers, onion, carrot, sliced shrooms, and whole jalapeños (recipe calls for diced but some in our house don't like the heat; I love the heat and appreciated keeping them whole).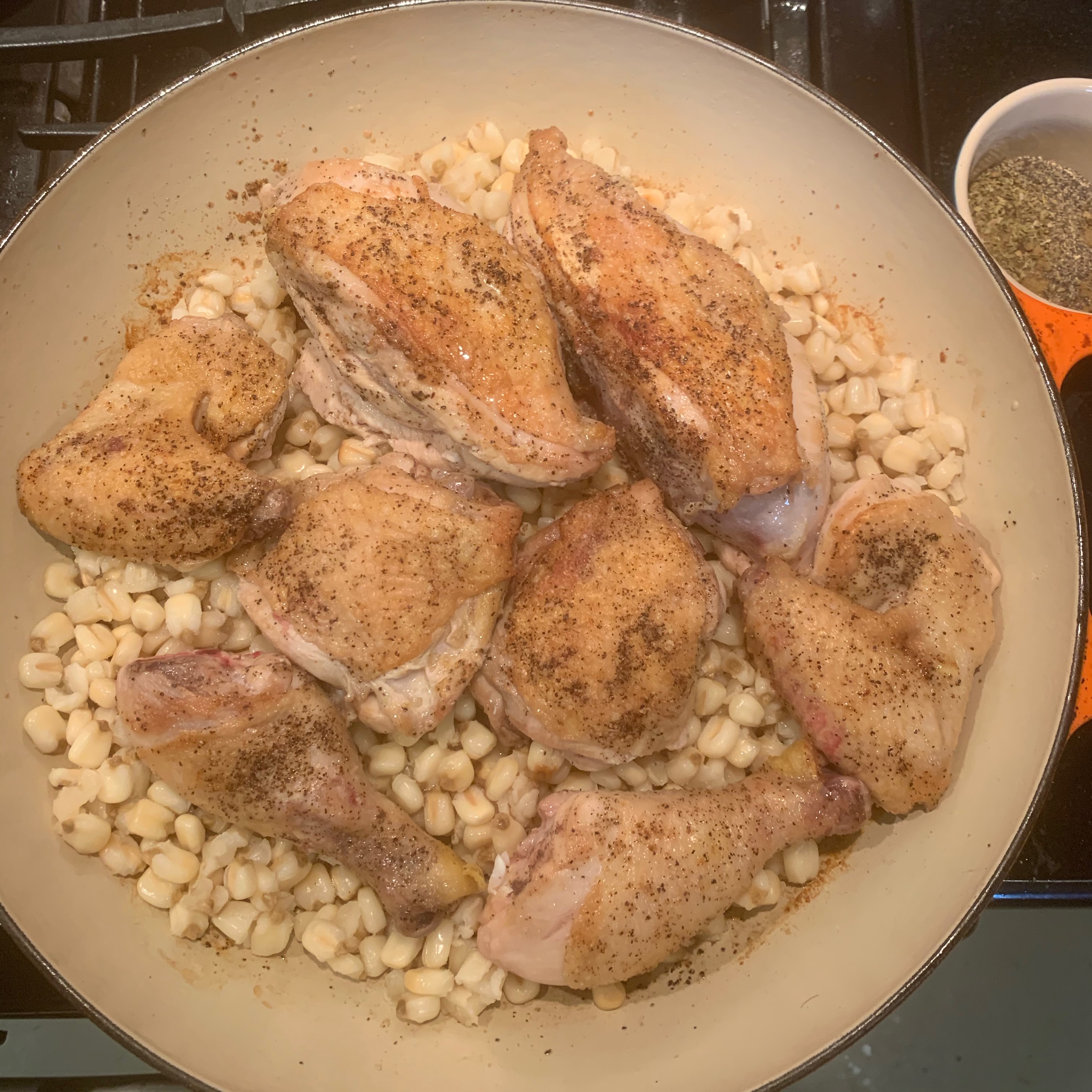 Make a bed of the cooked hominy (Times recipe calls for canned—but canned so pales in comparison I would only make it with dried, soaked and simmered hominy). Place your chicken on top.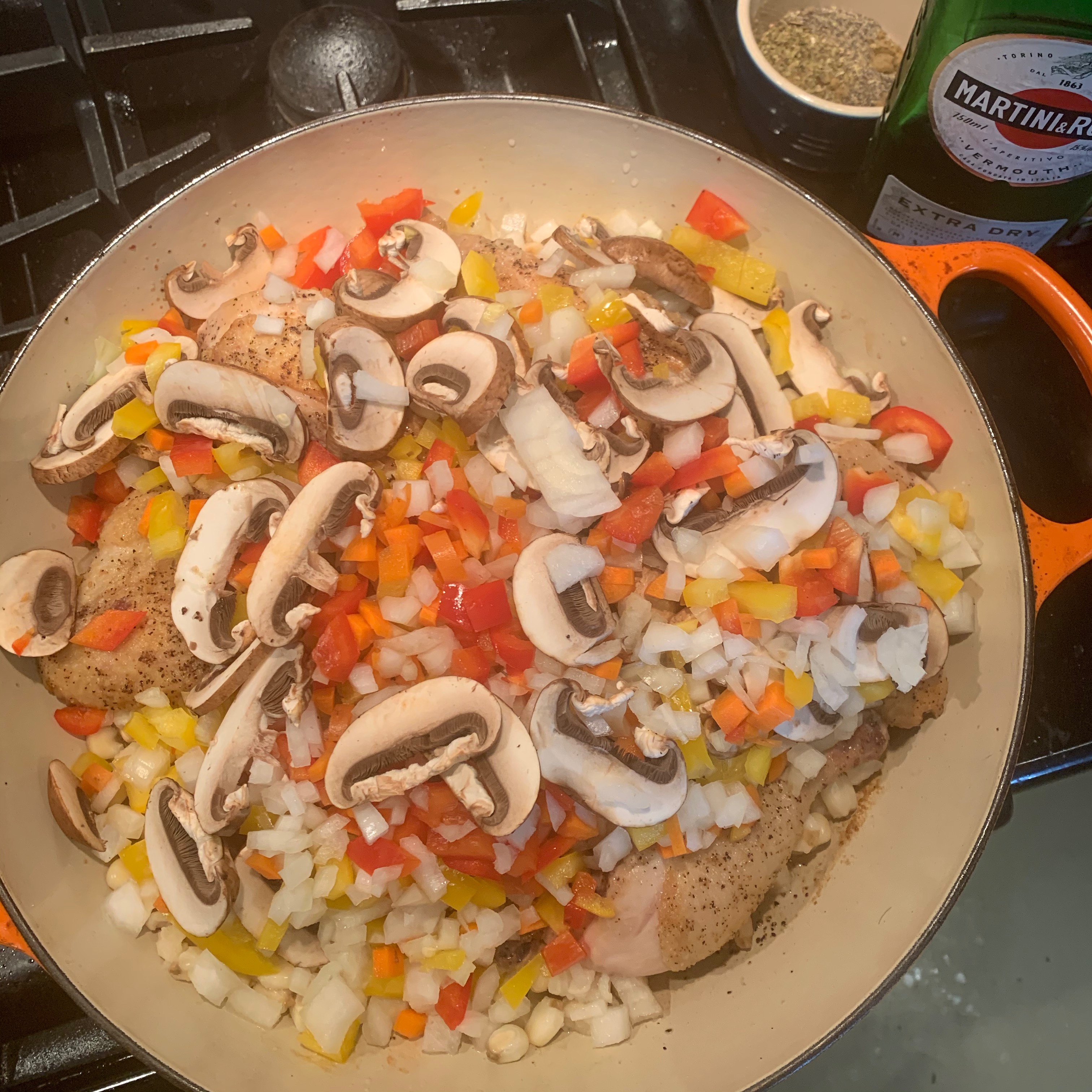 Cover the chicken with the vegetables.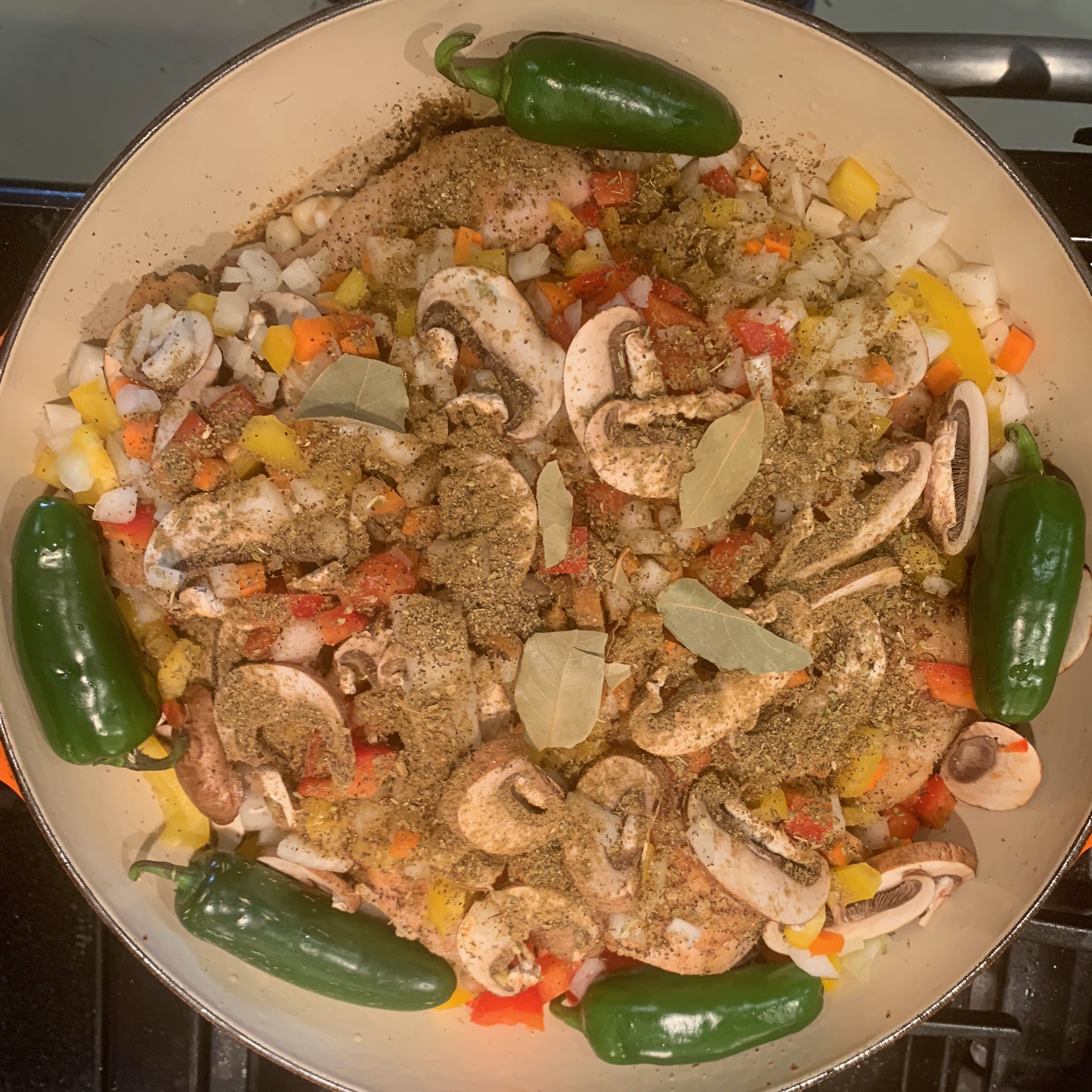 Top with cumin, oregano, pepper and bay. I doubled the spices as I always find recipes like these underspiced. Miss Lewis surely would have tasted and adjusted. Add a ½ cup white vermouth. Cover and put in a 325˚F oven for 40 to 50 minutes.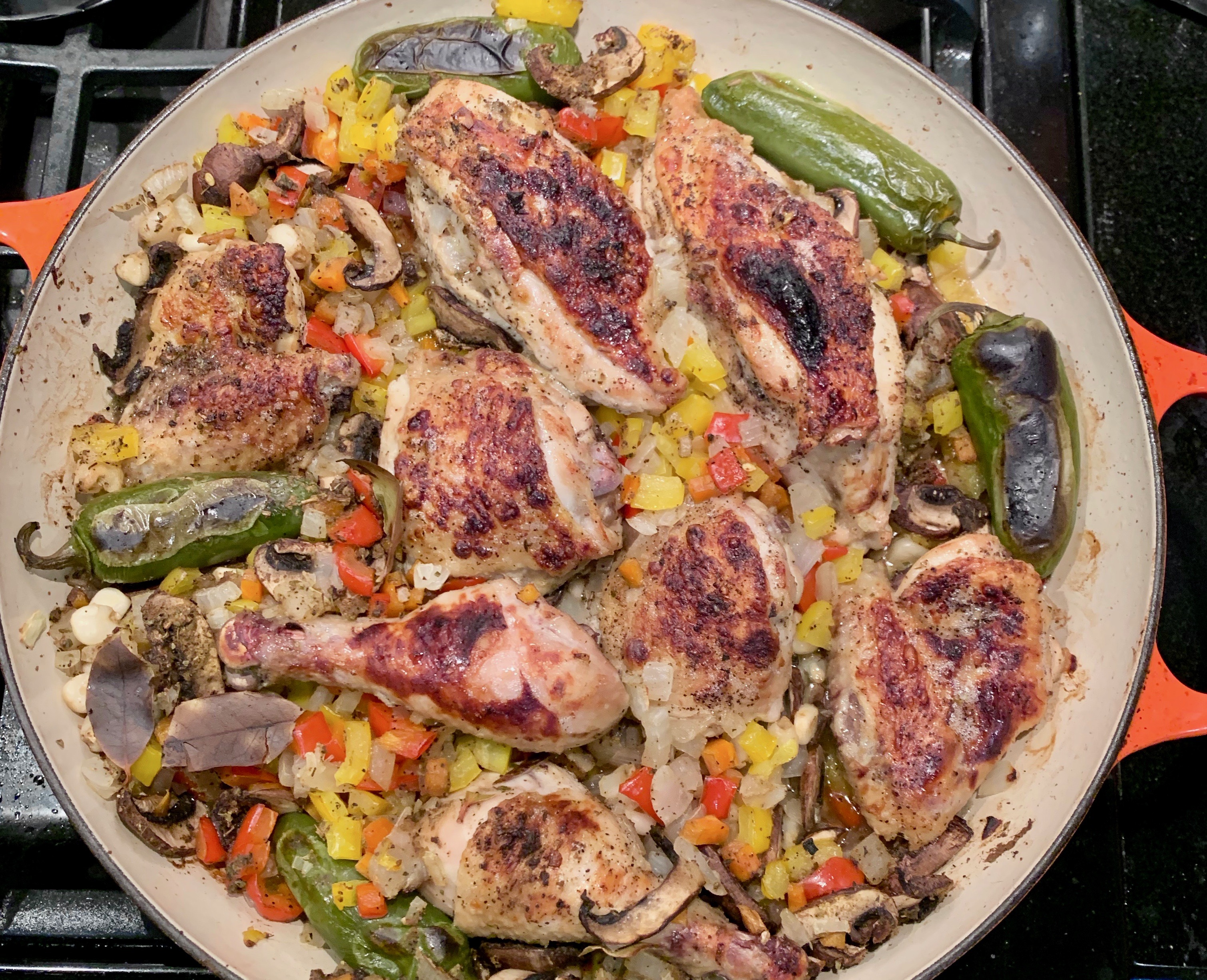 The last thing I did not do in the recipe was to uncover the chicken and broil. Because the chicken basically steams under all the vegetables, the skin comes out pale and flabby after you took such care to brown it. Re-browning it makes for a tastier better looking dish.
Miss Lewis enriched our culinary world beyond measure.
Hominy Braised Chicken with Peppers (adapted from Edna Lewis
A great way to cook a whole chicken, especially with excellent hominy.
Ingredients
1

3-4 pound

chicken, cut into 8 pieces

salt as needed

freshly ground pepper as needed

vegetable oil for sauteing

1

pound

dried hominy

(order from ranchogordo.com)

1

medium onion, small dice

1

red bell pepper, small dice

1

carrot, small dice

8

large brown mushrooms, thinly sliced

5

jalapeño peppers

(these can be diced or left whole)

1

tbsp

ground cumin

2

tsp

dried oregano

2

bay leaves

½

cup

white vermouth

chopped cilantro for garnish

(optional, as my store was out of it)
Instructions
Preheat your oven to 325˚F.

In a large skillet or Dutch oven, heat enough oil to brown the chicken over medium high heat.

Season the chicken liberally with salt and pepper. Then brown it in the oil, a few minutes per side. Then remove the chicken to a plate, discard the oil and add the cooked hominy.

Return the chicken to the pan and cover them with the vegetables. Add the jalapeños.

Sprinkle the cumin and oregano over evenly over the top, add the bay leaves, and more black pepper.

Cover and put in the oven for 40 to 50 minutes.

Remove the pan from the oven and turn on your broiler. Uncover the chicken pieces or lift them up and put them on top of the vegetables. Broil until they're nicely browned.

Top with chopped cilantro, if using, and serve.