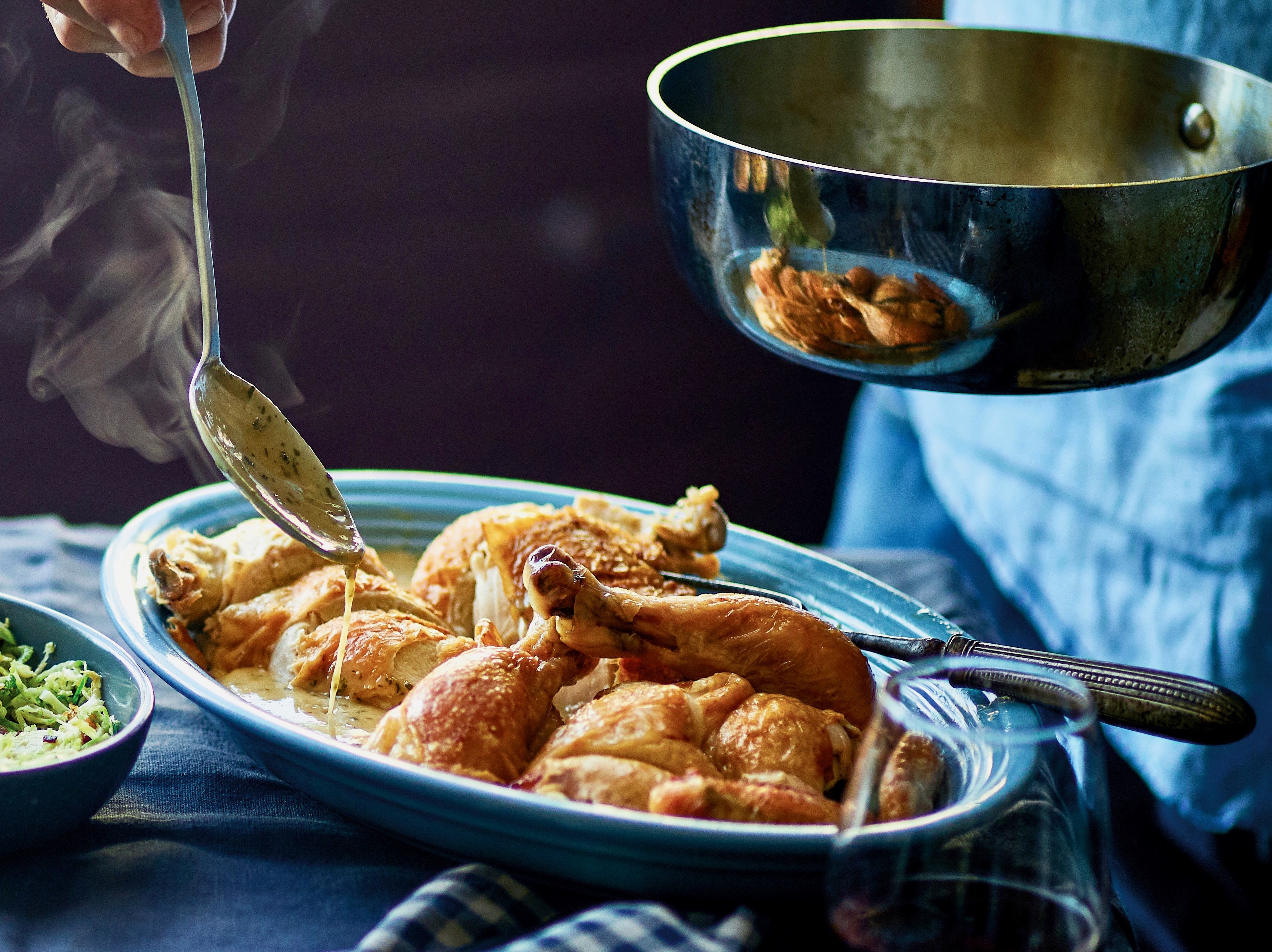 Last month I got an email from Vic Matus, deputy editor of The Washington Free Beacon and author of the book Vodka, asking to discuss my book From Scratch, especially in light of the fact that everyone is cooking more in quarantine. He decided to roast a chicken and write about it. When he called afterward to discuss it and the book, he was astonished how easy roasting a chicken is. He even made the overnight stock.
How did we ever get to the point where we thought roasting a chicken was difficult?
In my book, I look at 10 staple meals and show all the things that you can make if you know how to make that one meal. I thought now would be a good time to look at this iconic home meal, the roast chicken, and all that it leads to.
How to make a simple pan sauce after it's roasted. How to make gravy (and how to make beurre manié to thicken it with) or an elegant tarrargon sauce or sauce fines herbes. If you want to learn to truss the chicken for better cooking and appearance, now's the time! (Here's a great video of Chef Brian teaching it.) And, of course, chicken stock, that wonder of a byproduct. We think of stock making as a "project," but it needn't be--put your chicken carcass in a 2 liter pan with two carrot and a halved onion, cover with water and put the pan uncovered in a 180˚F to 200˚F for 8 hours. (Vic was nervous about leaving oven on while he slept. Now that we're home all day, you can refrigerate your carcass and make the stock the next day.)
A roast chicken teaches you variations, that you can add jalepenos and lemon and garlic to your pan; or you can spatchcock it and roast it that way. Learn to make a salsa verde to go with it. Learn different ways to use the leftover meat, in a soup, in a pot pie, how to make a simple 3:2:1 crust for that pie. And if you like to have fun in the kitchen, learn how to turn that easy, overnight chicken stock into crystal clear consommé.
How to make the simple pan jus or gravy: while the chicken rests, throw a handful of thinly sliced onions and carrot ribbons (a whole carrot cut with a peeler, in the pan with all the chicken fat and fond. Cook till soft, add a cup of wine and boil till the wine is gone. Add a cup of water and boil that till it's all gone. Add another cup of water and reduce by a third. Done. Strain or simply spoon over the cut chicken. Full recipe is in From Scratch.
Watch a quick video here.
One of the great things about roasting a chicken, which people don't even think about, is how it fills the home with such comforting aromas. The smells of cooking help to relax us. That's never been more important than now in these, the most trying times for our nation in my lifetime, and my parents' life time, since the Great Depression and WWII.
Stay safe, stay healthy.
Ruhlman's Roast Chicken
For a perfect roast chicken, salt it, put it in 450F oven for one hour, let rest 15-30 minutes. That's it!
Ingredients
1

3 to 4 pound

chicken

coarse kosher salt as needed

(about a tablespoon)

1

lemon

(optional, if you aren't trussing the chicken)
Instructions
Preheat your oven to 450˚F (or 425 if it's dirty as it will smoke).

Either truss your chicken (see video link) or put the lemon in the cavity.

Salt the chicken so that it has a nice coating all over (be generous).

Put the chicken in an ovenproof skillet and put it in the oven for 60 minutes.

Remove the chicken and let it rest for 15 to 30 minutes.
Notes
Both trussing and adding a lemon to the cavity help to prevent hot air from circulating in the cavity and overcooking the breast from the inside.
Be sure to let it rest at least 15 minutes and up to 30 minutes, or more. I'm amazed by how long it stays hot inside.
I take the legs from the carcass, then separate drumstick from thigh. I remove the breast from the carcass, sometimes slice the breast. But you can just tear it apart with your hands if you want.
If you're not making a sauce, spoon some of the cooking fat over the pieces or serve with butter and mustard.