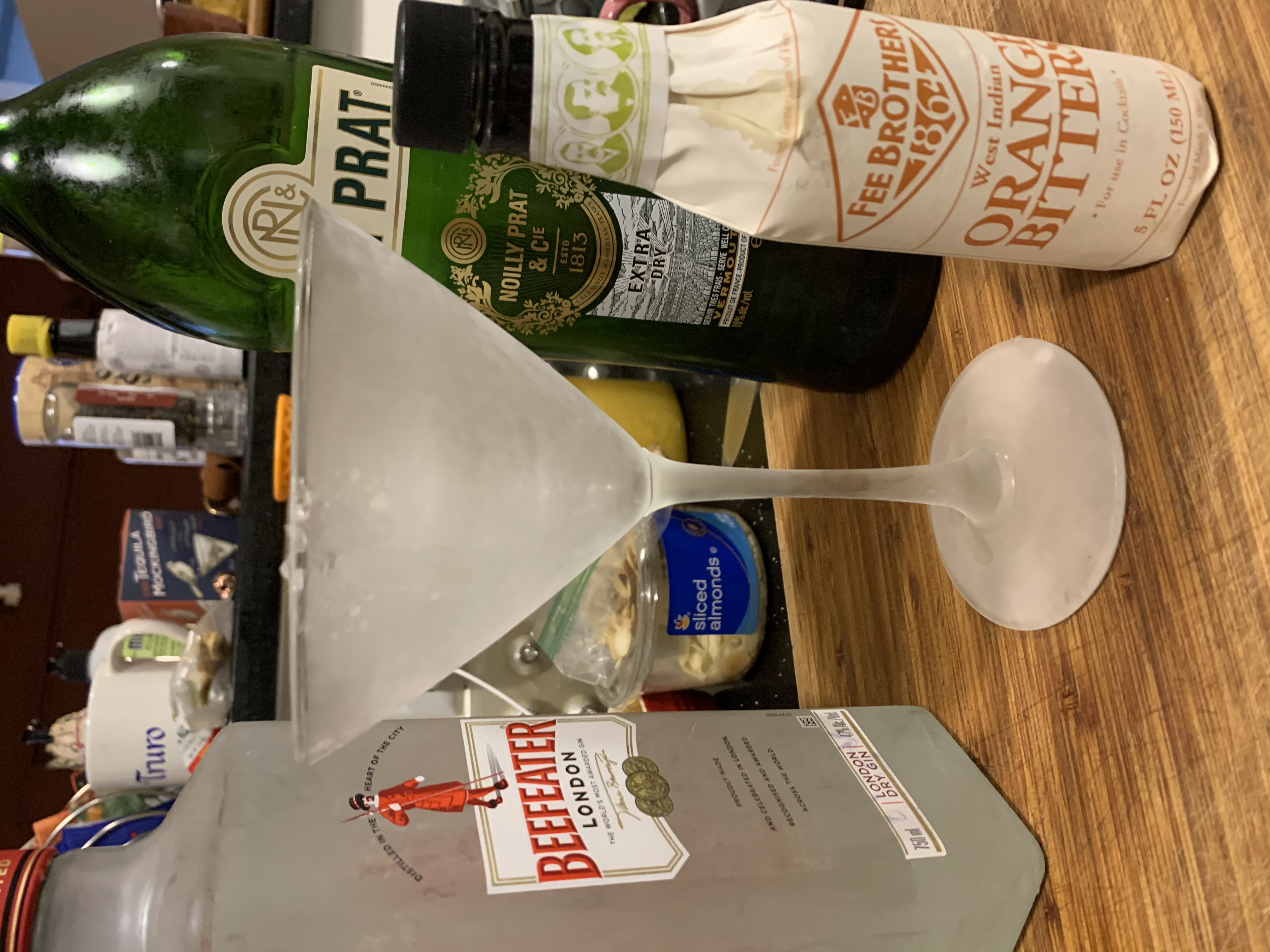 As the martini tends to be my drink of choice, I decided to vary my standard practice lest I grow weary of it, that standard being 2 to 3 oz gin with a capful of dry vermouth, into a frozen glass with a twist.
I looked to two great sources to switch things up a bit. First, Robert Simonson's 3-Ingredient Cocktails, in which he describes the martini as "the undisputed monarch of cocktails," and briefly notes its long evolution from sweet and vermouthy, pre-prohibition, to the arid glass of gin with olives post-WWII. Only relatively recently has the martini found its balance. Part of that balance is a bitter component, orange bitters which, he writes, "brought the drink closer to it original profile and made it strictly speaking, a true 'cocktail' again (that is, a drink with bitters somewhere in the equation)."
David Lebovitz's more recent Drinking French also includes orange bitters in his martini.
As for the vermouth, I think those who suggest waving the vermouth over the glass are wags. You need vermouth, enough to taste, to balance the gin and round the drink's steely edges. Simonson likes a 3:1 ratio of gin to vermouth. That's too much for me—and Simonson readily admits that everyone has their own preference. Eight years ago, when I was being obsessively exact, I called for a 5:1 ratio, 90 grams gin, 18 grams vermouth, for the perfect balance. I was gratified that this is exactly what Lebovitz suggests: 2-½ oz gin, ½ ounce vermouth. I add not 1, but 2, dashes of orange bitters.
And for the video, I flamed orange zest, for variety and color. But honestly, a lemon twist remains the perfect enhancing garnish. This is indeed a splendid cocktail and I would argue that this should be the bedrock standard ratio for the cocktail known as The Martini.
Happy Friday Cocktail Hour all!
(Music courtesy of bensound.com!)