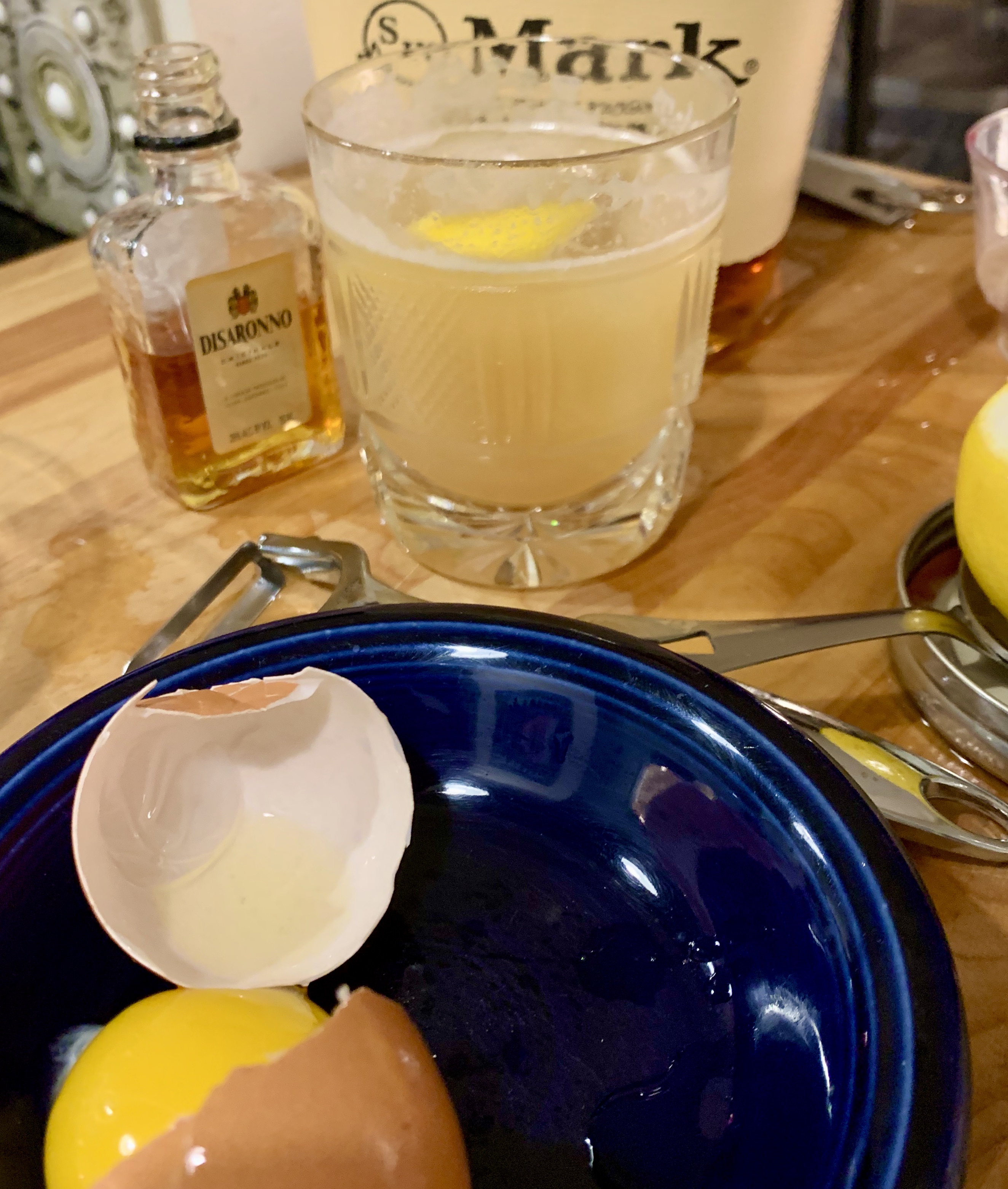 It's that time— yes, another week has gone by. And with Covid's surge likely to continue through the holidays, I urge you to drink inside with your loved ones! There IS light at the end of the tunnel, but we have many weeks to go, and to pass some of the time, I am recommending this version of the Amaretto Sour, enhanced by Portland, OR, bar manager Jeffrey Morgenthaler.
The Amaretto Sour is oft-maligned for being simplistic and sweet. Moganthaler fixes this simply by adding a shot of bourbon to the drink, utterly transforming it. Yes, many drinks are transformed by a shot of bourbon (your morning coffee during Covid, for instance, the screaming toddler's glass of milk), but it is particularly effective here, tempering the drink's sweetness and upping the alcohol to give this cocktail the standard oompf (amaretto itself is typically about 40 proof).
Also, Morgenthaler uses egg white, in my opinion part of the definition of any drink called by the name "sour" (as opposed to, for instance, The Gimlet, which is in the sour category but not named as such).
Sour ratio please: ½ egg white, 2 ounces spirit, 1 ounce sour, 1 ounce simple syrup. Yes, egg whites are difficult to halve, but then, why would you ever make just one whiskey sour?
And finally, Morgenthaler diminishes the simple syrup to one-sixth in the standard sour ratio because Amaretto is so sweet.
This is a perfectly balanced cocktail:
The Best Amaretto Sour
Jeffrey Morganthaler simply adds bourbon to make this a fabulous cocktail
Ingredients
1

egg white

3

ounces

Amaretto

1.5

ounces

bourbon

2

ounces

lemon juice

2

teaspoons

simple syrup

1

lemon twist

2

brandied cherries

optional
Instructions
Put the egg white in a shaker or ball jar, and give several good shakes to loosen it.

Add the remaining liquids and shake again. Add ice to the container and shake or swirl to chill it. Pour into lowballs over ice.

Garnish with the twist and, if using, the cherries.
Notes
If you don't want to use a shaker you can use a hand blender or whisk to make the egg white gently frothy.
I just used a twist. Worked fine.
Stay safe everyone, and keep the people you come into contact with healthy and safe, too! Happy Friday everyone!