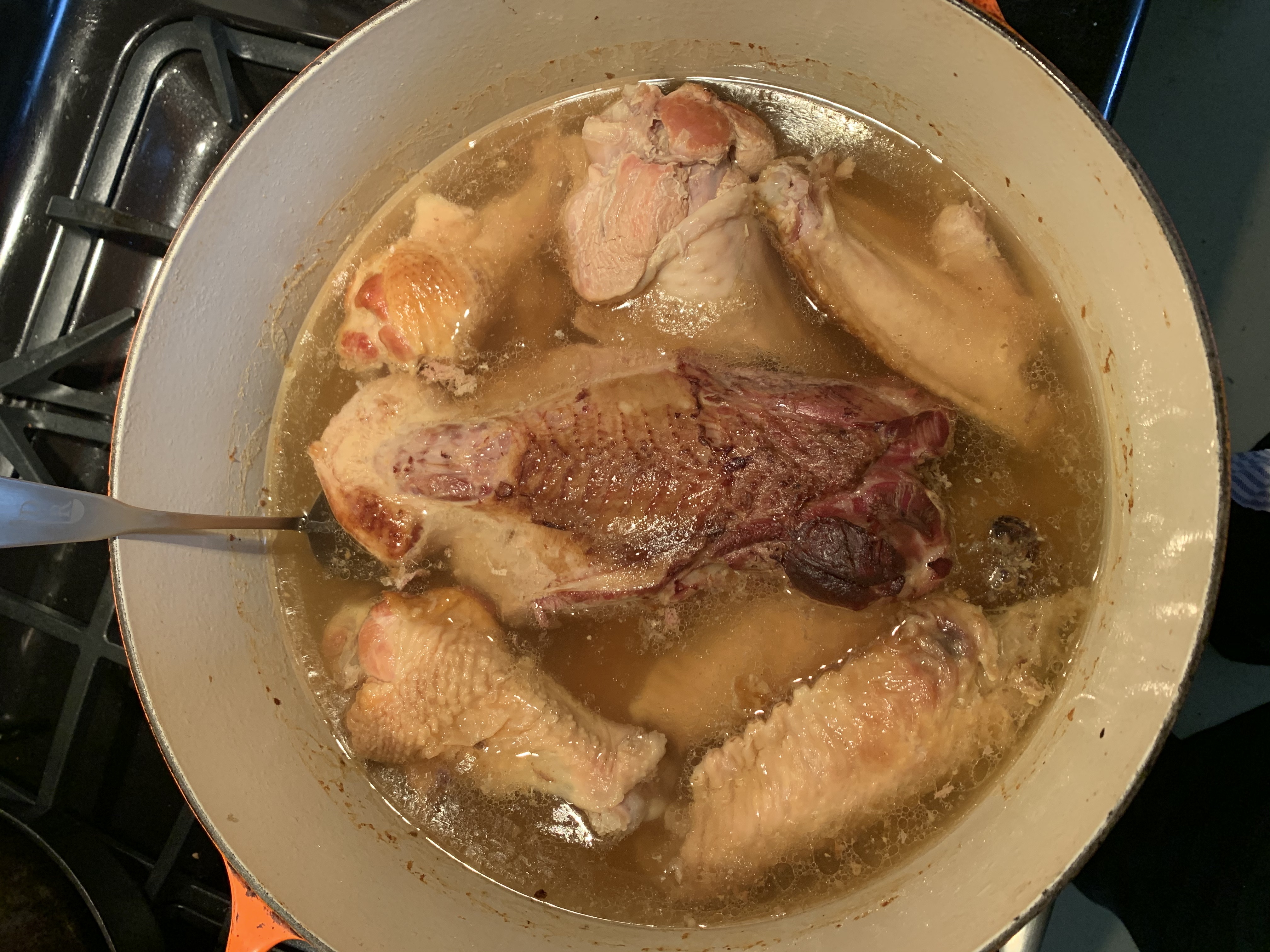 Make your turkey stock now so you have plenty for Thanksgiving gravy, which really holds the whole meal together and makes leftovers the greatest! This is the way I make all my stocks, bones and water in the oven overnight, finish the next day by simmering the vegetables for 45 minutes.
Easy Turkey Stock
A simple way to make turkey or chicken stock
Ingredients
2

large turkey drumsticks

2

large turkey wings

2

Spanish onion, sliced

4

carrots, cut in pieces

4

celery ribs, cut in pieces

3

bay leaves

5

cloves garlic

1

tbsp

peppercorns, cracked beneath a pan or with a mortar and pestle

¼

cup

tomato paste

5-10

thyme sprigs

5-10

stems parsley

optional
Instructions
Roast the turkey pieces (you should have 5–6 pounds/2–3 kilos) in a hot oven, 425°F/218°C at least, till it looks delicious, 30 to 45 minutes. (You can cut the meat off the bones for dinner if you wish; but the meat will add lots of flavor to the stock.)

Put the turkey bones in a big pot and cover them completely with water, 3–4 quarts/liters, and put the pot over high heat. Turn your oven to 180°–200°F/80°–90°C. When the water comes to a simmer, put the pot in the oven, uncovered, for 8 hours or overnight.

Add the remaining ingredients (if you don't have enough room, remove the turkey bones—they will have cooked out by now). Bring to a simmer, then reduce the temperature to low and cook for another hour or so. Strain into a clean pot. Cool, then refrigerate.

Reserve any fat that's congealed on top for the roux on Thanksgiving day. Reduce the stock to 1 ½ to 2 quarts/liters if it's not already at that level.