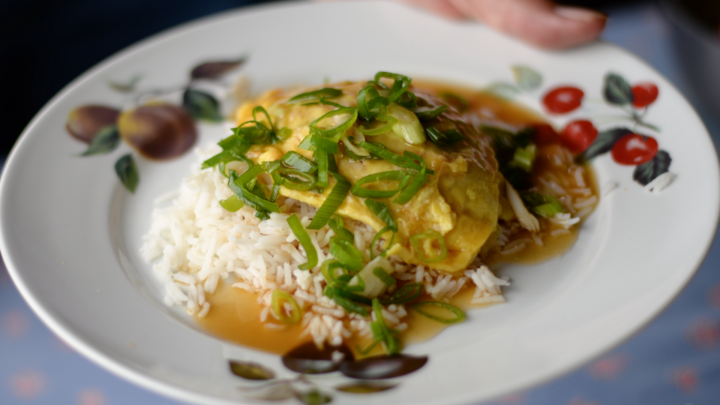 In my book, From Scratch: 10 Meals, 175 Recipes, I wanted to show how much we can learn when we learn a basic dish. This following Egg Foo Yung is from The Omelet chapter. The egg is the most versatile ingredient on the planet.
I want to extend the notion of omelets and scrambled eggs beyond their customary forms by including this excellent use of blended eggs cooked in a pan. Once you recognize that you can put more than chives and cheese in eggs, there seems to be little that won't work this way. Here meat and vegetables are blended into the mix to create this classic Chinese-American dish, Egg Foo Yung.
I have a deep love of the Chinese-American food I ate growing up in Cleveland in the 1970s: diced meat battered, fried, then stir-fried in a sticky sweet-sour sauce, fried noodle dishes, big fat egg rolls with a thick blistered wrapper, chicken with cashews, and fiery kung pao chicken.
When the Jacques Pépin Foundation asked me to film a demo to help them raise money for their foundation, I wanted to honor his love of the omelet but also to do a recipe that was a little out of the ordinary, and chose this. (Become a member to get access two giant video cookbooks filled with demos by the countries best chefs. It's a great organization.)
What the dish is...
Egg foo yong, an elaborate egg pancake served with a savory sauce, is this kind of classic—the quintessential Chinese-American dish, as it appears to have been created by Cantonese cooks who had immigrated to the United States' West Coast in the mid-nineteenth century. It got a bad name by the time it had become a staple in mediocre Chinese restaurants, but it deserves a wider audience, even a routine spot in your repertoire of dishes to prepare for friends. It's just elaborate enough to merit dinner-party treatment, but it's easy and can be prepared ahead of time.
I also love it for what it has to say about the egg—that the egg makes an ideal framework, as it were, for other ingredients and flavors. The neutral egg here takes on deep notes of oyster sauce and soy sauce, sharpened by a bit of rice vinegar. It's loaded with chopped vegetables and meat (I prefer a mixture of pork and chicken), which is really what it's all about. The egg is just there to hold everything together—egg foo yong is like a fritter in that respect—and the addition of cornstarch allows the eggs to form distinct pancakes.
The sauce was originally simply chicken stock seasoned with soy sauce and thickened with cornstarch (see James Beard's recipe in his classic American Cookery). But because the sauce is so prominent, it's worth giving it a little more love with aromatics. It's extraordinarily good if you use your own stock, but don't not make this dish just because you don't have homemade stock.
Finishing the Egg Foo Yung...
Eggs generally hold well, so these pancakes can be cooked and kept warm in a low oven for an hour or two without losing any of their deliciousness. (You can even refrigerate them and then microwave them—not perfect, but not bad either!)
This is a deeply satisfying and nourishing, dish. I prefer it served over rice to make a more substantial meal, but there's no reason you couldn't serve it with the sauce alone. Or you could even make mini pancakes and serve them with the sauce for dipping.
This dish is heavy on the mise en place. It's best to make the sauce the day before, or earlier, then make the egg pancakes.
Egg Foo Yung
My interpretation of a classic Chinese-American dish
Ingredients
8

ounces

boneless, skinless chicken, ground or finely chopped

1

tbsp

oyster sauce

1

tbsp

soy sauce

vegetable oil for frying

8

large eggs

1-½

tsp

kosher salt

3

tbsp

chicken stock slurry

(from the sauce making below)

1-½

tbsp

rice wine vinegar

1

tbsp

Shaoxing wine, dry sherry or dry vermouth

1

tbsp

toasted sesame oil

1

carrot, shredded

1

8-oz can waterchesnuts cut in matchsticks

6

scallions finely sliced

1

recipe

egg foo yung sauce below

(best to make this first, even a day ahead)

steamed rice for serving

(from 1 to 1 1-2 cups dried jasmine rice)
Instructions
In a medium bowl, mix the meat, oyster sauce, and soy sauce until they're uniformly combined. Heat 1 tablespoon vegetable oil in a medium sauté pan over high heat. When the oil is hot, add the meat mixture and stir-fry until the meat is just cooked through. Transfer it to a plate.

In a separate bowl, beat the eggs until they are uniformly mixed and no clear white is visible. Add the salt and 3-tablespoons of slurry (from the sauce below, three tbsp corn starch mixed with 3 tbsp chicken stock)to the eggs and whisk to mix. Add the vinegar, wine, sesame oil, carrot, water chestnuts, half of the scallions, and the cooked meat. Mix well to combine.

Pour about ⅛ inch/3 millimeters of vegetable oil into a large skillet and heat over medium-high heat. When it is hot, use a ⅓-cup/80-milliliter measure to scoop the egg mixture into the skillet; make as many as you can fit without allowing them to touch. Fry, turning each egg pancake over when it is slightly brown on the bottom, about 1 minute. Continue cooking until it's cooked through and set, another minute or so depending on how hot your pan is.

Transfer the pancakes to a paper towel–lined plate as you finish each batch. (If you are holding these to serve later, put them in a 200˚F/93˚C oven until you're ready to serve.)

While you are cooking the eggs, strain the sauce through a fine-mesh sieve, return it to the pan, and bring it back to a simmer. Remove from the heat and add the rest of the scallions.

Serve the pancakes over rice, spooning plenty of sauce over them.
Egg Foo Young Sauce
Sauce for egg foo young, chicken stock base
Ingredients
2

cups

chicken stock

5

tbsp

corn starch

1

tsp

vegetable oil

2

scallions thinly sliced on the bias

1-2

garlic cloves, rougly chopped

1

inch

ginger, grated

2

tsp

sugar

3

tbsp

soy sauce

2

tbsp

dry sherry or vermouth, or Shaoxing wine
Instructions
In a small bowl, whisk together 2 tablespoons of the stock and 2 tablespoons of the cornstarch to form a slurry for the sauce; while you're at it, do the same in another bowl with another 3 tablespoons of stock and the remaining 3 tablespoons cornstarch and set aside for the eggs.

In a medium saucepan, heat the oil over medium-high heat. When it's hot, add a quarter of the scallions, plus the garlic and ginger, and stir-fry for 30 or 40 seconds. Add the remaining chicken stock, sugar, soy sauce, and wine. Bring the mixture to a simmer. Add the 2-tablespoon slurry and cook for a minute or two, until the sauce thickens. Set aside.