Reposting on Deviled Egg strategies (and how to make perfect hard-cooked eggs).
At an event to promote my new book on the mighty egg, I did a demo of some simple egg dishes with my friend and Cleveland chef, Doug Katz. He had prepared deviled eggs ahead of time, and I was struck by his decision to cut the eggs through their equator rather than lengthwise. He then sliced off some of the white at the bottom so that the eggs rested flat in a large tray.
What a brilliant idea! Why hadn't I thought of this? My only problem with deviled eggs is that I love them so much; but, because they're so big, I can eat only so many. Doug came up with a solution: Removing a chunk of the white means that each deviled egg is a little smaller and easier to eat, and that means that I can eat more.
While Doug topped each egg with an asparagus tip and a disc of pickled radish, we began listing variations to the audience, and I realized they were unlimited. What doesn't go well with egg? Anchovy-caper-olive tapenade, fried chicken liver, pickled chile pepper, fines herbes, duck confit, broiled cherry tomato, corn with lime juice and black pepper, caponata, kimchi—any of these can elevate the humble deviled egg to a delicacy.
So, to enliven a standard deviled egg platter, I've created the five garnishes below—but again, you're limited only by your imagination. If you want something a little more complex, choose some toppings below. But even in this group, simplicity rules, and simplicity is especially what I look to when I'm serving a large group. Top an egg with a slice of grilled hotdog and some ballpark mustard (see below). Give the deviled egg some crunch with broken potato chips—potatoes and eggs are always a great combination. Put leftovers to use—if you have grilled chicken, chop it and give it a squeeze of lime before setting it out as deviled egg topping. Fresh herbs go a long way quickly—tarragon and chives are my favorites for eggs. Or sprinkle the eggs with roasted cumin powder, cayenne or some truffle salt.
The following recipe for basic deviled eggs can be halved or doubled depending on how many you're serving. For a heavy hors d'oeuvres event, I plan on two eggs per person. The garnish amounts below will garnish about five deviled eggs each. Using older rather than very fresh eggs can make peeling them easier.
(Photos by Donna Turner Ruhlman)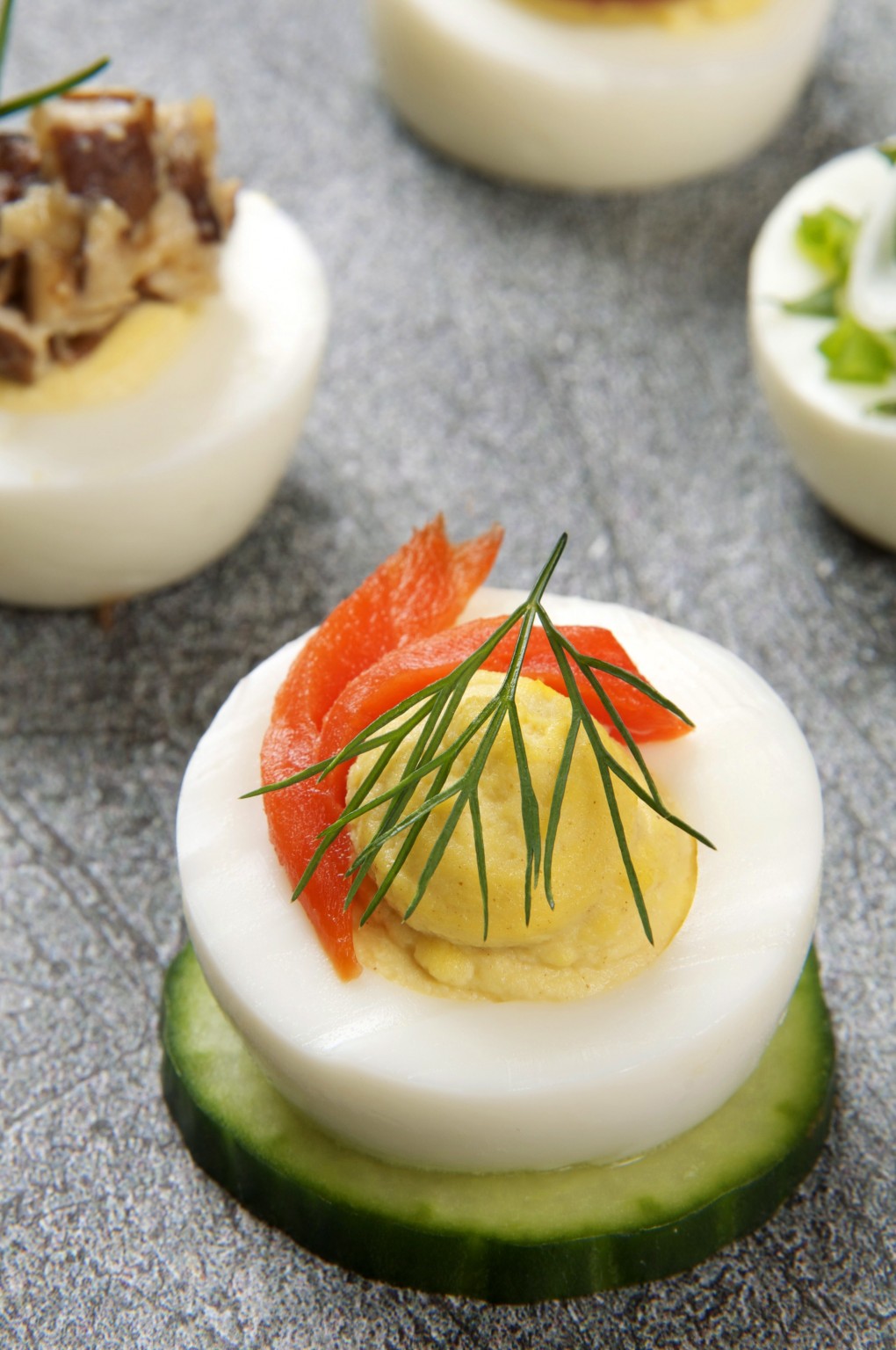 For more great recipes and tips for deviled eggs, visit IncredibleEgg.org
© 2015 Michael Ruhlman. Photo © 2015 Donna Turner Ruhlman. All rights reserved.
BASIC DEVILED EGGS
Ingredients
24 large eggs, hard-boiled and peeled

3 tablespoons minced shallots

2 teaspoons freshly squeezed lemon juice

½ teaspoon salt

½ cup mayonnaise

2 tablespoons Dijon mustard

¼ teaspoon freshly ground black pepper

¼ teaspoon cayenne (optional)
Instructions
Cut off both ends of the eggs, then slice them in half crosswise. Remove the yolks to a mixing bowl and reserve the whites. (You can discard the ends or press them through a sieve and add them to the Japanese or Vietnamese garnish below.)

Combine the shallot, lemon juice, and salt and let it sit for 5 to 10 minutes.

Add the mayonnaise, mustard, pepper, cayenne (if using), and the shallot mixture to the yolks. Mash the yolks with a fork, stirring to combine all ingredients until the mixture is uniform. This can all be done up to 12 hours before serving, if kept wrapped and refrigerated.

Shortly before serving, spoon the mixture into the egg white halves (or put the yolks into a plastic bag, snip off the corner, and pipe the yolks into the whites).
How to make perfect hard-boiled eggs on the stovetop
Instructions
Choose a pan that will comfortably fit all the eggs you intend to cook in one layer.

Cover the eggs with water by about an inch and put the pan over high heat.

When the water reaches a full boil, cover the pan, remove it from the heat, and start a timer for 10-12 minutes (this time according to the American Egg Board; I cook mine for up to 15 minutes, and Doug Katz takes his as long as 18 minutes, so pay attention so you can determine the time that works bes for you).

Prepare an ice bath—half water and half ice.

When the eggs have been covered for 10-12 minutes, remove them to the ice bath for at least 10 minutes, stirring the ice water a couple of times during the first minutes of cooling. (This is the most important step in the process as far as I'm concerned.)

Peel and use, or store in the shell in a covered container for up to two weeks.
Deviled Eggs with Smoked Salmon and Dill
Ingredients
¼ pound cured salmon, thinly sliced

5 dill sprigs

5 ⅛-inch slices of cucumber
Instructions
Top each egg with a slice of salmon, followed by a sprig of dill. Place each on a cucumber slice.
BLT DEVILED EGGS
Ingredients
2 thick-cut bacon slices, cut into 1½-inch pieces

¼ cup diced tomato, salted to taste

1 romaine lettuce leaf, julienned
Instructions
Fry the bacon till crisp and drain on paper towels. Top each egg with bacon, followed by diced tomato, and then lettuce.
THE ALL-AMERICAN DEVILED EGG
Ingredients
1 grilled hot dog

Bertman Ballpark Mustard (or any mustard of your choice)
Instructions
Slice the hot dog into ½-inch pieces. Press one piece into the yolk of each egg and top with mustard.
JAPANESE DEVILED EGGS
Ingredients
Vegetable oil

3 or 4 shiitake mushrooms

Salt and freshly ground black pepper

1 teaspoon miso paste

1 teaspoon rice vinegar

10 fresh chive tips
Instructions
In a small sauté pan, heat a film of oil over high heat. Put the mushrooms in the pan and press them down with a spatula till they're nicely browned, a couple minutes. Flip them and repeat.

Remove them to a cutting board, season with salt and pepper to taste, and then dice them. Combine the diced mushrooms with the remaining ingredients (except the chive tips) and stir till they're uniformly mixed. Top each egg with some of the mixture. Garnish with two chive tips.
VIETNAMESE DEVILED EGGS
Ingredients
1 scallion, white part only, thinly sliced on a bias

1 teaspoon freshly squeezed lime juice

pinch of salt

1 tablespoon minced fresh cilantro

1 tablespoon minced fresh mint

1 tablespoon minced jalapeño pepper (seeded, if desired)

1 teaspoon Asian fish sauce
Instructions
Combine the scallions, the lime juice, and the salt and let sit for 5 minutes (reserve several slices for garnish on top if you wish). Add the cilantro, mint, jalapeño, and fish sauce and stir to combine. Top each egg with the mixture and garnish with the remaining scallions rings.

Again, these are just a few suggestions of countless possibilities. With all these combinations, it's easy for guests to make their own deviled egg flights, perfect food for a Fourth of July celebration.