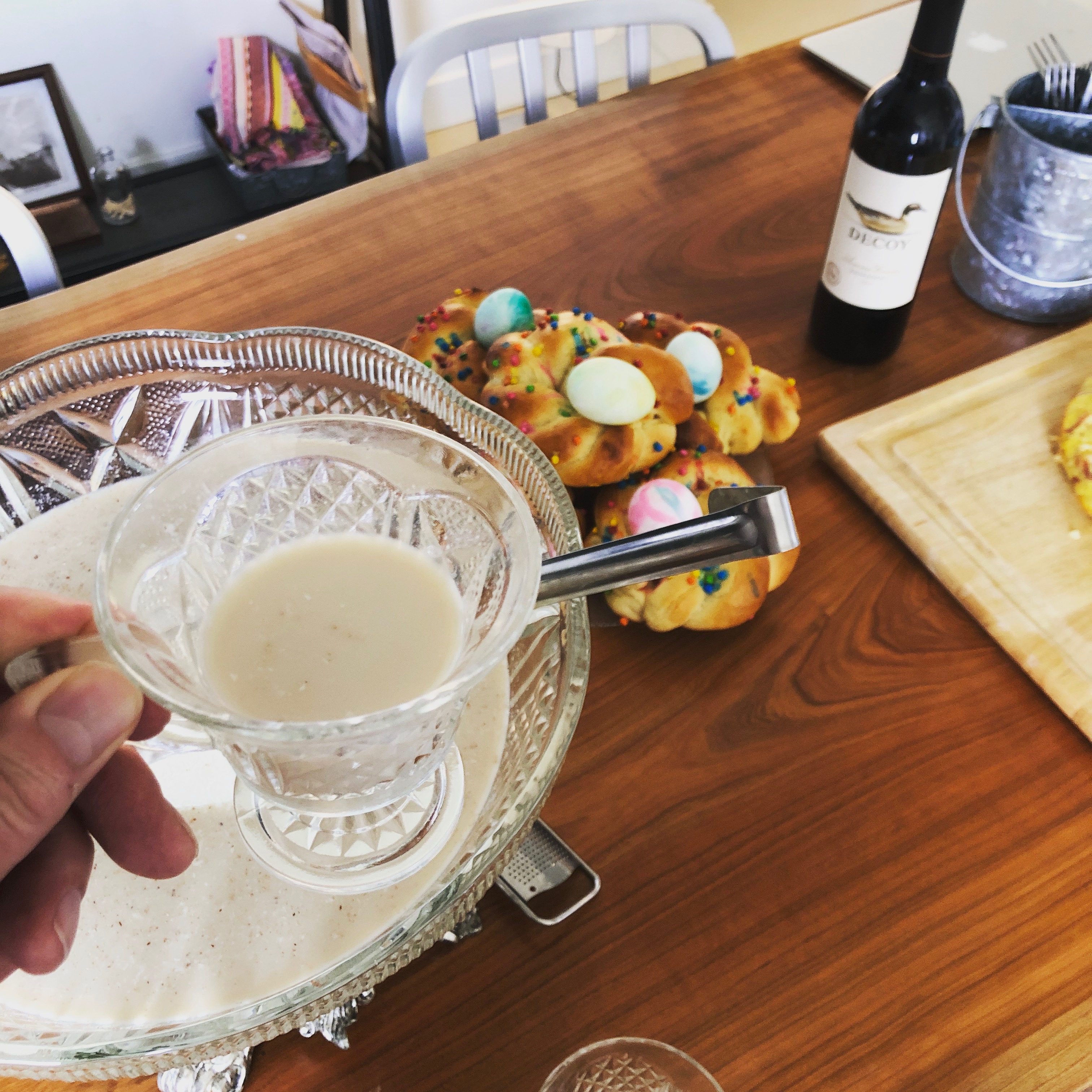 When my wife Ann and I were in New Orleans in January, we felt the need, after a great Po Boys and beer at Parasol's in the Garden District, for one more afternoon libation (as you do in NOLA). We stopped at bar someone recommended down the street. I believe I asked for a boulvardier. Bartender shook his head. I said, negroni.
Bartender said, "We serve N drinks here."
"Excuse me?"
"N drinks. Vodka 'n,' Gin 'n,' Scotch 'n.'"
That is, no fancy pants drinks. "We serve hahd likkah heah for men who want to get drunk fast." #itsawonderfullife
And those were the drinks I saw poured in 1960s-70s suburban Cleveland growing up. Gin n Tonic, Scotch n Soda.
I knew four cocktails in my youth. The Martini (Dad), The Manhattan (Uncle Jon), The Bloody Mary (Sundays), and The Stinger (Long Past When You Should Have Stopped—"Why is it called a stinger?" "You haven't had one? You'll find out.")
It wasn't till I hit New York and shared an apt with aspiring writer, now pre-eminent literary biographer (currently at work on P. Roth), one Blake Bailey, that I was introduced to a wider range of cocktails. I've written about the Julep Blake showed me. The second important cocktail Blake introduced me to was the milk punch (he fresh out of Tulane in New Orleans). He mixed me one on a crapulous Manhattan Sunday-after, and I thought it a marvel. Milk and booze--it had never occurred to me. But what a delightful elixer. Since then, I have had many a milk punch, and it was the milk punch my beloved Ann Hood requested to serve a big gathering of Gogo's clan on Easter (God rest her wonderful soul; it was the family's first holiday without Gogo).
Having my new reintroduced Maestro scale on hand—and I LOVE this scale (all initial glitches solved); it comes with my baking ratios—I decided it was time to make a proper ratio for a big batch of Bourbon Milk Punch. You may of course measure liquids by volume, but I wanted to put the awesome Maestro to work: one bowl, one scale. It's a dead simple ratio and worth having in your entertaining arsenal. See photos below, rounding off of course, for an exact recipe. I make simple syrup by combining one cup of water with one cup of sugar, or more as needed, and dissolving in microwave.
Here's to you, Blake. Finish that biography before Roth (finally?) gets the Nobel.
Here the recipe in photos on the Maestro Scale: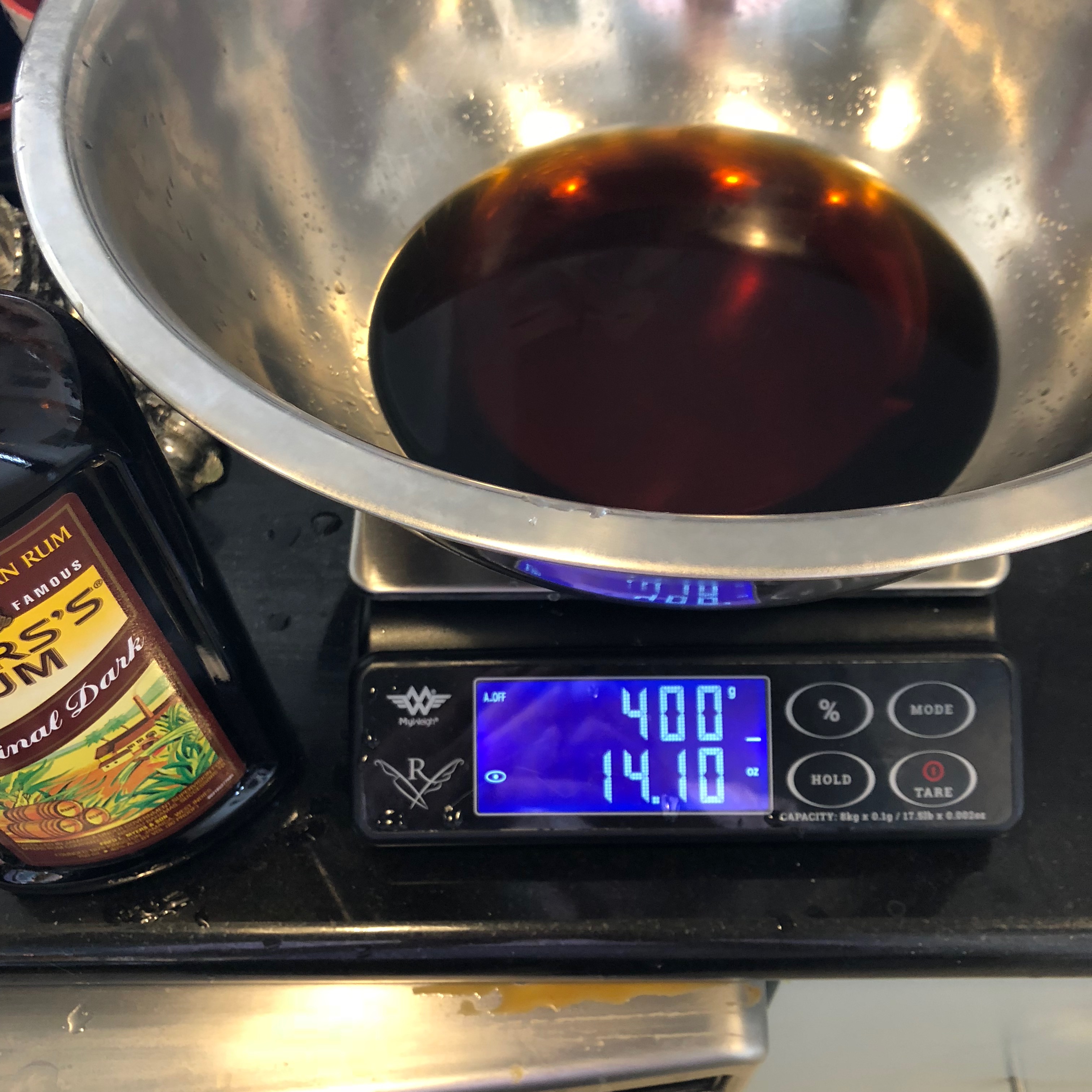 400 grams/milliliters dark rum (oops, sorry about the spill)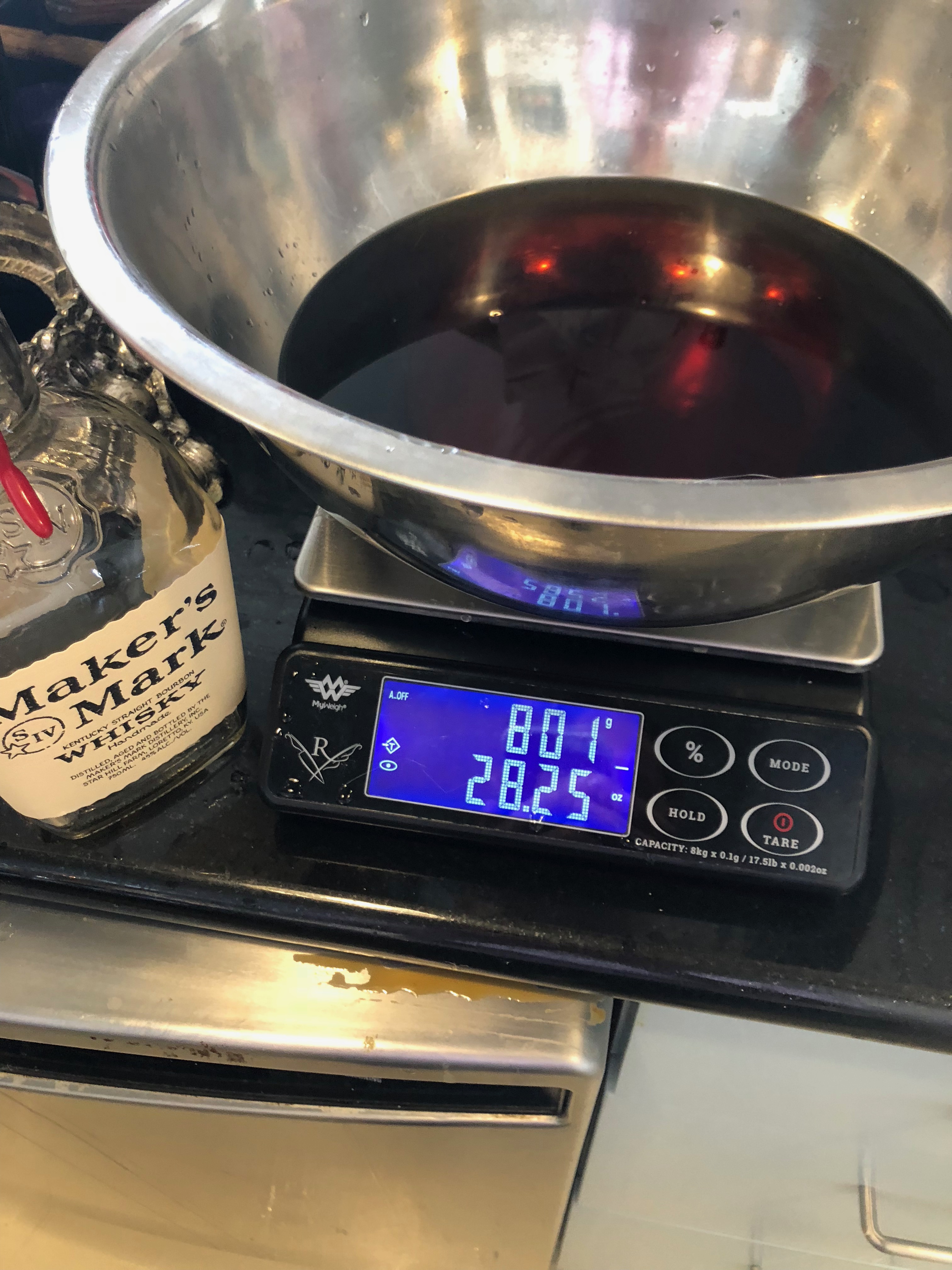 800 grams/milliliters bourbon (one 750 milliliter bottle will do, I just like neat ratios when the work).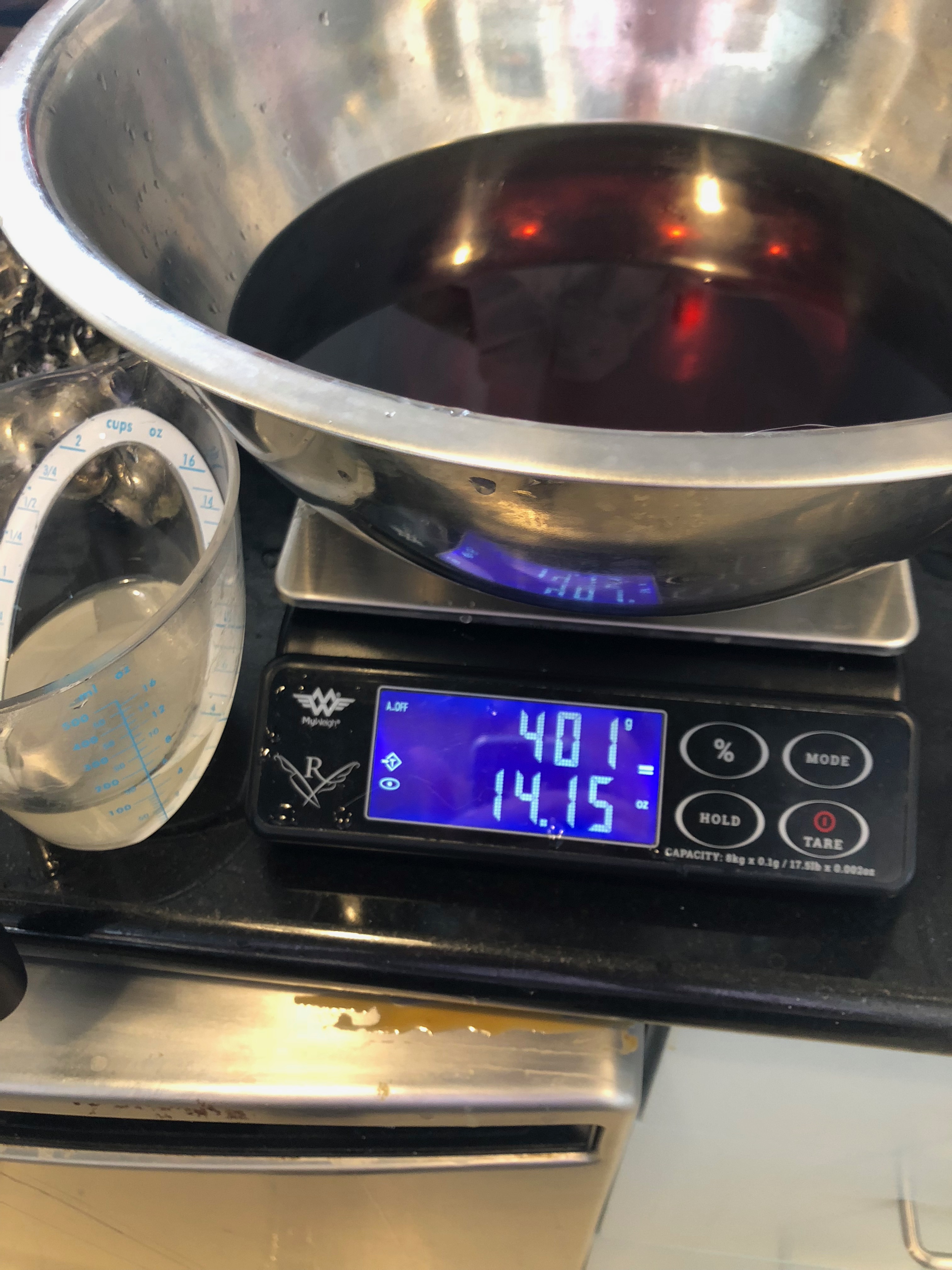 400 grams/milliliters simple syrup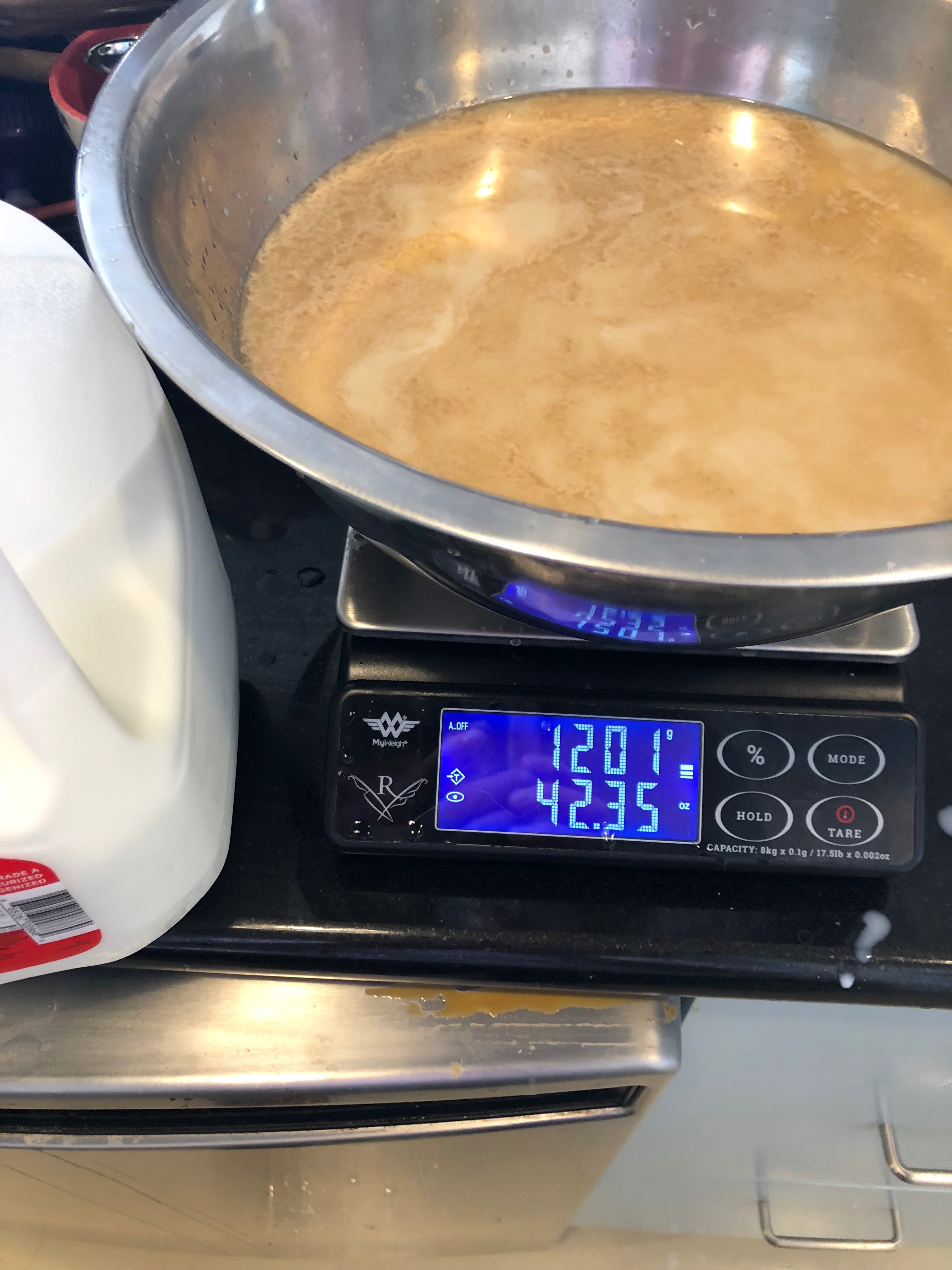 and 1200 milliliters whole milk.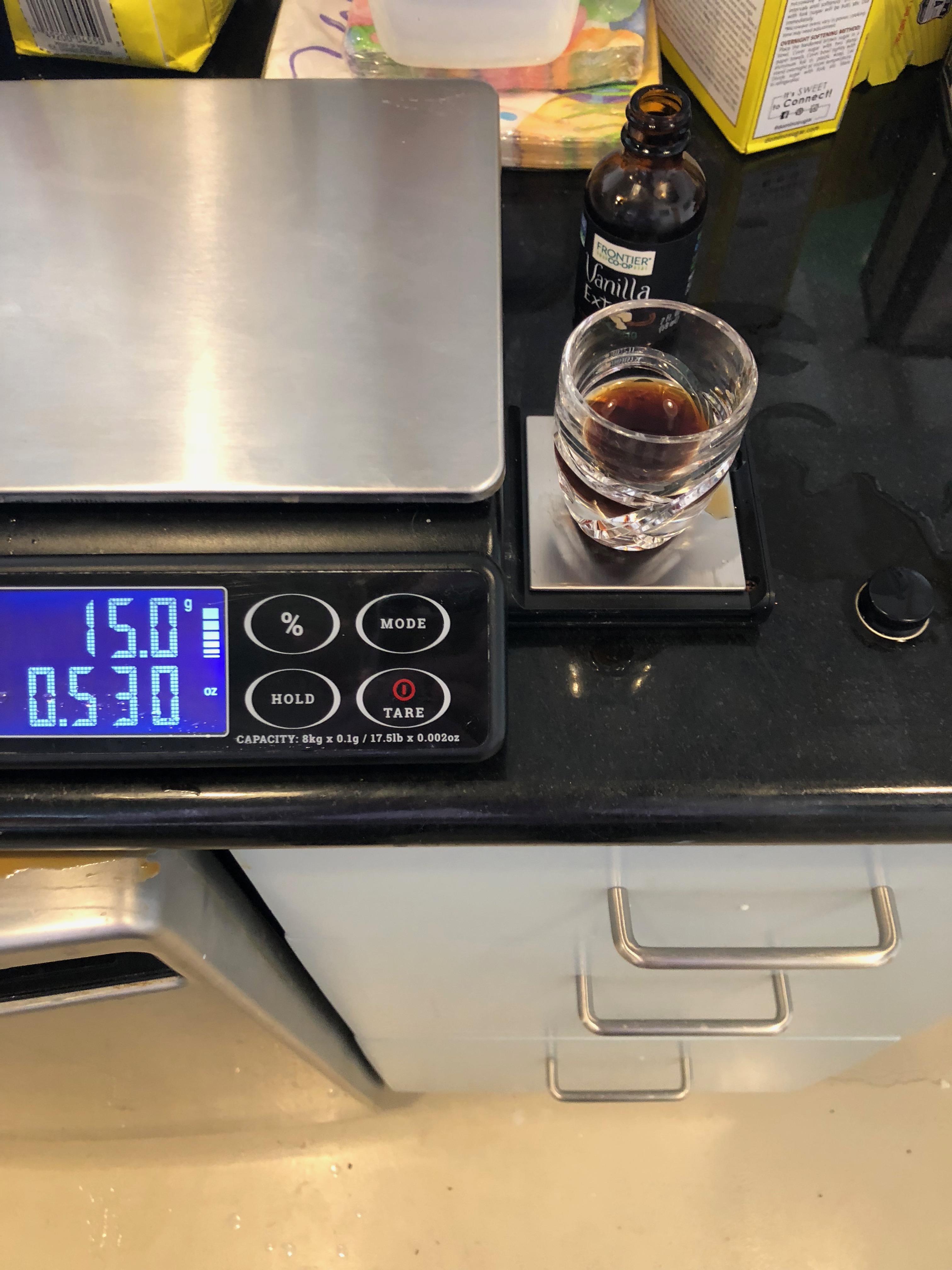 Of course, since I want it to be a complete ratio, I also weighed the vanilla on the little pullout scale on the side, which measures .1 grams if you need. LOVE this feature. And love scales. And love Bourbon Milk Punch!
Bourbon Milk Punch
Ingredients
Recipe for 24 servings (12 cups)
400

grams/milliliters

dark rum

800

grams/milliliters

bourbon

(one 750 milliliter bottle will do, I just like neat ratios when the work)

400

grams/milliliters

simple syrup

1200

grams/milliliters

whole milk

vanilla to taste

nutmeg to taste
Ratio
1

part

Dark rum

2

parts

bourbon

3

parts

milk

1

part

simple syrup

vanilla to taste

nutmeg to taste
Instructions
Combine liquids, season with vanilla and nutmeg to taste (0.5 parts vanilla, actually, I weighed), and serve. Think ahead: freeze a half gallon carton of milk, and use this for the ice cube.