Two of them. The traditional Tom Collins cocktail and a Whiskey Collins, sometimes called a Colonel Collins.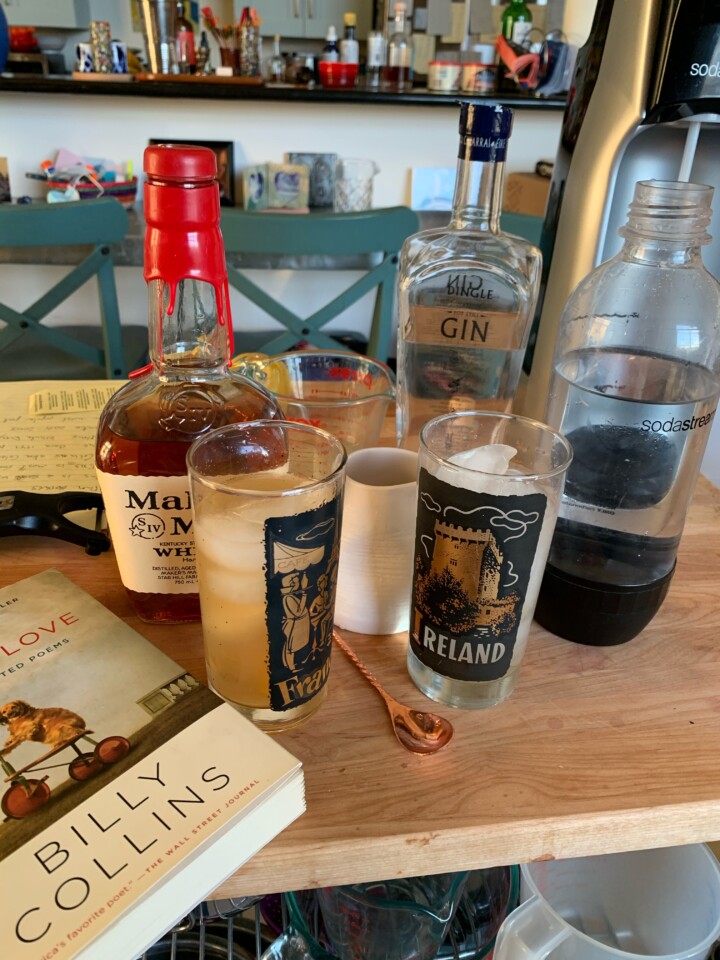 It was high time I did a Tom Collins for the cocktail hour, and as I'd been obsessively reading our great poet, Billy Collins, it seemed the perfect time.
A Tom Collins, the most common kind of Collins, uses gin. But a Collins is properly defined as a sour, over ice, topped with seltzer. Served up, it would be called a fizz, as in a Ramos Gin Fizz.
I hadn't really thought much about the Tom Collins, a truly refreshing drink, until I began to look into it and discovered, as I'm wont, that it is another superlative template drink: spirit, citrus, simple syrup, and seltzer.
A little delving will provide names for Collinses which use rum, vodka, calvados, tequila, you name it. But all of them testify to the solid template of the Collins.
I will, whenever possible, stick to simple, unfinicky ratios, as I do here with the sour ratio. 2 parts, spirit, one part each citrus juice and simple syrup topped with seltzer, the later to taste. (Whiskey Sours of course have an egg white.)
Follow other guidelines for making other Tom Collins-style drinks. If you're using tequila, add triple sec or cointreau instead of the simple. I did a post a couple weeks ago on applejack—this would make a great collins.
There's really no end to what you can do with the Tom Collins template. We're in the middle of winter now, so you folk in Florida, it's always time for a Collins because it's so hot there. But even so, with daylight savings not too far away, it's not too early to enjoy a Tom Collins cocktail.
It's a lovely refreshing cocktail, regardless of the spirit and especially when enjoyed with some of Billy Collins's straight-at-you and lovely poems. Watch our video here of both the drink and the poem.
Whiskey Collins
A Tom Collins made with whiskey rather than gin, aka a Colonel Collins
Ingredients
2

ounces

bourbon

(or spirit of your choice)

ice

1

ounce

lemon juice

1

ounce

simple syrup

(1 part sugar dissolved in 1 part water)

1

lemon twist
Instructions
Pour the bourbon over ice in a tall, or collins, glass. Add the lemon juice and simple syrup, stir or swirl top with seltzer, not too much. Garnish with the lemon twist.