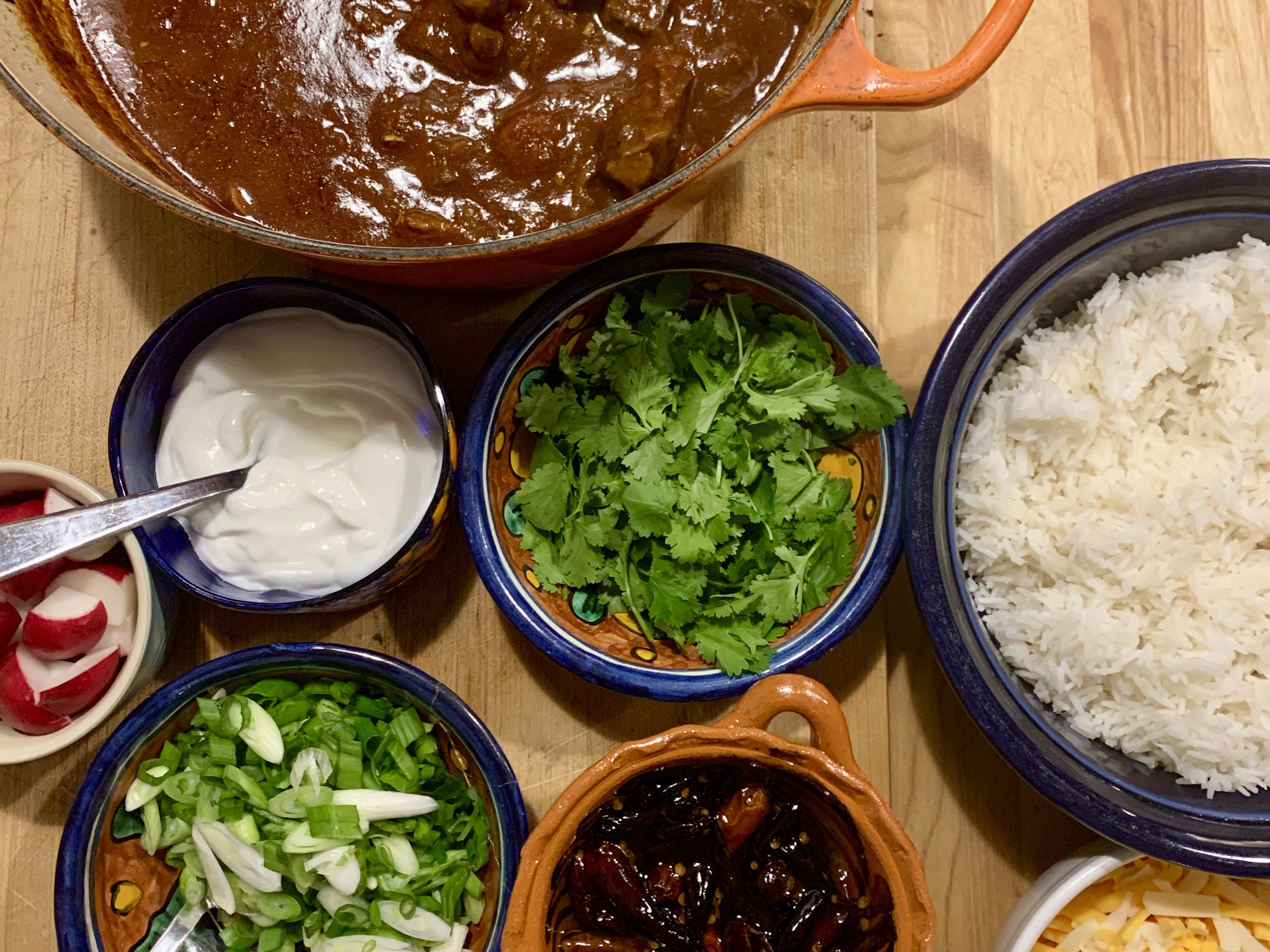 My father, Rip, loved to cook (and to feed people). And he loved chili. But not what you got in Cleveland.
In 1970s Cleveland, chili meant ground beef and kidney beans in some kind of tomato sauce, often referred to as chili con carne. Which underscores the point that in Cleveland in the 1970s we didn't really know what the fuck we were doing (but who really did in the 1970s?). Remember, too, that in the south of our state, one restaurant was putting pie seasonings in chili and dumping the shit on spaghetti!)
Also a problem: in the late 1970s, there were not endless recipes online or even definitive sources for variations on dishes, so it was up to him.
My dad wanted the real deal. He didn't like beans (nor do I, in chili) and was thrilled to discover that the chili they made in Texas typically didn't have any beans at all and it didn't have tomato. So he created his version, which was, essentially, beef stew made with beef broth and chili powder. And it was inspiring in its simplicity.
It never would have occurred to him to make beef stock--unthinkable back then, what even was that? Nor were there dried chiles to make real chile powder. But nor were there the authenticity police telling him to go home because his chili wasn't really authentic. (For a discussion of what "authenticity" really means, listen to Krishnendu Ray on my podcast "From Scratch," first episode here in season one.)
Working off his original recipe, which he'd typed on a 3x5 card, I ad libbed a fabulous (IMO) chili, much in request in my parts. Which I will call "Rip's Texas Chili Authentic by way of Cleveland."
The key here, as with any heavily spiced stews, is not to be afraid of the spices. I use Ranch Gordo's killer chile powder. But I urge you to make your own chile powder from dried chiles you can find at the store. I always include anchos, dried chipotles, guajillo, arbols and whatever else might be available. I also include plenty of cumin and coriander (best toasted and ground, but it depends on your circs).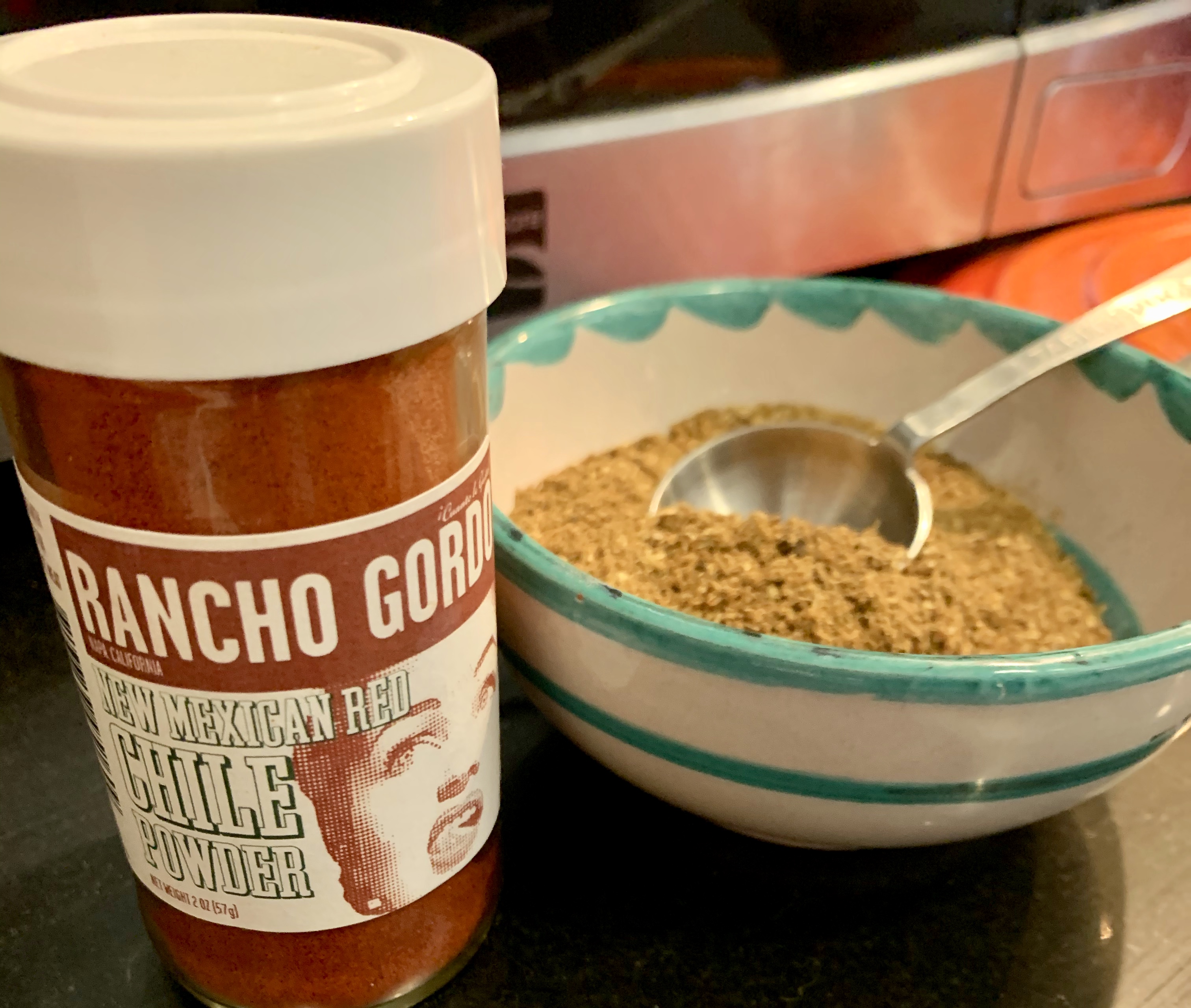 I use half beef stock (or better veal stock if you make it) and a can of whole peeled tomatoes. Yes! Tomatoes! (And, honestly, we're in a pandemic, so use water if that's all you have; water is your ally; just throw in some carrots and celery and more onion—it will still be delicious.)
Making it couldn't be more straightforward. I roast the diced beef to set the protein (feel free to flour and brown it if you have the time and you love the smell of floured meat hitting hot fat). I cook a big diced onion in some oil with salt, then cook the spices in that oil, add the rest of the ingredients and simmer for an hour or two. I thickened it here with beurre manié (four/butter), but you can use a slurry or better, some masa harina instead of flour. Or don't thicken it at all.
I serve the chili with rice, cheese, sour cream, scallions, some red chiles fried black and crispy in oil and whatever you wish (fresh sliced chiles are great if they're available). This is a great dish for groups, especially groups quarantining and binging on movies and card games.
Miss you, Dad. Boy, what you have made of these times? Well, sense, that's what. As always. Yours ever.
"Rip's" "Authentic" Texas Chili
This is a straightforward, powerful chili--good chile powder and good stock make it great. (Chili=the dish; chile=the pepper)
Ingredients
2.5

pounds

diced beef chuck roast

salt as needed

1

large onion, diced

1

tbsp

vegetable oil

2 - 3

tbsp

good chile powder

1

tbsp

ground cumin (preferably toasted and ground)

1

tbsp

ground coriander (preferably toasted and ground)

½

tsp

cayenne (or to taste)

1

can

whole peeled tomatoes (28-ounce)

2

cups

beef stock (or veal stock)

1

cup

cilantro

optional but good
Instructions
Preheat your oven to 425˚F.

Spread your diced beef on a sheet tray lined with parchment or foil. Give it a generous dose of salt. Roast it until it's browned.

In the mentime, cook your onion in a large pot or dutch oven in the oil over medium high heat. Give it a good hit of salt. When it's tender (brown it if you want), ten minutes or so, add the chile powder, cumin, coriander and cayenne. Cook the spices in the fat.

Pour in the beef and any juices in the sheet tray. Stir to combine. (If you're in the mood add a cup of red wine here to deglaze.) Add the juice from the tomatoes and stir to deglaze. Squeeze the tomatoes into pulp into the pot. Add the beef stock.

Bring to a simmer, lower the heat, and simmer for an hour or two. Taste it. Add salt or more seasonings as needed.

If you want it thicker, knead together 2 tablespoons butter with 2 tablespoons of flour (or cornstarch and water), and stir this in till it's the consistency you want. (Sorry these weren't in the ingredient list but you have something on hand don't you? And if you don't this will be even more authentic.)

Serve garnished with the cilantro. Put out bowls of rice, sliced scallions, chiles, cheese, or what you will (we had some radishes we through in there--we're in quarantine, use what you have, and above all, have fun)!