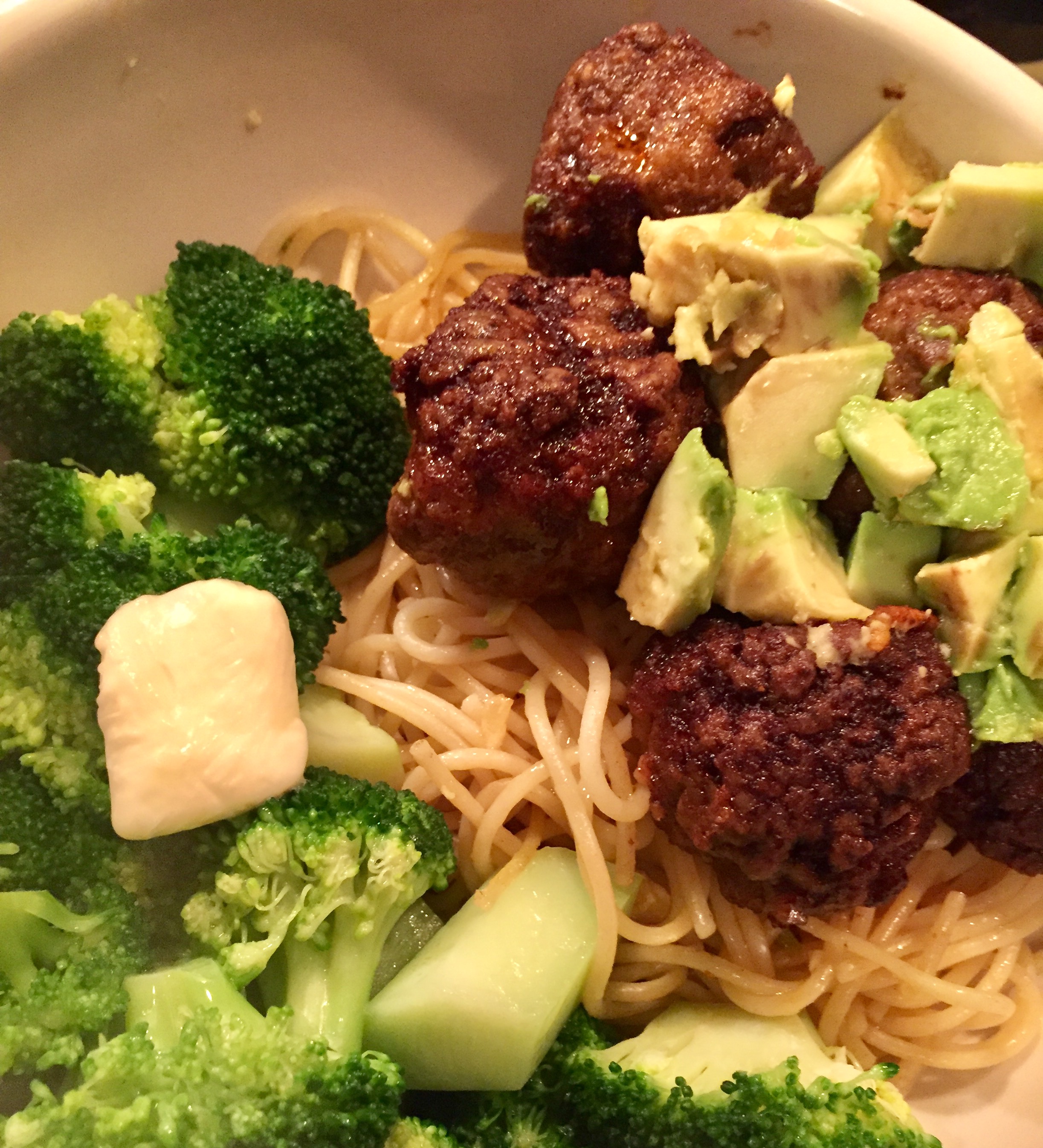 It was cold, windy night, dark by 5 pm, and I was in the mood for chili. I was also alone in my pajama pants and had no intention of leaving my toasty apartment for the tomatoes and onions I didn't have. I knew I had a frozen pound of ground beef in the freezer, a box of pasta, a stalk of broccoli, though. So instead of putting the meat in the chili, I figured I'd put the chili in the meat, make chili meat balls, serve them on garlic pasta, with a side of good-for-you greenery.
I keep a good stash of fresh spices in my freezer. I made the preparation hard on myself by cooking the spices and garlic in some olive oil before adding them to the meat—brings out the flavor in the spices, but you can add everything raw if you're rushed. It all came together quickly while the pasta water boiled, nevertheless. I made more meatballs than I needed so that I'd have a bite for lunch the following day. I stored the rest raw, in the ziploc with the flour, in the fridge to make again in a couple of days once I'd gotten some tomatoes. (And I did get tomatoes—at a drugstore. This felt strange to me. But more and more, we're treating food as medicine in this country so it makes a kind of odd sense—a couple of the many issues I tackle in my new book GROCERY: The Buying and Selling of Food in America, due out in May.)
The meatballs tasted deeply of the paprika and chipotle and cumin. They tasted so great, in fact, it occurred to me they'd be a perfect Superbowl snack (serve with some harissa sauce and sour cream  on the side for dipping!).
Here with, the chili meatballs (I trust you can handle garlic pasta and boiled, buttered broccoli on your own.) But I highly recommend this spice ratio. This recipe will make 16 one-ounce meat balls. And you could feed four people with these quantities, if you wished. Happily, I had some avocado on hand which I diced and put on top of the meatballs, which was fabulous as well!
It sometimes feels good to be alone when you can eat this well with what you have on hand.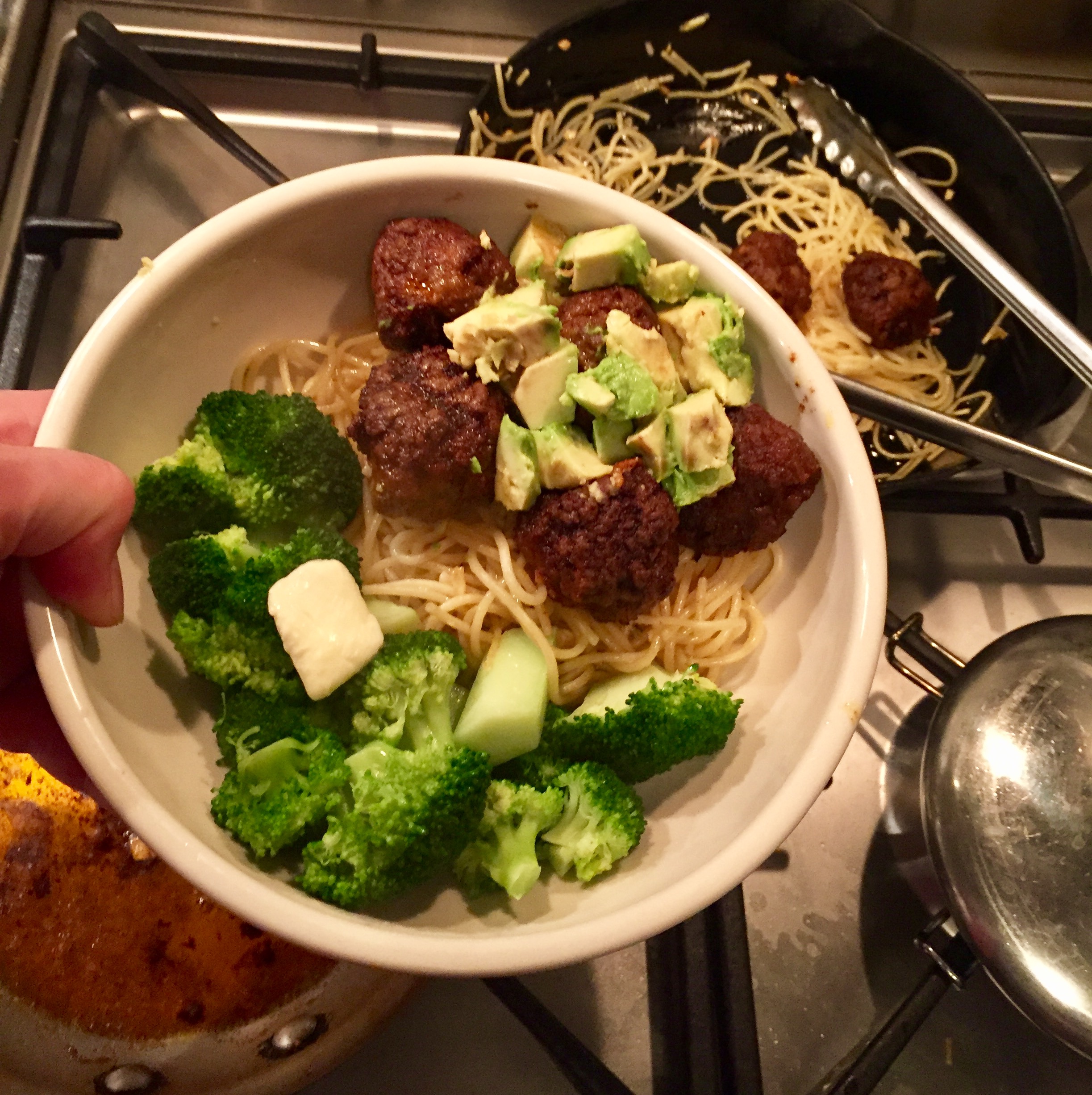 Ruhlman's Chili Meatballs
A great variation on the meatball
Ingredients
1

lb

ground beef

1

tbsp

cumin

1

teaspoon

ancho chili powder

1

teaspoon

hot smoked paprika

 (this is mildly spicy; double the amount for more heat)

4

cloves

garlic

1

teaspoon

salt

2

tbsp

olive oil

vegetable oil as needed for pan frying

½

avacado, diced

optional
Instructions
Combine everything but the meat and vegetable oil in a small sauté pan over high heat, stirring. When the spice-oil is bubbling, the spices are mixed, and the garlic is tender, remove from the heat. Put the bottom of the pan in cold water to cool the spices. Add the mixture to the meat and mix by hand till the spices are thoroughly combined. Then shape the meat into 16 balls, more or less as you wish (the smaller they are, the more crunch from the crust you get). (If you are like Yogi Berra with pizza, you can shape them into 30 balls if you're particularly hungry.)

Put about a cup of flour into a plastic ziploc bag, if you're doing this step. Put the meatballs in the bag, seal the bag and turn the balls over until they're coated with flour.

Heat a quarter inch of oil in a saute pan, medium high heat should do. When the oil is hot, add the meatballs and cook till they're medium-rare to medium, three to five minutes depending on their size. Drain on paper towel.

Serve on pasta tossed with garlic and oil, top with avocado if using, along with cooked buttered broccoli. If making these to serve on their own, put out a bowl of harissa and/our sour cream; for more color garnish with thinly sliced scallion.
Notes
Serves 4, but the recipe is easily doubled.
If you're just making this for yourself: I ate a third of the meatballs for dinner, a third for lunch and did not cook a third of the meatballs, saving them to eat with the world's easiest wintertime tomato sauce.
If you liked this post, take a look at these links:
My past posts on Travelin' Man, Spicy Orange Chicken, and Chicken Romano.
Everyone loves a meatball, Serious Eats has a plethora of recipes on fining your ideal meatball match.
Taking Back Our Pasta a post featuring Chef Mark Vetri's pasta making book "Mastering Pasta".
Don't forget to follow more of my moments on Instagram.
© 2017 Michael Ruhlman. All rights reserved.