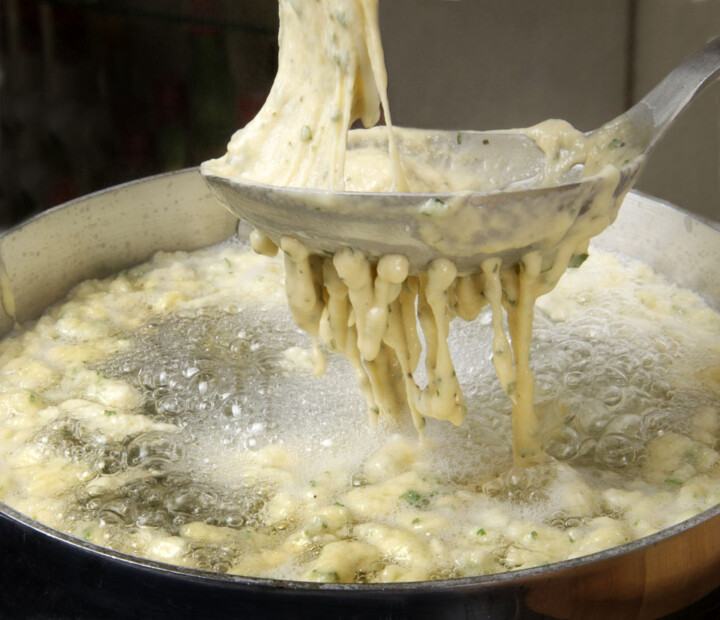 I wanted to include spaetzle as a side dish in the new book I'm working on. As I searched for something other than a colander to press the batter through, there, beckoning from a bin of kitchen utensils as if actually waving to me, was the Badass Perforated (aka Egg) Spoon. Would it work? Lo, I scooped up a spoonful and pressed the batter through it into the boiling water. When the batter was through, I scooped up another spoonful. Worked like a charm!
I will now be making spaetzle, the homemade pasta translating from German as "little sparrows," more often. The recipe below comes from my partner in Charcuterie and Salumi, Brian Polcyn, as I can't give out the recipe that Little, Brown will be publishing. (But, shh, my ratio basically works out to 1:3:3 by weight, egg to liquid to flour, plus seasoning and fresh herbs—plug that into your Ratio app and see how it works!) Brian's batter is considerably stiffer, almost like a dough.
Once cooked, these little birds can be sautéed in butter as a side dish or added to soups. Absolutely delicious and satisfying. I recommend experimenting with different flours, such as my current favorite, spelt. See also the interesting rye spaetzle gratin from the NYTimes (link below).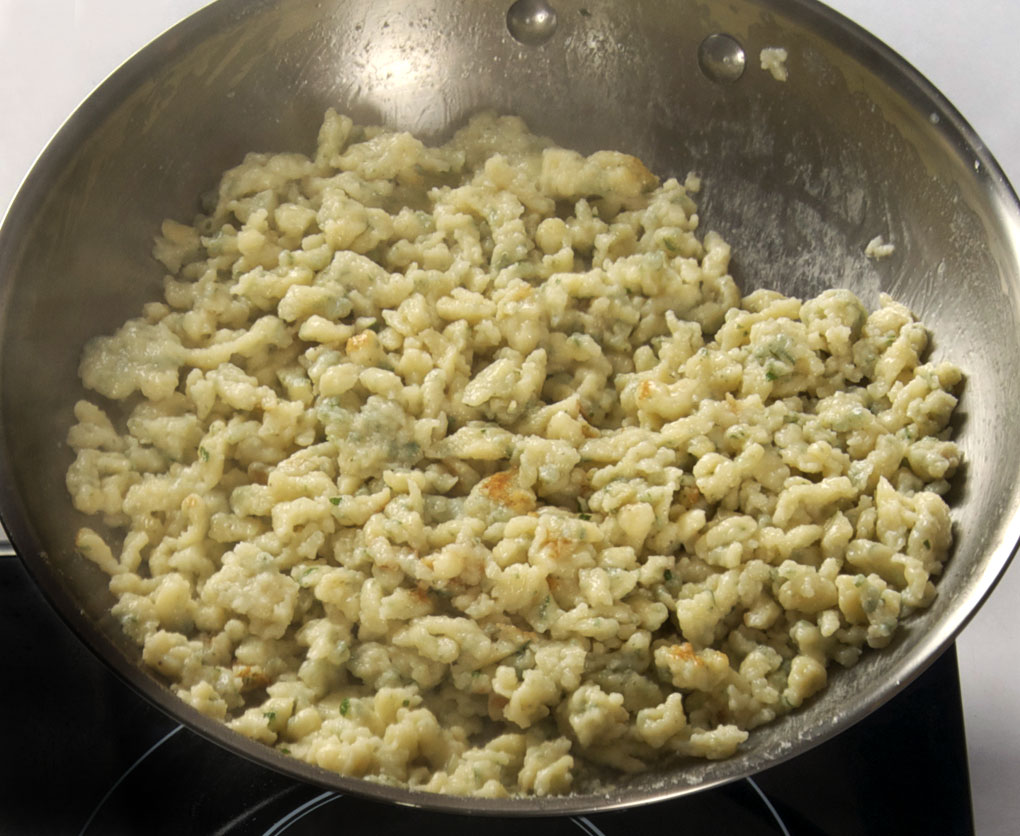 If you liked this post on Spaetzle, check out these other links:
My first post on the Badass Egg Spoon.
A great recipe for Rye Spaetzle Gratin with Caraway and Cabbage from the New York Times.
Stephanie's guest post on Käsespätzle.
Learn about modern interpretations of German cuisine.
© 2014 Michael Ruhlman. Photo © 2014 Donna Turner Ruhlman. All rights reserved.
SPAETZLE
Ingredients
2 eggs

¼ cup milk

1 ½ teaspoons olive oil

1 ½ cups flour

¾ teaspoon baking powder

Salt, to taste

Black pepper, to taste

Nutmeg, to taste

3 tablespoons minced fresh parsley
Instructions
Whisk together all the wet ingredients.

Combine the baking powder and flour and whisk into the wet ingredients.

Season with salt, pepper, and nutmeg, then fold in the parsley.

Adjust the amount of flour—by texture it should be somewhere between dough and batter, just falling off the hand whisk.

Push the dough/batter through a spaetzle maker or Badass Egg Spoon into boiling water.

When they float, they're done. Shock in an ice bath to stop the cooking.