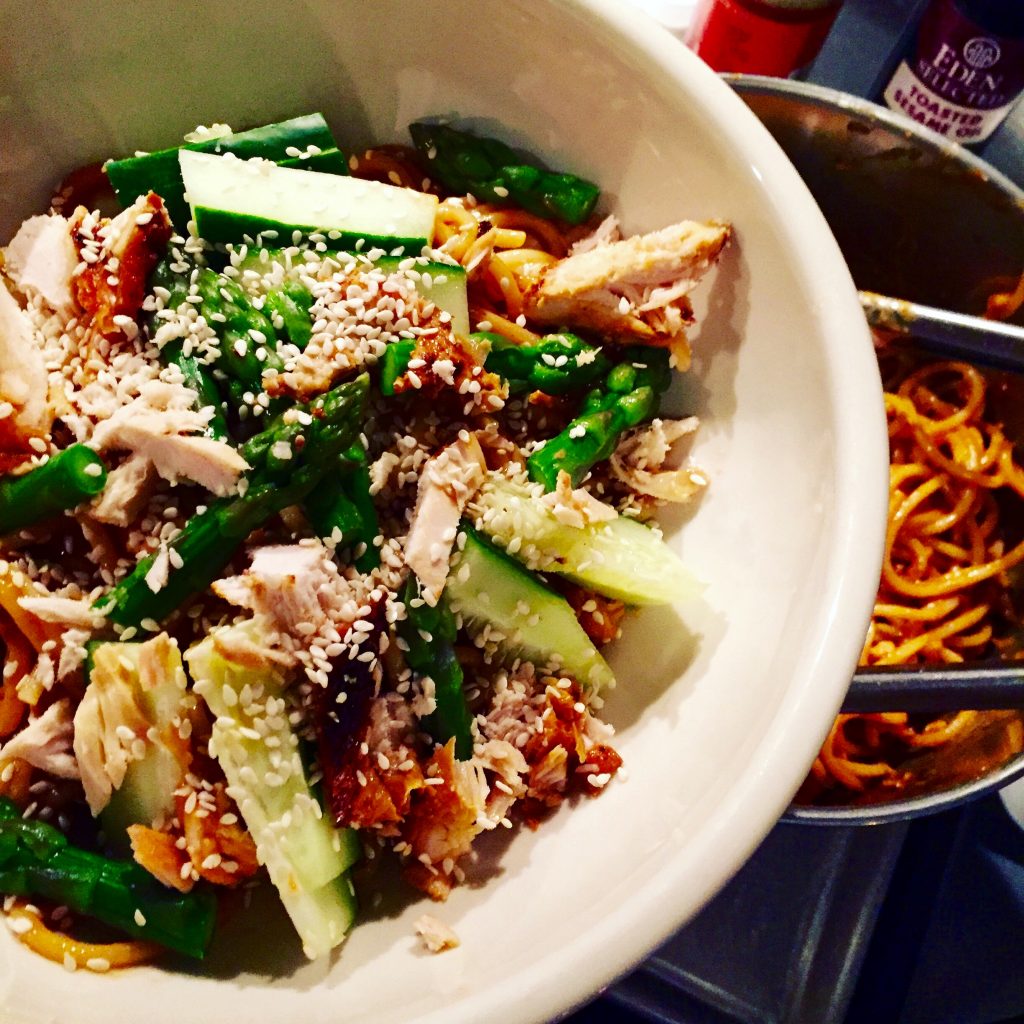 When I began living in a 400-square-foot studio apartment in New York City's West Village a year ago, I lost my cooking mojo. I had about three dishes I'd cook—stir-fried beef, curried chicken, steak or chop with sautéed potatoes and spinach—and the rest of the home meals were takeout form Mrs. Green's on Hudson Street.
But during a call with my therapist, she asked if I was cooking. I said, No, not much, though I used to cook all the time. She said, I think you might feel better if you spent more time cooking. She was right. So I have determined to cook more. And I've turned back to books to jumpstart my imagination. I looked first to Joe Yonan's Serve Yourself, a cooking-for-one book. Are these inherently unhappy books? No, but the book Vegan Cooking for One definitely is—and is the best and funniest cookbook title ever. Also, in an effort to rely less on animal protein, I've returned to Steve Sando's Rancho Gordo books; he writes some of the best books on bean cookery I've seen. Beans are a kind of superfood—inexpensive, nourishing (good carbs!), and delicious if you cook them right. He also sells the best dried beans in the country.
And I've begun to keep a journal to write about meals such as last night's. It was given to me by Miss Scarlett (her adaptation from a recipe in The Silver Palate Cookbook), who promised it was delicious and perfect for warm weather (still muggy here)—sesame noodles with chicken, cucumber, and asparagus. I made it more spicy and added other ingredients I like (fish sauce, lime juice!). It was as fine as Scarlett promised and as my iPhone photo makes it appear.
A new year, a new phase of life, a new start to this site.
Scarlett's Sesame Noodles
This adaptation of an adaptation will make 2 portions, easy. Double the recipe for 4 to 6 portions. Leftovers are even better. Rich and peanutty and nutritious.
3 cloves garlic, minced
2 teaspoons chile flakes (or 3 or 4 depending on disposition)
vegetable oil as needed, 2 tablespoons or so
1 tablespoon lime juice
1 tablespoon brown sugar
¼ cup soy sauce
1 tablespoon fish sauce
3 ounces peanut butter (a heaping ¼ cup by volume)
½ pound pasta, cooked and chilled
8 ounces cooked chicken, chopped or shredded
sesame oil to taste
½ pound asparagus, cooked and shocked
½ cucumber seeded and cut in strips
3 scallions thinly sliced
1 tablespoons toasted sesame seeds
In a sauté pan over medium high heat, cook the garlic and chile flakes in the oil until the garlic is tender. Add the lime, sugar, soy, fish sauce, and peanut butter. Stir till it's all combined and the peanut butter has melted and it's uniform.
Combine the pasta and chicken in a bowl and pour the peanut sauce over it, tossing till the pasta is coated. Season to taste with sesame oil and keep combining.
Serve topped with asparagus, cuke, scallion, and sesame seeds.
Yield: 1 dinner and 1 lunch
If you liked this post, take a look at these links:
© 2016 Michael Ruhlman. All rights reserved.