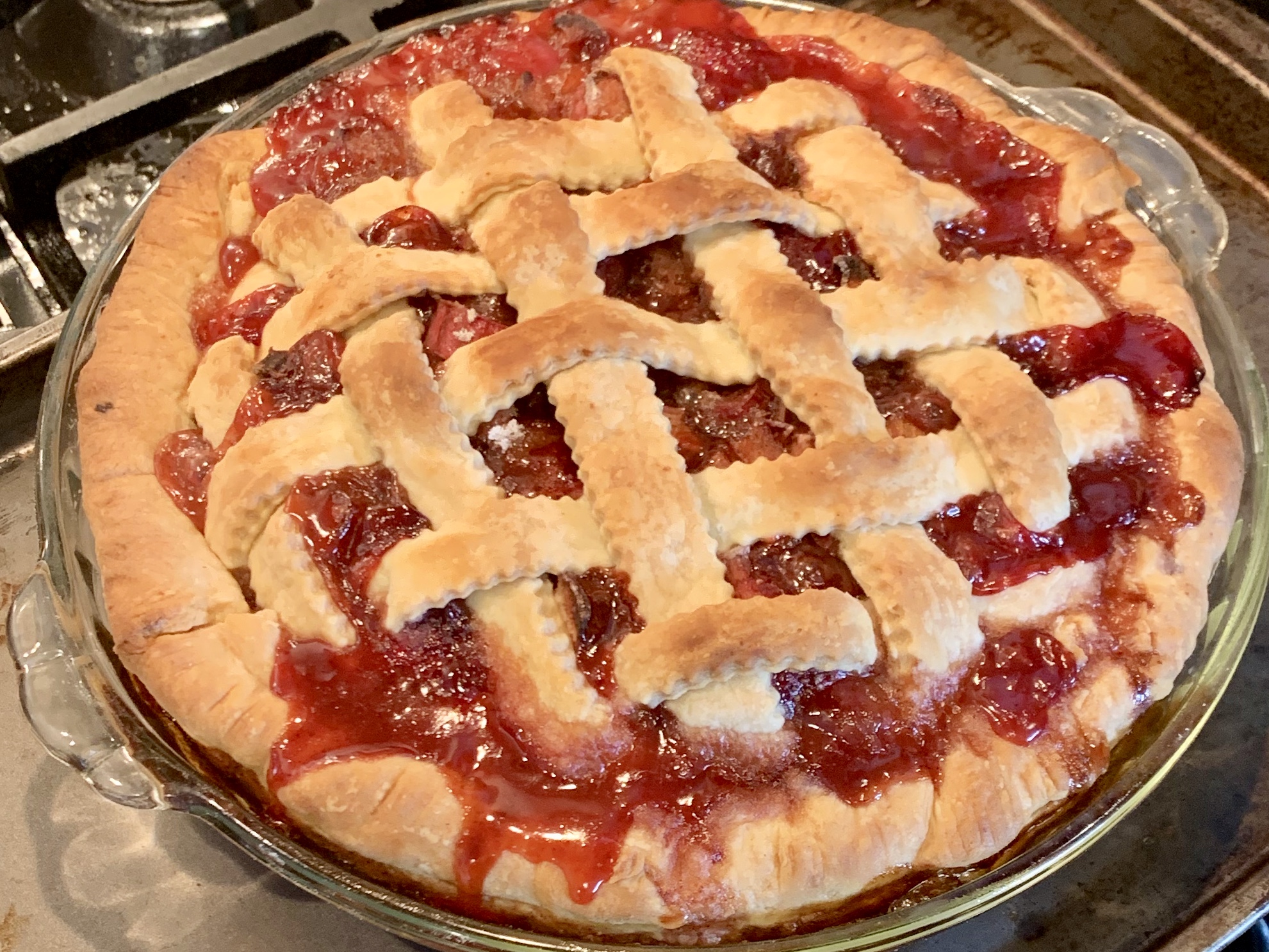 Making a pie is an accomplishment. And a perfect way to spend an hour of a quarantined day. Certainly a slice of pie is a fine dessert, but I think it makes an even better breakfast.
So when Ann arrived from a Whole Foods run (still a fraught errand) with five fat stalks of rhubarb and a quart of strawberries, there was little question that a pie was in our future. Step-by-step pix below.
Rhubarb is an astonishing vegetable and the pie it makes so wondrous, I remember the very first one I ate. I was home from college and running a house-painting business, and was in the kitchen of one of the painters. It was the only time I was ever in John's kitchen but it was a game changer—he told me to try the rhubarb pie. I couldn't believe 1) how good it was and 2) that I'd never had rhubarb before. A revelation.
It's hard to describe the flavor—I guess you might say it's like a very tart apple. It's fairly neutral in flavor, so the pie is dependent on the right amount of seasonings, here cinnamon and cloves. And plenty of sugar because rhubarb's fundamental attribute is tartness.
Strawberries, thanks to Driscoll's worldwide network of berry farms, are available year-round, but not rhubarb. Get it while it's here. Makes great sauces too, for sweet and savory dishes (roast pork with a rhubarb sauce for instance). Herewith a classic rhubarb pie, with a lattice crust.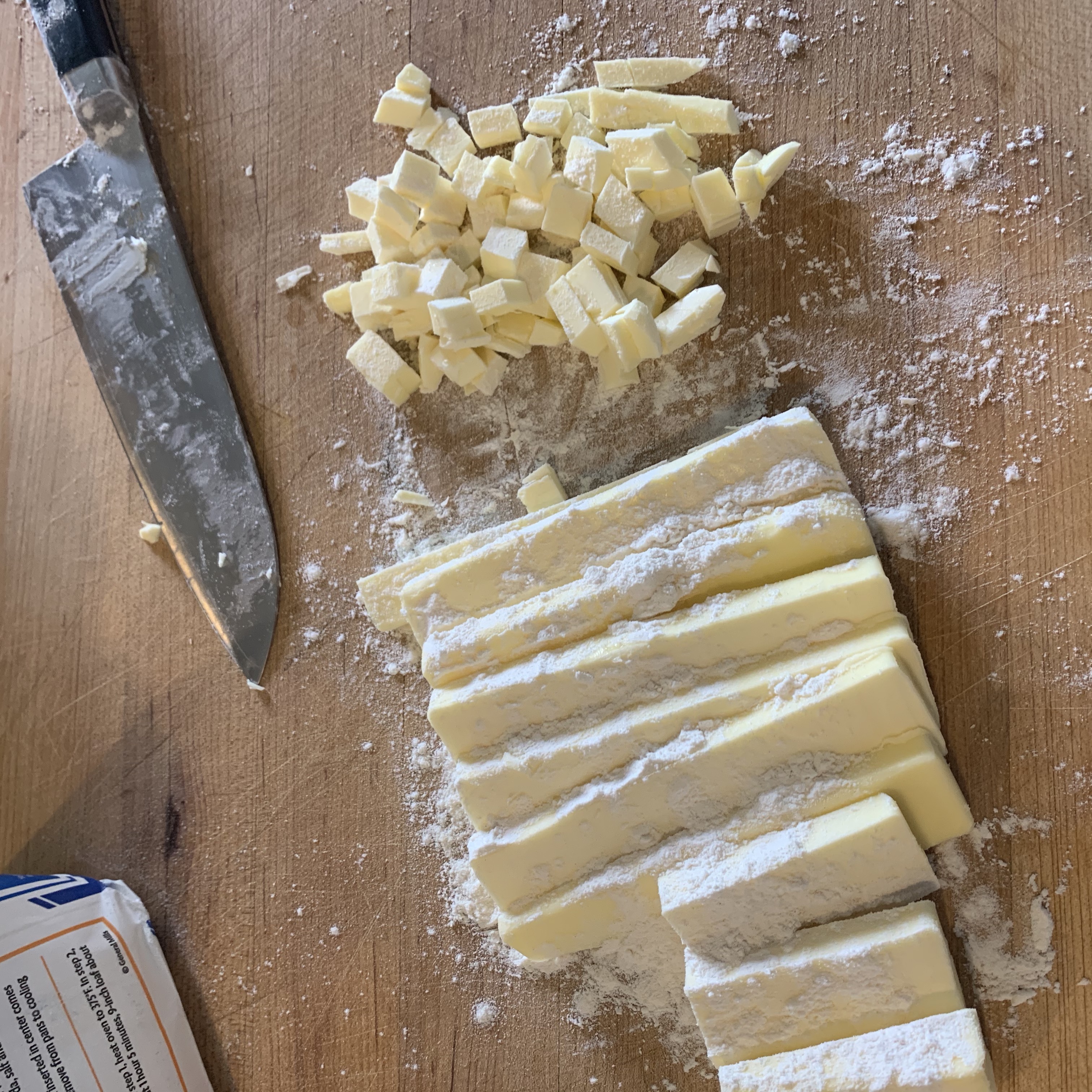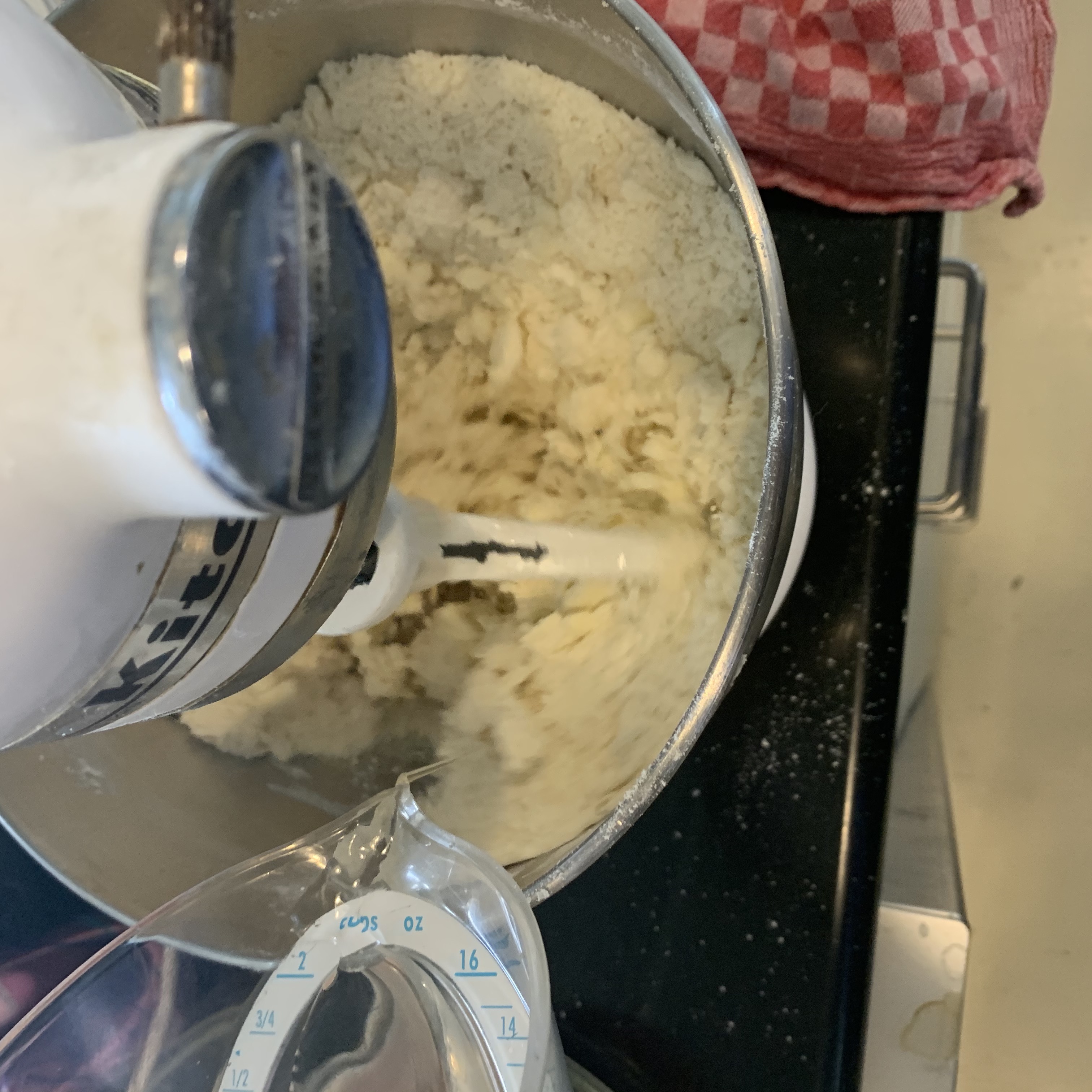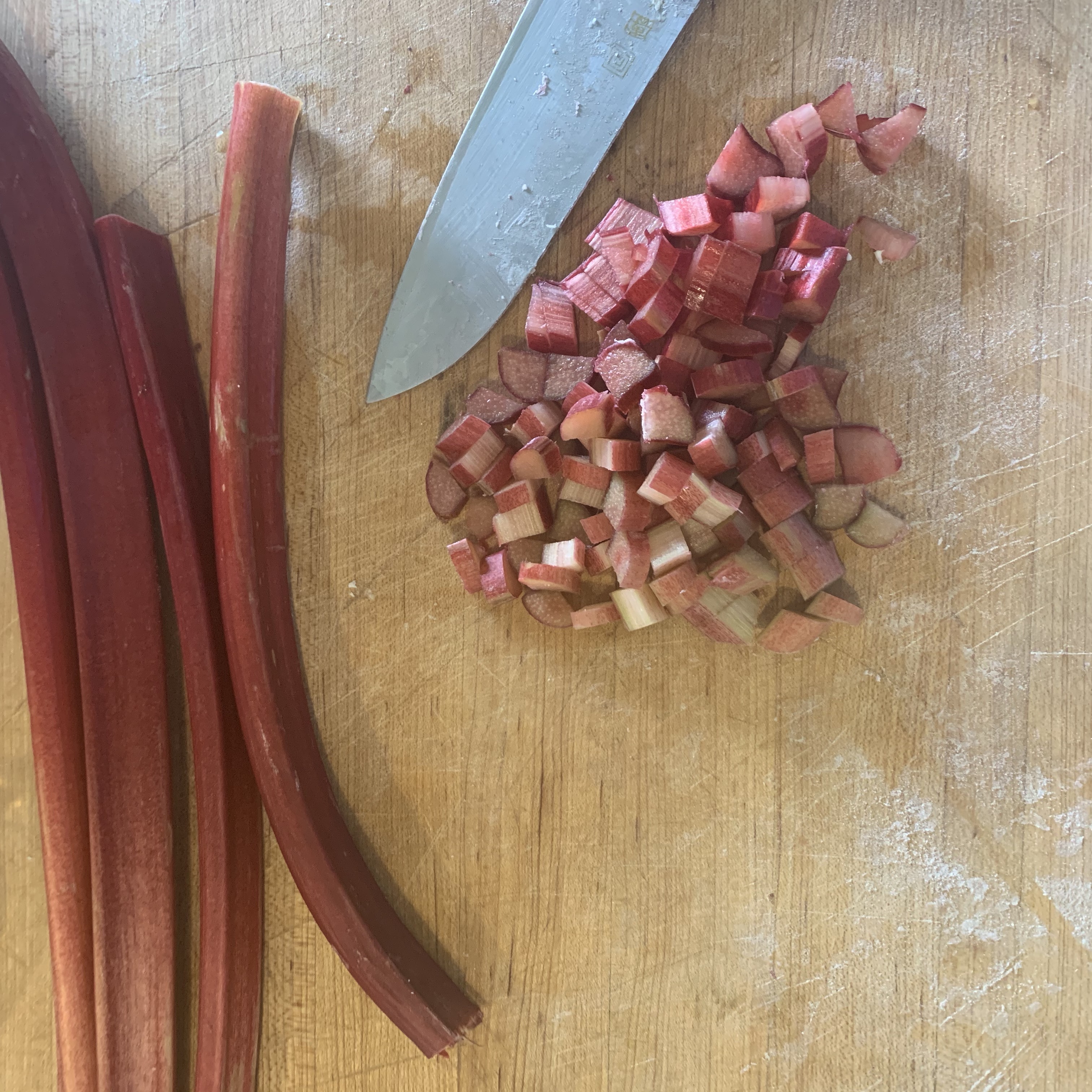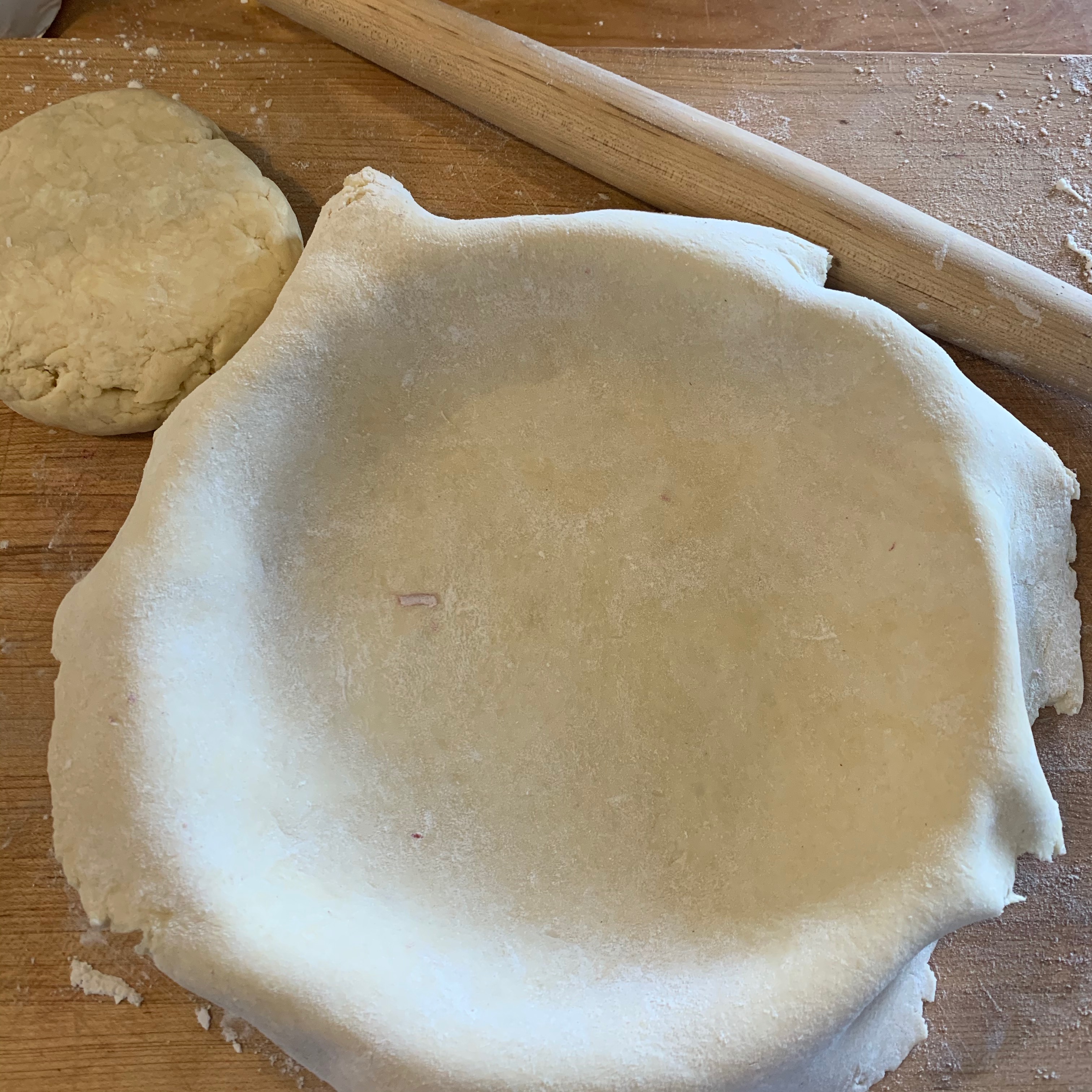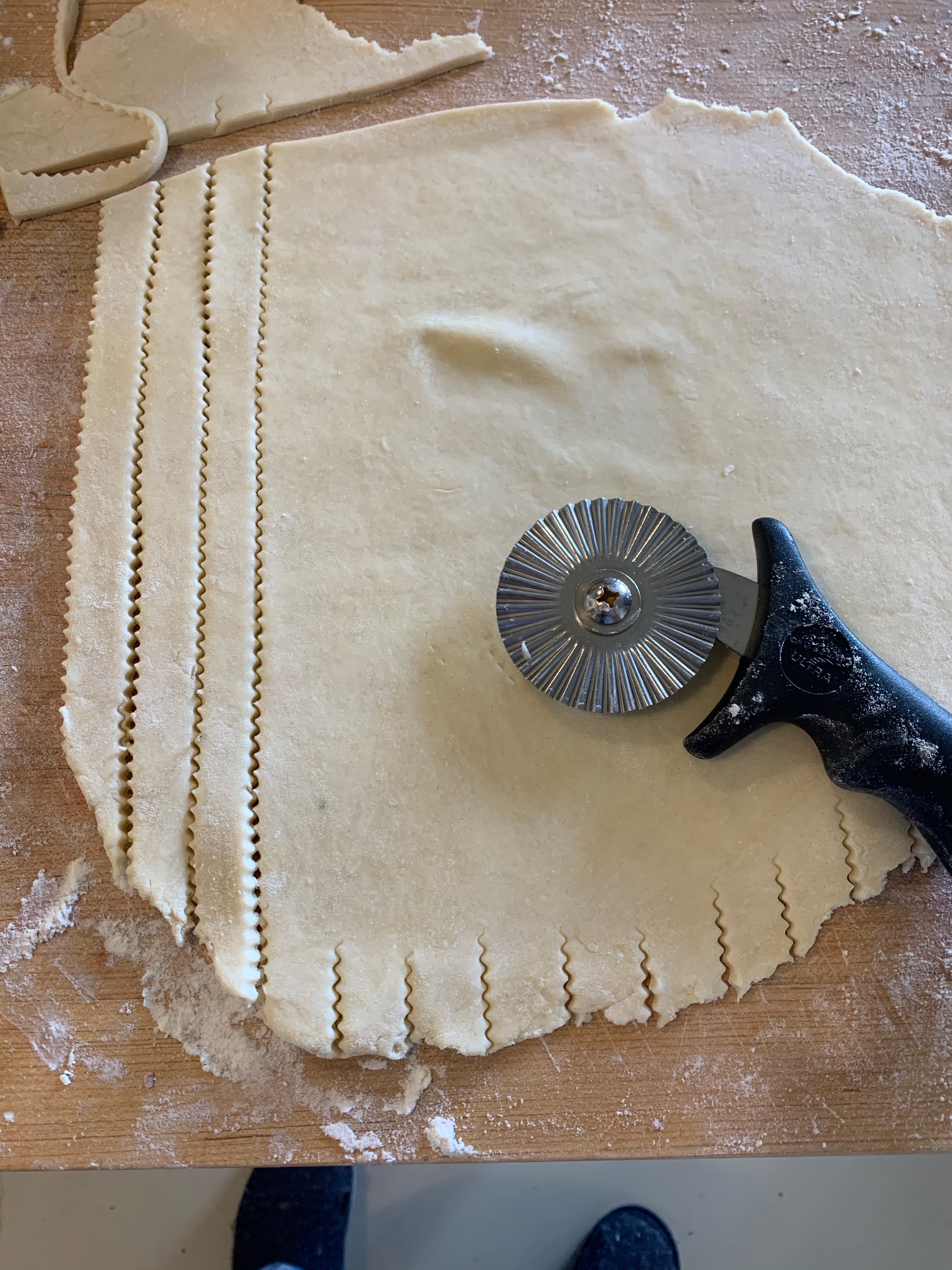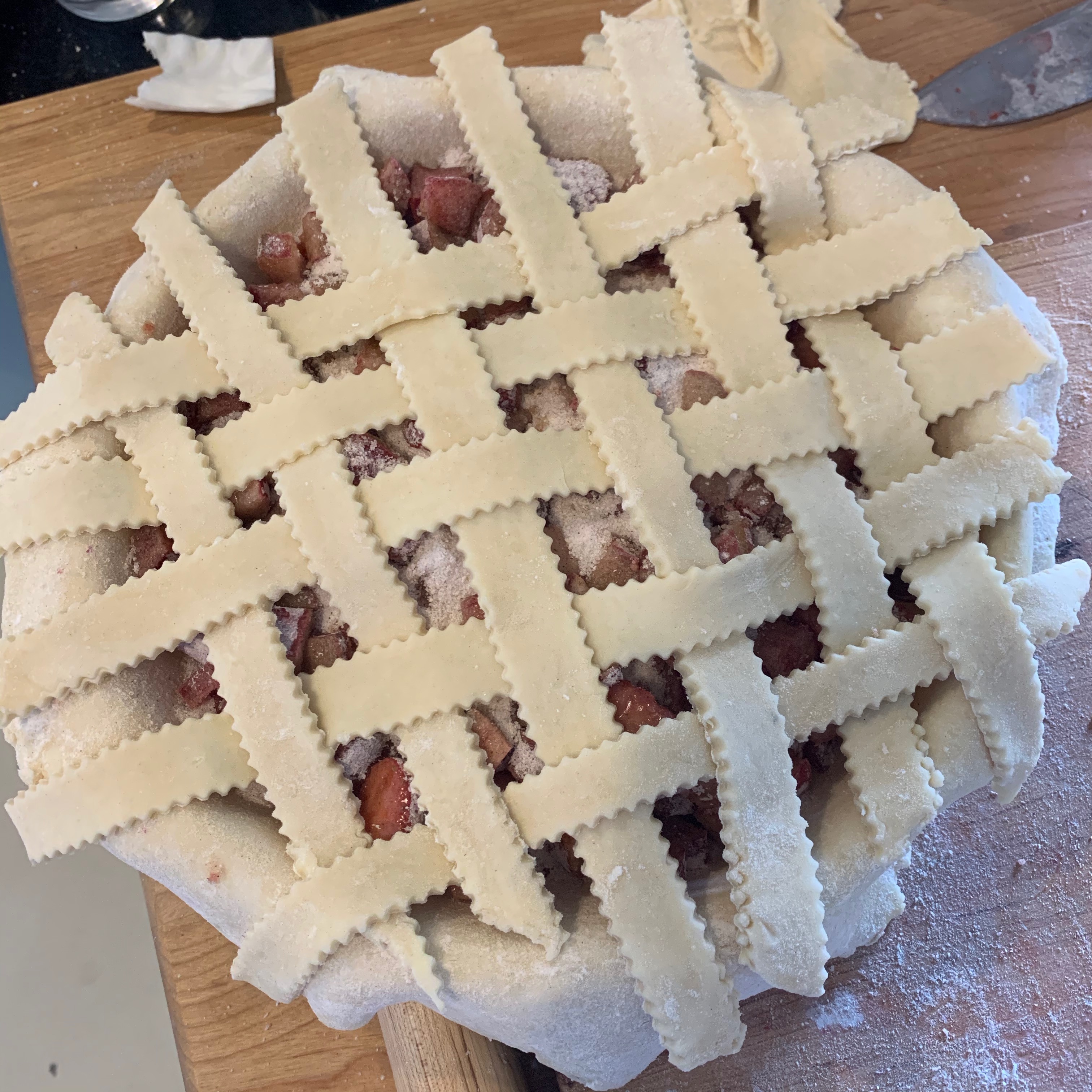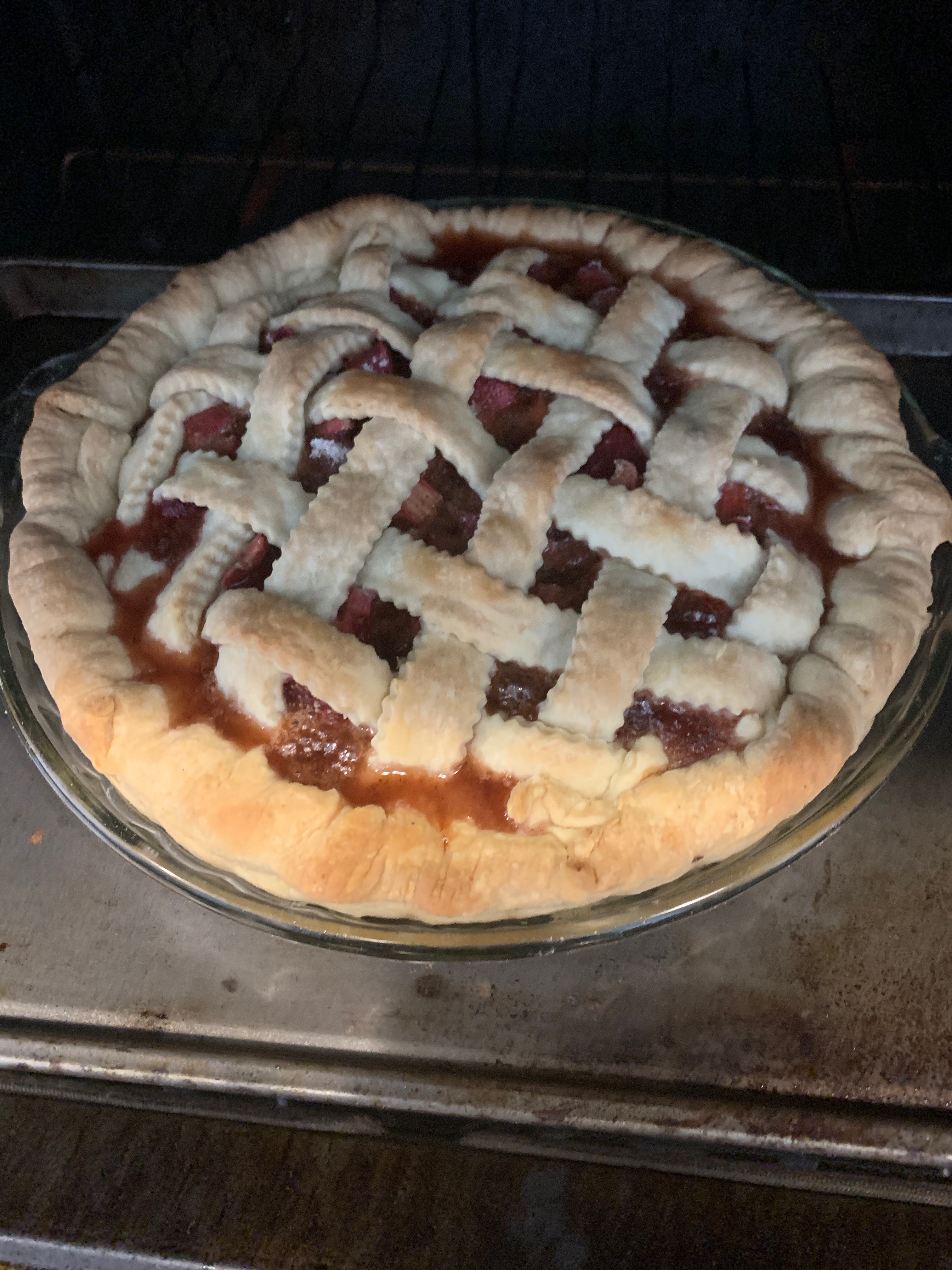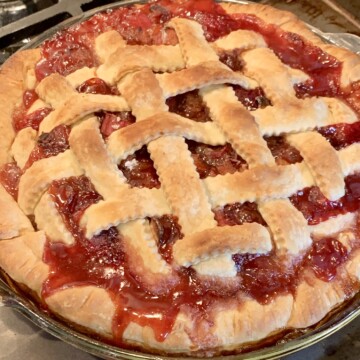 Rhubarb Pie with Lattice Crust
Classic Rhubarb pie with a simple 321 crust
Ingredients
15

ounces

flour

(about three cups)

pinch

salt

10

ounces

butter, small dice

(dust your butter with flour to make the dicing easier)

5

ounces

water

1-¼

cups

sugar

1

teaspoon

cinnamon

¼

teaspoon

ground cloves

⅓

cup

corn starch

1-½

pounds

rhubarb, small dice

(or a mix of strawberries and rhubarb; you'll need about 5 cups diced fruit)
Instructions
Preheat your oven to 425 degrees.

Combine the flour salt and butter and cut or work the butter into the flour till the flour is mealy and some of the butter is in pea-sized chunks.  Add just enough ice water to bring the dough together.  Divide in two, about 60-40 as you'll need more dough fill the pie plate than for the lattice, form each half into a disc and refrigerate for about twenty minutes or up to a day.

In a large bowl combine the sugar, spices and cornstarch and stir to distribute the spices and cornstarch. 

Roll out your larger piece of dough into a large circle about 3/16th of an inch thick.  Lay the the dough into the pie plate leaving about an inch of dough overhanging the edge. Roll out the smaller piece of dough so that the center strips will extend from rim to rim of the pie plate.

Using a pastry wheel or knife, cut eleven ¾-inch strips the length of the pie plate (not all need to be that long, but at least five do).

When your pie plate is ready, add your rhubarb to the sugar mixture and toss until it's evenly coated (if you do this too early, the sugar leaches out too much water before it goes into the dough).  Pour the rhubarb mixture into the pie plate. Place six strips of dough horizontally at even intervals across the pie.  Fold the first, third and fifth strips back to the edge and lay one strip of dough vertically across the horizontal strips.  Fold the first, third and fifth horizontal strips back then fold the second, fourth, and sixth strips back to the first vertical strip.  Lay a second vertical strip an equal distance from the first one.  Fold the second and fourth strips back.  Repeat the process with the final lattice strips. Trim the dough around the edges as needed and fold and crimp the overhang along the rim of the pie plate, pinching it along with the strips together.

Place pie on a baking sheet and bake for 1 to 1 ¼ hour or until the fruit is bubbling and hot and the crust is golden brown.  Allow to cool completely before cutting.
Notes
This makes more than enough dough. I always err on too much since I don't like being caught short. But if you're economizing and skillful with the rolling pin, you can reduce the flour butter and water to 12, 8, and 4 ounces.