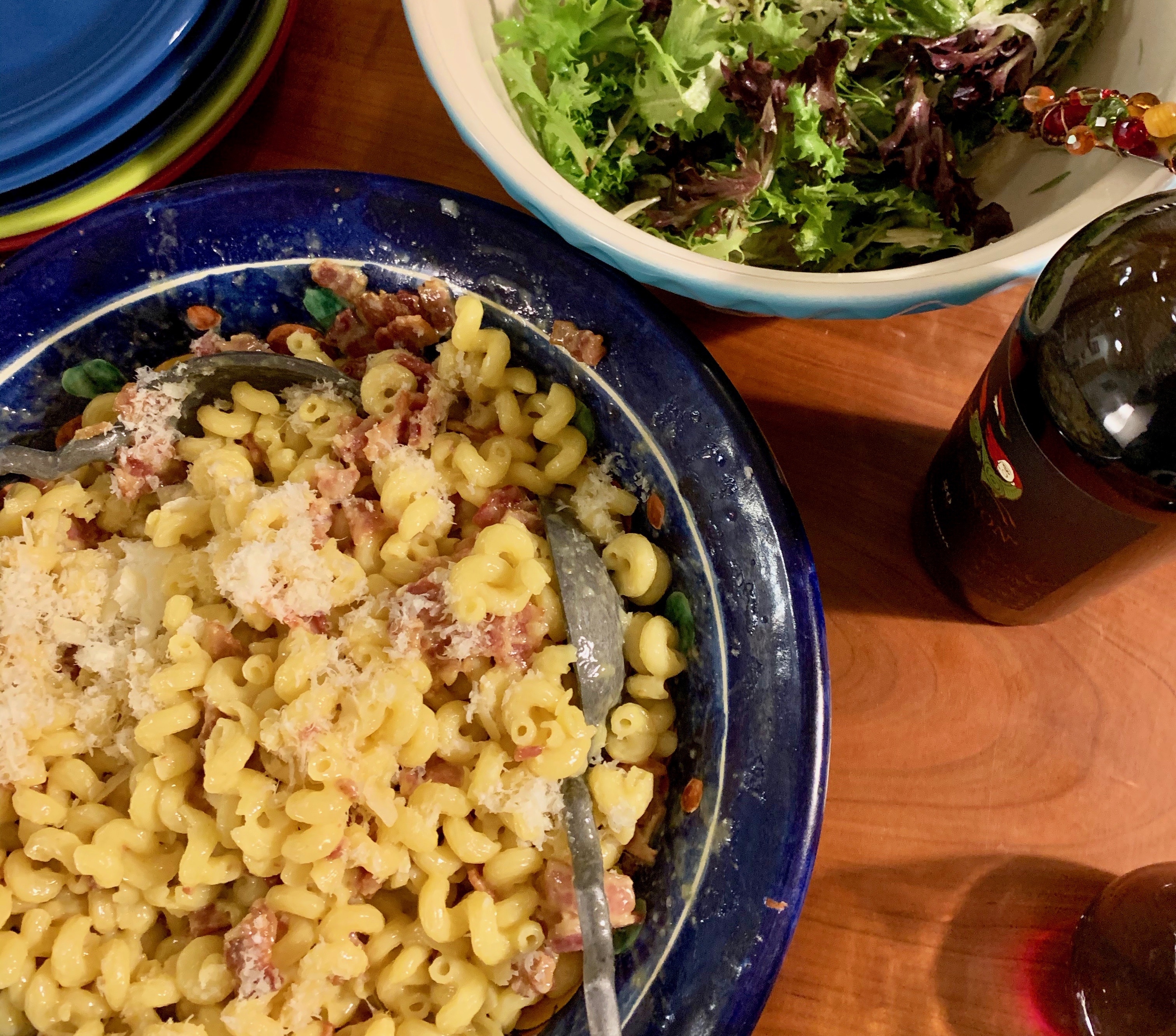 This is my wife Ann's carbonara method and I haven't found a better one. She writes and essay about it in her book Kitchen Yarns: Notes On Life, Love, and Food. She grew up in Rhode Island eating southern Italian food, red sauce Italian. But when she found herself in Rome, as a young flight attendant for TWA, she ordered the dish for the first time. No red sauce! No nothing but for guanciale, cheese and pepper. It was a revalation.
Back home, determined to make it and found a little pamphlet style cookbook with an utterly simple recipe from which she developed the following recipe. It couldn't be easier and makes the most rich, moist, satisfying carbonara I know. And here she teaches me to make it, in a video by Katherine Guanche and Sam Hood Adrain, mixed and edited by Katherine.
She does make the good point that "perfect" carbonara would use guanciale, or jowl, which has more fat and a deeper more porky flavor, so if your butcher as that, snatch it up!
Other than that the method is this: cook pasta, pour beaten eggs over it, toss, pour cooked bacon and all its fat over it, toss with cheese, season with salt and plenty of pepper. It's a fabulous comforting go to dish. For Ann though, it's even more, as she writes in her the book:
"Spaghetti carbonara has become my comfort food, the food I make when I'm lonely like I was that long ago Rome afternoon; the food I make when I want to welcome others into my home. I still love my red sauce roots, and I dip my bread in that simmering pot on my mother's stove. But to me, spaghetti carbonara is the food, not of my youth, but of my first steps into the big, wide world of adulthood."
Perfect Pasta Carbonara
Ann Hood's version of the classic Roman dish
Ingredients
1

pound

bacon, slided in ½-inch strips

(If you have access to guanciale, use that!)

1

pound

dried pasta

(whatever shape you fancy)

drizzle of olive oil

3

eggs, beaten (have an extra yolk on hand)

1

cup

freshly grated parmagiano reggiano

(store bought generic is ok if you can't get the reggiano)

salt to taste

lots of freshly ground pepper
Instructions
Cook the bacon with a drizzle of olive oil just until it's crispy and all its fat has rendered, then remove it from the heat.

Boil your pasta while the bacon cooks.

Drain your pasta, reserving a cup of the pasta water, and put it into your prettiest bowl.

Pour the beaten eggs over it and toss to combine and heat the egg.

Pour the bacon and all the fat over the pasta and toss.

Add the cheese. Toss and toss and toss to make it rich and creamy. If you think it could use it add an extra yolk. If it seems dry, add a little reserved pasta water

Season with salt and pepper. Season with more cheese.
Notes
We usually pair this with a simple arugula salad, tossed with lemon juice and olive oil.