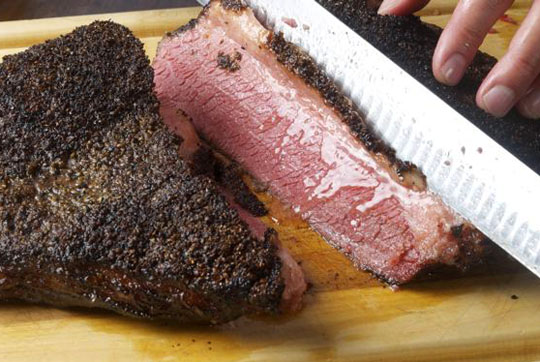 Making pastrami at home is just one extra step from making corned beef. Corn your beef, then coat it with a mixture of black pepper and ground coriander and smoke it in your smoker or kettle charcoal grill. (updated from long ago.)
I've done this with short ribs, and love them because they've got the perfect meat-to-fat ratio.
While I've published the corned beef recipe from my book Charcuterie, I haven't really talked about smoking strategies at home. I recommend two different methods: stove top and in a kettle grill. Stove-top smoking is easy with an inexpensive ($43) Cameron smoker. I bought one a few years ago and it works great for bacon and would work great for this brisket. Briskets require long low heat though, and this is tricky on a stove top smoker. So this is what I do when I want both smoke and long slow cooking. I smoke the meat for a couple hours. Then I transfer it to a 200 to 250 degree oven to finish. With this pastrami, I would cook it in the oven for 30 to 60 minutes to bake the smoke on, and then cover it with foil and ½ cup of water and cook it for another 2 to 4 hours till it's tender (the water is to make sure there's plenty of steam).
What's more fun, when the weather is good, is to smoke them in a kettle grill. For this, you need wood chips (sawdust is fine for stovetop smokers, but for coals, chips are by far the best, giving long steady smoke). Soak the chips well, build a medium fire on one side of the grill, put your sodden chips on the coals and put your brisket on the cool side of the grill. Cook it covered for a few hours, adding coals and chips as needed. Or finish it as above in a low oven, covered. (OpenSky is offering a deal on wood chips today, four different kinds, including olive and cherry. I swear this was total coincidence because I've been planning this post for a while!)
Smoking is a great and fun way to flavor foods. I love the cherry or any fruit wood for bacon, and a hardwood like maple for this brisket.
(And PS, I don't know who gave that pickling spice recipe two stars, but it is from Polcyn, published in Charcuterie, and it is killer!)
Homemade Pastrami
How to make pastrami at home
Ingredients
¾

cup

Morton's kosher salt

(or 200 grams of any salt)

½

cup

sugar

(100 grams)

2

tsp

pink curing salt

(10 grams)

5

cloves garlic, smashed with the flat side of a knife

2

tbsp

pickling spice

(store bought or see below)

1

five-pound beef brisket

(the fattier the better)

1

tbsp

black peppercorns, toasted in a skillet and ground in a mill

(ok to use store-bought ground)

1

tbsp

coriander seeds, toasted and ground in a mill
Instructions
In pot large enough to hold brisket, combine 1 gallon/4 liters of water with kosher salt, sugar, sodium nitrite (if using), garlic and 2 tablespoons pickling spice. Bring to a simmer, stirring until salt and sugar are dissolved. Remove from heat and let cool to room temperature, then refrigerate until chilled.

Place brisket in brine, weighted with a plate to keep it submerged; cover. Refrigerate for 2 days if it's thin, a third day if it's thick.

Remove brisket from brine and rinse thoroughly.  Refrigerate it for another day uncovered (this is best, to let cure equalize, but if you can't wait, that's ok too).

Combine the pepper and coriander and coat the brisket with it.  Smoke and cook the brisket, till tender, as described above.  This will keep for a week in the refrigerator.  Steam it to reheat or reheat covered in a microwave (gently). Slice thinly to serve.  
Pickling Spice
Ingredients
2 tablespoons/20 grams black peppercorns

2 tablespoons/20 grams mustard seeds

2 tablespoons/20 grams coriander seeds

2 tablespoons/12 grams hot red pepper flakes

2 tablespoons/14 grams allspice berries

1 tablespoon/8 grams ground mace

2 small cinnamon sticks, crushed or broken into pieces

4 bay leaves, crumbled

2 tablespoons/6 grams whole cloves

1 tablespoon/8 grams ground ginger
Instructions
Lightly toast the peppercorns, mustard seeds, and coriander seeds in a small dry pan, then smash with the side of a knife just to crack.

Combine the cracked spices with the remaining ingredients, mixing well.  Store in a tightly sealed plastic container or glass jar.