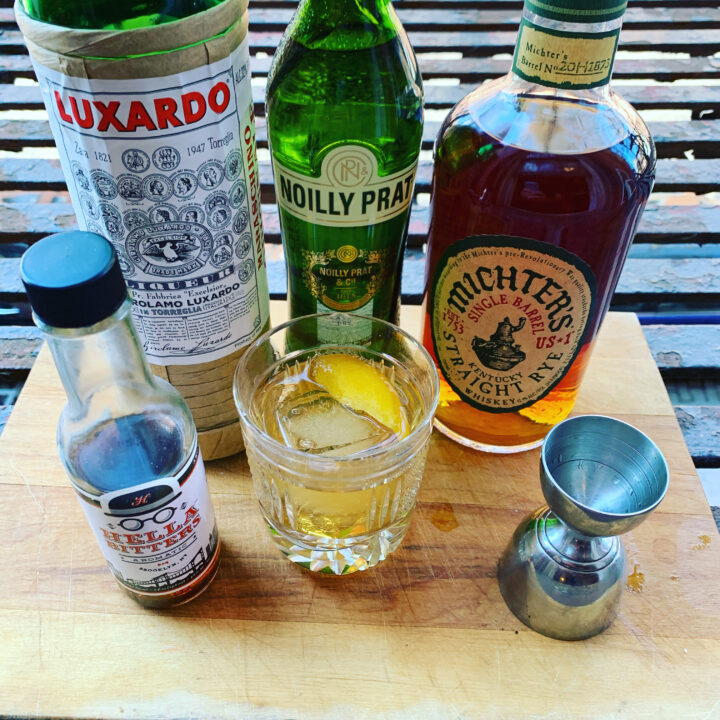 Today is a double cocktail, the Brooklyn and the Manhattan. The Brooklyn is a rye whisky and dry vermouth variant of the Manhattan.
I'm currently sitting in Ann's orange Fiat as I type this, waiting for my wife to enter Abraham Lincoln high school in Coney Island for her second jab. So thrilled for her. I get mine tomorrow in Bushwick.
To honor both Manhattan, where we live half the time when not in pandemic, and the borough that is giving us our vaccines, I did a dual live cocktail hour on Insta and here for this post I offer a new cocktail (for me), The Brooklyn. Like the Manhattan, it uses whiskey and vermouth, but rye whiskey and dry vermouth. Both use bitters, but the Brooklyn ups the game with Luxardo, the maraschino liqueur. They're great cocktails. I love New York!
The Brooklyn
A rye based cocktail with dry vermouth a bitter component and maraschino liqueur
Ingredients
2

ounces

rye whiskey

1

ounce

dry vermouth

2

tsp

luxardo

(traditional recipes use ¼ ounce or 1.5 tsp)

¼

tsp

teaspoon aromatic bitters

(traditional recipe calls for Amer Picon, a bittersweet French aperatif; not easy to find but worth searching out; ¼ ounce if you can find it)

1

lemon twist
Instructions
Combine all the liquids in a mixing glass with ice and stir till chilled. Strain into an old fashioned glass with one big rock or into a chilled coup. Garnish with lemon twist.