It's Memorial Day and more families than not have someone to honor. Thankfully I have to go back to Dad's brother, Uncle Bob, who was killed at age 17 as part of a skiing rifle brigade on an Italian mountainside. My dad was only 6 then, but when he was 60 he found the grave of the brother he'd scarcely known. He took a picture, and after I watched Saving Private Ryan, he showed me the photo and I wept. It was exactly like those crosses that open and close the film. Bob was a talented artist and draftsman I'd never know.
I long for a world that doesn't even need a Memorial Day.
Until that time, more cooking and grilling together—that makes things better. Would that I could hover around the grill today with beer in hand and enjoy the holiday, but I'm Charleston bound for more Le Creuset videos. While it's no fun to travel on a holiday, I'm never unhappy to be in Charleston.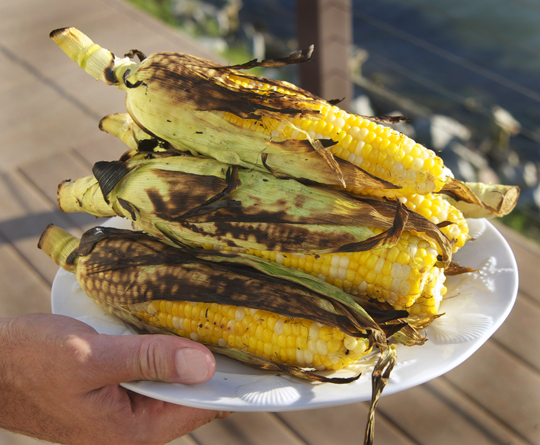 And upon my return, summer will almost be here. Sweet corn is a good six weeks away, depending on the weather, but I can think about it. When I saw this photo in the archives I had to post as it is the very embodiment of a summer that's nearly here.
If you need some Memorial Day recipe inspiration, check out these links:
© 2013 Michael Ruhlman. Photo © 2013 Donna Turner Ruhlman. All rights reserved.