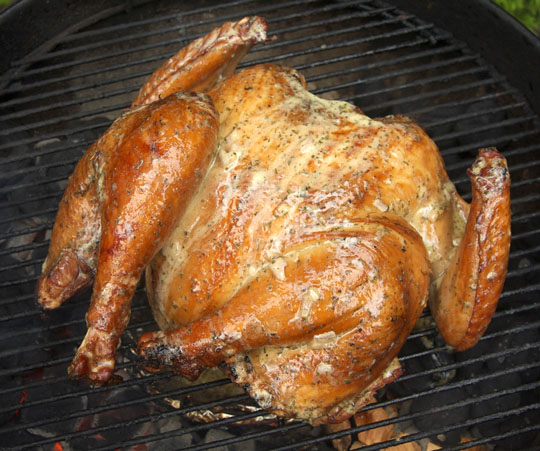 My daughter was born 16 years ago, June 4th, a Sunday. Two weeks later, was Father's Day. Having never been a father on Father's Day, I took it easy. I'd finished the manuscript of my first book, but hadn't heard from my editor (I forget nothing, Bill!); I had no prospects and we were near broke.
I grilled a turkey.
We'd gotten it free, a local grocery store giving out turkeys at Christmastime to loyal customers, and it had finally dawned on me earlier in the week that we ought to eat that thing. By the time it thawed, well, it was Father's Day. Donna was delirious from no sleep and both of us fretted over our first newborn—"Is it supposed to be black as tar?" "Honey, I think it's falling off. What do we do with it?" "Jesus, will ya look at that! Can ya believe it?! Damn, that girl turns red when she screams."
What to do with a Father's Day like that, overcast but warm, a thawed turkey, a six pack, no prospects, an exhausted but wonderful wife, and a two-week-old?
Fire up that grill on the back porch, open a beer and spend three hours watching a turkey cook and a baby sleep. My mom was in town and my dad arrived—"I'm giving you a gift because it's your first father's day and I want to, but don't expect one next year." He was kind of pissed at himself for giving in. I understood. He was a practical man. His dad died when he was younger than I at the time. My dad, so practical, so sweet.
And that turkey. The best I've ever had. Best. EVV-er. I built a Johnny Cash in the Weber, put a drip pan in the middle, and cooked it easy all day, getting pleasantly tipsy, getting kisses from my wife, my mom cooing over her first grandchild. My dad arriving with a gift for me, kissing his ex-wife (best of friends and really still married at heart; neither would remarry), and a perfectly grilled turkey. I mean, perfect. We stood around picking at it, eating it standing, and asking ourselves why don't we do this all the time? Why doesn't everyone? This is so so good.
In a month I would come up with an idea to wangle my way inside the CIA and learn how to cook and try to write about it. But that day, the turkey, I just got lucky. I've since learned though that turkeys, like some fathers, are generous indeed.
Spatchcocked Grilled Turkey with Sage Butter Baste
I'm going to try to do a grill post every Friday since cooking over fire is in my nature and it's something people love to do generally. And I'm starting with grilled turkey because people, 1, don't cook it nearly enough (why is it relegated to winter holidays and the deli counter?), and 2, because turkey lends itself so well to grilling. The smokey grilled flavor is intense and gratifying. I submerged mine in a brine; a great idea if you have the time. I needed 8 liters and 400 grams of salt (thank you Ratio App!), an onion, sage, bay, garlic, pepper (see more on brining here). I spatchcocked it just like a chicken, cut up the back bone and roasted it with the neck, heart and gizzard for a roasted chicken stock, thickened with roux for a simple gravy (see spanker video).

I built a ring of fire around the grill and put a foil-encased cake pan in the center to catch the fat, and basted it throughout with a sage butter sauce. The legs take longer than the breast so you can cook the turkey all at once, what I like to do, and did on Father's Day with the above bird, was to take the legs off and finish them in the oven just letting the breast rest, rewarming it with the legs while finishing the risotto and salad and serving.

1 turkey (ours was about 12 pounds)
kosher salt as needed (if you you're not brining the turkey; for brining info see below)
juice of 1 lemon
8 ounces butter, cut into 8 pieces
1 bunch of sage, minced (you'll want a good handful after it's minced)
2 tablespoons mustard powder (my dad always used Coleman's, the best)
1 shallot, minced
Ground black pepper to taste
Prepare your fire as noted above.
Using a chef's knife, cut through the turkey on either side of its backbone to remove it (I did this a day before cooking and used it to make a stock). Press the turkey down to flatten the bird.
When the fire's hot season your turkey aggressively with salt and pepper if you didn't brine it (if you did, no seasoning is necessary here). Put it skin side up in the center of your grill. Put the lid on, vents open.
To make the baste, put the lemon juice in a small sauce pan over high heat. Once it's warm, 30 seconds or so, add a chunk of butter and swirl or whisk the butter. Once it begins to melt, add the remaining butter and continue to swirl or whisk until it's completely melted. Take it off the heat and add the remaining ingredients. Stir to combine over medium heat just to warm all the ingredients. Set aside.
Grill the turkey for 2 to 3 hours, beginning to baste after the first hour. Add more coals to the fire if necessary (I did). If you want to judge doneness with a thermometer, take the turkey off the grill when the breast reads 145 to 150 degrees F.
Remove the legs and put them in a 250 degree oven for another 30 to 60 minutes. Don't worry about the breast and wings.
Put the breast back in the oven with the legs for 10 minutes to warm the exterior.
If you want to brine the turkey do this, read my brining chicken post, noting that for a turkey you'll need 8 liters of water, 400 grams of salt, and plenty of aromats
Ours served 5 for dinner then a leftover dinner for 4, 2 turkey sandwiches later in the week, and more stock.
If you liked this post on BBQ turkey, check out these other links:
© 2011 Michael Ruhlman. Photo © 2011 Donna Turner-Ruhlman. All rights reserved