Were it not for the Internet, my guess is that only the most devoted barfly would know about the Boulevardier. It's not in any of my cocktail books, not the standard-bearing The Standard Bartender's Guide, my Madmen-era dad's paperback. I only heard about it from a reader of this blog (with links below). And an email this week pushed me into a tasting, happily!
I love how various flavoring components (bitters, vermouths) become different cocktails when you change the spirit. How the Manhattan becomes a Rob Roy when you change the bourbon to scotch (as opposed to a lame-sounding "Scotch Manhattan"), or how a Martini becomes a ... um, never mind about that #lostcause (Paulius, can we hope for Darwinian selection here?). I love the elasticity of a solid cocktail, how the addition of apple brandy turns a Clover Club into a Pink Lady.
Here, one of my favorite cocktails, the Negroni, becomes a Boulevardier when bourbon replaces the gin. A couple of recent essays (Tmagblog, Imbibe) have wondered why this cocktail isn't on more menus and I agree. Interestingly, it was apparently invented 20 years before the Negroni in Paris by an American ex-pat socialite who ran a literary magazine, Boulevardier. I do like the 1:1:1 Negroni ratio, but I agree with the others that the Boulevardier is a richer, more satisfying cocktail using more bourbon, here 1.5 parts, with 1 part each vermouth and Campari.
It's a strong cocktail, so this is one I'd happily recommend on the rocks as well as straight up. Danny Guess, mixologist at Fly Bar and Restaurant in Tampa, co-author of the iBook 25 Classic Cocktails, and a consultant on these cocktail posts, concurs.
It's a splendid cocktail on a winter's evening, when the work week is done, a stew simmers on the stove, and fire crackles on the hearth—complex, strong, smoky, and bittersweet.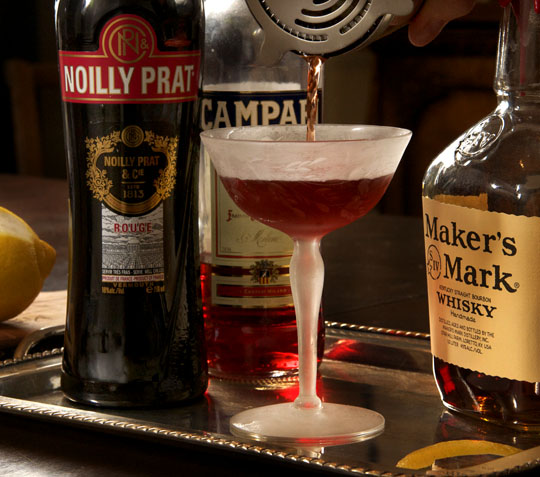 45 grams bourbon (1.5 ounces)
30 grams Campari (1 ounce)
30 grams sweet vermouth (1 ounce)
lemon twist
Combine the ingredients in a pint glass filled with ice and strain into a cocktail glass or a rocks glass with ice, to preference.
Garnish with a twist of lemon zest.
Put your feet near a fire. Raise the glass to your companion if you're with one. Otherwise do nothing, say nothing, as you enjoy your first sips of this fine elixir.
If you liked this post, check out these other links:
© 2013 Michael Ruhlman. Photo © 2013 Donna Turner-Ruhlman. All rights reserved.