I asked two friends, Emilia and Marlene, for help in developing an English Muffin Recipe for the first in a few more #fromscratch challenges. This single challenge was more daunting than expected. There's not much out there in the way of English muffin recipes, and the ones we found were lacking and even our original attempts weren't appealing. I first had a look at Jane Grigson and Elizabeth David, returning to the source of English muffins, just called muffins, of course, along with their sibling, the crumpet, which should have holes in the surface. Both recipes used what amounted to a standard 5:3 bread ratio that was cooked on a griddle. Marlene worked with a buttermilk version for flavor. We had issues with the proper amount of holelyness, important in a good English muffin.
Ultimately we went to Emilia's husband, who's mum is from Dover and has strong feelings on English cookery. The below English muffin recipe is based on her simple preparation.
The key word is simple. These are humble creations, made on a griddle top, and we wanted to keep it that way. Elizabeth David noted one source in 1908 that called them so old-fashioned as to be nearly obsolete.
All the more reason to make them yourself at home. The ones we're offering here hew to English simplicity, are enriched with butter and egg and use baking powder at the end to ensure a bubbly interior.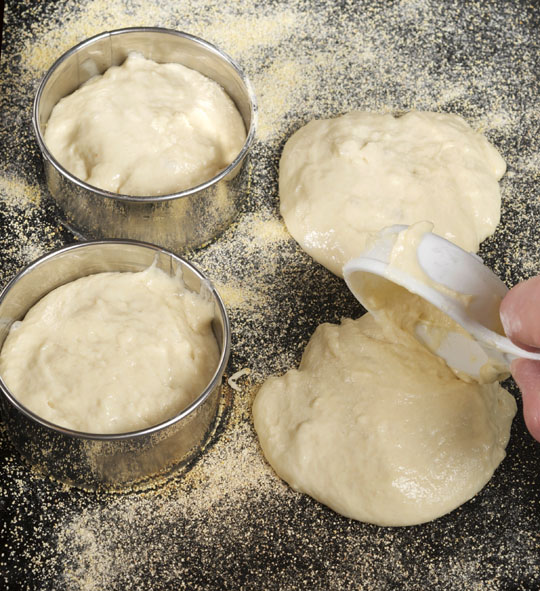 The dough/batter is sticky and thick, and we tried both molded and free form. The griddle has been dusted with cornmeal, which keeps them from sticking and also adds an excellent textured bottom I associate with Good English muffins. (Btw, if you're buying English muffins, I highly recommend Bays English muffins, which are flavorful perfection; avoid the doughy, flavorless, but ubiquitous, Thomas's.)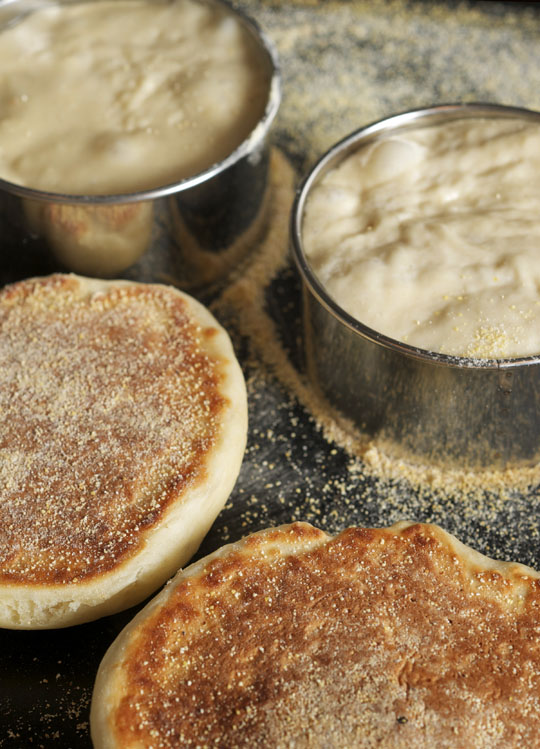 Be sure to cook them all the way through over moderate heat. They can be finished in the oven if you want to make sure they're done. They can be eaten shortly after you take them from the heat. If you toast them (a tradition that began apparently because leftover muffins became dry and tough and so were toasted to make them more palatable), and I think you should do this for flavor, open them with a fork rather than a knife which increases the surface area.
Homemade English Muffin Recipe
Notice this recipe uses equal parts by weight flour and liquid, virtually a pancake batter but with less egg and lots of yeast. It also contains butter and egg for richness as well as the addition of some baking powder added at the end for a more holely crumb. I like the appearance of free form muffins. If you like them uniform, then use English muffin rings. I don't have these rings, but I do have taller rings. But this made flipping them trickier; I had to cut them out of the ring and press them down onto the griddle. All methods work. What I recommend if you have rings is to start them in a ring so that you get a fairly uniform shape, then lift the ring and allow it to cook as it will.
2 ounces/60 grams butter
1 tablespoon sugar
16 ounces milk/450 grams)
1 package active dry yeast (1-½ teaspoons, .25 ounces or 7 grams)
1 large egg, beaten
16 ounces all-purpose flour/450 grams (or four fluffed cups)
1-½ teaspoon kosher salt (.25 ounces or 7 grams)
2 teaspoons baking powder dissolved in 1 tablespoon of water
cornmeal for dusting
Combine the butter and sugar in a small sauce pan, stirring to dissolve the sugar. Add the milk, stir it and remove it from the heat. Stir in the yeast and the egg.
Combine the flour and salt in mixing bowl. Add the milk mixture and stir till it's all well combined. Cover and set aside for 1-½ hours, or refrigerate overnight (removing it from the fridge an hour before cooking).
Heat a griddle or a skillet over medium heat. If you're using rings, butter them. Stir the dissolved baking powder into the batter. Dust the griddle or skillet with corn meal. Scoop-pour about ¼-cup portions onto the griddle, free form or in rings. Cook for about seven minutes. Flip them and continue cooking till done, 7 to 10 more minutes.
Allow them to rest for at least 10 minutes, pry in half with a fork, toast and serve with butter, honey, or jam, or beneath Canadian bacon, poached egg and Hollandaise sauce.
Yield: 8 to 12 muffins
Note to intrepid bakers: We made these with conventional yeast, but they would be awesome using sourdough starter. If anyone wants to amend this recipe using starter, send it to me and I'll add it to this post!